Boston Gay Pride. Part 1: Pushing the "transgender" agenda
[Multi-part series: What Boston "Gay Pride" reveals about the LGBT movement in America. Weekend of June 8, 2013]
POSTED: June 19, 2013
CAUTION: SOME OF THE PHOTOS BELOW MAY BE DISTURBING
Almost no major "gay" event takes place without paying homage to the transgender movement as part of the next great "civil rights" struggle. And this was no exception.
| | |
| --- | --- |
| | New logo the transgender lobby is pushing across Massachusetts. Look for similar ones in other states. |
Besides "gay marriage," a major goal of the homosexual movement is normalizing "transgenderism" throughout society, including changing our basic foundations such as the family structure. Make no mistake: This movement is well organized and focused.
We all see it through the intense lobbying to push "non-discrimination" on the basis of "gender identity" through legislatures and court rulings. It's also pushed hard in schools, large corporations and government bureaucracies. On the federal level, the Obama administration has brought it into most top federal agencies.
[NOTE: All photos are by MassResistance, from Boston's "Gay Pride Parade" and "Gay Festival" on June 8.]
Changing how society views "family
A major goal of the homosexual movement is to alter the way society understands the basic family structure. "Gay marriage" certainly goes in that direction. But the transgender movement takes it even further. "Transgender parenting" is now even promoted by the Mass. Dept. of Children and Families. One can't imagine the long-term impact on children.
| | |
| --- | --- |
| Marching in parade: Transgender "family." Person in black acting as "daddy" is a female who appears to have had breast removal surgery and other medical procedures to "become" a man. Don't be surprised when this is taught as a "norm" in the public schools. | |
Making a dysfunctional and dangerous behavior the "new normal"
If the transgender movement achieves its goals, this is what people in your businesses, government offices, classrooms, and public facilities will look like -- whether you like it or not.
BELOW: These are all MEN
Official King and Queen of Boston Pride:

These are both MEN.
The transgender political movement
The "Massachusetts Transgender Political Coalition" (MTPC) works closely with the major homosexual lobbies to push that agenda in the Legislature and throughout state government, as well as in major corporations.
In photo below, tall man in yellow dress leading the MTPC contingent in gay pride parade has sash reading "Miss Trans New England."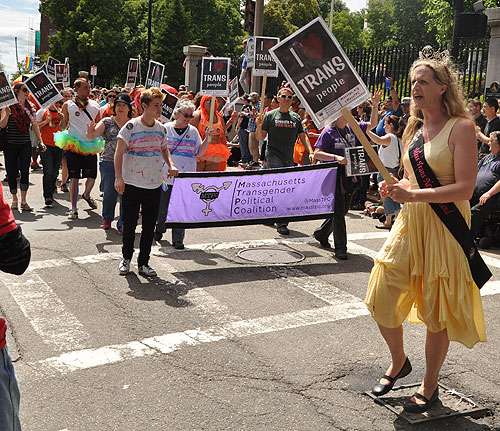 | | |
| --- | --- |
| Rounding up activists. The MTPC booth in the gay "festival" area | |
Organizing to push for more "transgender legislation
In Massachusetts, the latest political push is to amend the current "transgender law" to include "public accommodations" -- which were taken out at the last minute to get the earlier bill passed in 2011. They are organizing state-wide.
Below: Postcard passed out for activists to send to legislators.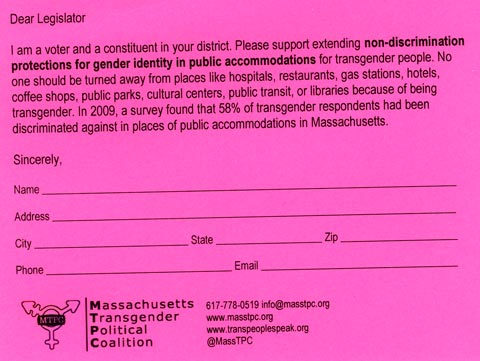 Below: Community organizing pamphlet, postcard for organization placing transgender speakers across the state, and notice about "Trans Youth Summit" in July.
Transgender "health"


| | |
| --- | --- |
| The next frontier: Planned Parenthood marcher with "Trans Health Matters" sign. Some major hospitals are already getting involved in this area -- trying to make something that is medically and psychologically unhealthy appear to be just a normal health issue. | |