Analysis: What really happened -- how the marriage battle in Rhode Island was lost
POSTED: April 25, 2013
In the end, it came down to two turncoat "pro-family" Senators caving in on a committee vote badly timed by the Senate leadership. But that was the very tip of the iceberg.
In a normal situation it shouldn't have even been that close. In fact, at the beginning of 2012, after the previous "gay marriage" bill failed and "civil unions" was passed instead, it was considered a long shot for another "gay marriage" bill to get any traction at all.
Huge political operation under the radar
But there were much larger factors that caused this happen. Besides being very well-funded, this was the most sophisticated political homosexual operation of intimidation, fear, and propaganda aimed at politicians we've seen to date. And much of it was "under the radar" of most Rhode Island citizens.
Targeting RI Senators in Democratic primaries
This war really started last year, during the Democratic primaries, months before the "gay marriage" bill was even filed. Most of the public was unaware of any of it and the media largely kept it quiet until this week.
This afternoon just before the Senate vote, Bloomberg News posted an article that that describes it best:
How Primary Challenges Led to Gay Marriage in Rhode Island Bloomberg News
By Josh Barro Apr 24, 2013 3:54 PM ET

Today, Rhode Island's state Senate will vote on a bill to legalize same-sex marriage. The bill has already passed the House of Representatives and is widely expected to pass the Senate, after which it will go to Governor Lincoln Chafee, who supports the bill, for signature. Same-sex marriage is coming to Rhode Island. And it's coming despite the fact that the president, majority leader and Judiciary Committee chairman in Rhode Island's state Senate all oppose same-sex marriage and could have stopped it from coming to a vote.

These opponents gave up because they fear the electoral power of same-sex marriage supporters. One Democrat who was against marriage equality lost a primary in 2012; others won but didn't want to face similar challenges in 2014. WPRI-TV's Dan McGowan and Ted Nesi report:

"Last year's elections saw FightBackRI, a well-funded and highly organized political action committee, target lawmakers who were opposed to same-sex marriage. The group focused its efforts on the Senate because it was confident the bill would pass in the House, where openly gay Speaker Gordon Fox is a longtime proponent of the measure.

"FightBackRI's most high-profile challenge was against Judiciary Committee Chairman Michael McCaffrey, D-Warwick, who fought off Laura Pisaturo in the toughest re-election fight of his two-decade career. While the results at the polls were mixed for the group, the challenges represented a shot across the bow at incumbent Democrats -- and a sign gay-marriage supporters were unlikely to give up."

This is similar to what happened in New York in 2011: passing gay marriage depended not only on four Republican state senators voting yes but also on Dean Skelos, the Senate's Republican presiding officer, agreeing to let gay marriage come to the floor even though he opposed it. Rhode Island and New York are both examples of the "no fingerprints" strategy for gay-marriage opponents: letting it become law while taking as little credit or blame as possible.

If the Supreme Court doesn't intervene, this will be a key political theme over the next 20 years: gay marriage opponents strategically acquiescing so they can stop fighting a fight they know is doomed and electorally costly. Rhode Island's topsy-turvy politics mean that the officials making that calculation today are Democrats (all five Republicans in Rhode Island's state Senate support marriage equality), but in most states, it will be Republicans who search for ways to lose gracefully on the issue.
The operation got their seed money before the primaries from many of the usual homosexual movement's funders, including Tim Gill, Michael Bloomberg, and several pro-homosexual organizations. And that was just the beginning.
And it was unbelievably effective. As WPRI.com reported this week, Judicial Committee member Sen. Paul Jabour (D-Providence) supported traditional marriage and has a traditional Catholic district. But they ran a pro-homosexual challenger against him in the Democratic primary. Jabour quickly caved in, got the homosexual lobby to back off, and then managed to win. When the Judicial Committee vote came, he voted for "gay marriage."
After the elections, even more pressure
After the primaries were over, the message was clear that any politician who didn't toe the line could get the same treatment from the homosexual lobby. But the lobbyists and activists didn't stop there. They turned up the pressure with a stream of phone calls, mailings, and pressure from "gay " constituents. And when public the hearings happened, they were there in force just to remind them.
That momentum carried into 2013, beginning with a decision by Senate President Teresa Paiva Weed to name a Judiciary Committee which had a majority of members open to passing the bill. Advocates formed a new group, Rhode Islanders United for Marriage, which launched a grass-roots campaign that says it's knocked on more than 25,000 doors, made more than 12,000 phone calls and delivered 1,631 constituent letters to lawmakers since the beginning of the year.

While the same-sex marriage bill breezed through the House in January, the outlook in the Senate remained in doubt. Organizers used a marathon 12-hour public hearing to tug at the heartstrings of several senators and rolled out a drumbeat of high-profile endorsements from mayors and business leaders who argued that tolerance could be a boon to the state's stagnant economy. Advocates also received crucial support from organized labor, an influential force at the State House.
It was like facing a buzz-saw. In addition to all this, every liberal organization and "church" in the state worked in unison to show their public support for the bill. It was a deadly combination politically. It didn't take long for all the major (and most minor) politicians, from the Governor on down, to fall right into line -- including ultimately every Republican state senator.
Emotional stories to counter religious belief
In addition, the homosexual political machine was very adept at getting their activists in districts to hit the politicians hard with well-crafted emotional stories, also designed to wean them from from their religious beliefs. As the Associated Press reported:
During the Senate's emotional debate several senators said they struggled mightily, weighing their personal religious beliefs against stories they heard from gay constituents or their families.

Sen. Maryellen Goodwin, D-Providence, said she lost sleep over her vote but decided, despite opposition from the Catholic Church, to vote "on the side of love."

"I'm a practicing Catholic. I'm proud to be a Catholic," she said, adding that it was the personal stories of gays, lesbians and their families in her district who convinced her. "I struggled with this for days, for weeks. It's certainly not an easy vote."
And of course, the media bias
The media, led by the Providence Journal, didn't need much persuading, and were possibly even more shamelessly biased in favor of the "gay marriage" operation than the Massachusetts liberal media. There was a constant stream of articles not only supporting the "gay marriage" bill but touting its inevitability, portraying pro-family people as anti-progress and out of touch with reality. This had a definite psychological effect on both the local population and the politicians.
Local pro-family forces: Underfunded and under organized
Unlike most other states, Rhode Island doesn't have a statewide "family organization" to raise money and coordinate pro-family action. So the work falls on individuals and smaller groups that often coalesce for a particular threat. These groups are generally very under-funded and haphazardly organized. Given all that, it's amazing that they've stopped as much as they have over the years in Rhode Island!

Pro-family marriage rally at the Rhode Island State House.
[MassResistance photo]
For this battle, as we've reported, the Hispanic Ministerial Association stepped up to lobby, organize rallies, and get the word out to stop the bill. They met, strategized, and worked tirelessly as best they could. These churches were outstanding in their passion for this issue. They also formed a statewide coalition of religious organizations that helped out to some extent.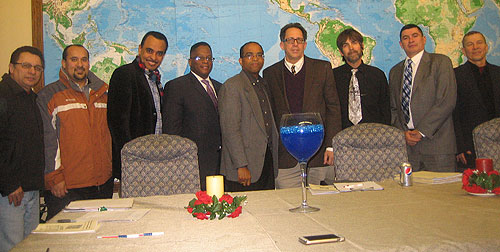 Rhode Island Hispanic and African-American pastors met on January 9 to organize. (Brian Camenker of MassResistance is fourth from right.)
There was also a loose group of other pastors, activists, and others that did incredible work, given that they had no money and had jobs, families, etc. to deal with at the same time. Unfortunately, the bulk of the predominately white Protestant churches never became very engaged in the fight.

| | |
| --- | --- |
| | Pro-marriage activist Kara Young helped gather 1000 signatures to stop the East Providence City Council from formally endorsing "gay marriage." At left, she presents the signatures to the Council. |
The Roman Catholic Diocese of Providence, led by Bishop Tobin, was fearless and articulate about confronting the issue in statewide messages and press releases. This had a very positive effect. But beyond that, the individual churches were not very active in the lobbying effort.
The Republican Party was nowhere to be found in this fight. In fact, they were largely on the other side.
One thing that likely had a psychological effect on the pro-family groups was the sheer viciousness of the homosexual groups and their angry rhetoric against anyone who opposed the bill. The pro-family people, nevertheless, were generally thoughtful and measured, though passionate in their opposition. The contrast was very noticeable.
NOM drops the ball
We admire a lot of what the National Organization for Marriage (NOM) does for marriage across the country. But unfortunately in this fight they were clueless and ineffective. We understand that NOM is mostly geared to statewide elections on marriage amendments rather than battles in legislatures. But given the numerous fundraising emails from them mentioning Rhode Island, we should have gotten a lot more back.
NOM seemed to view Rhode Island as an afterthought. When their representative there, Chris Plante, was unfortunately sidelined with medical issues during much of the last several months, NOM didn't bother to send help. As a result, NOM did no serious organizing or strategic planning. Meetings with activists would be set up, then go unattended.
Instead, NOM acted as the "official" pro-family voice before the Rhode Island media, doing many interviews, etc. And they funded some media advertisements, robo-calls, and email blasts. When public hearings came up, they helped line up quality speakers, but had no NOM representative testify.
However, neither NOM nor anyone else offered any counter to the constant yet absurd refrain that so-called "marriage equality" was a "civil right," a matter of "equality," or part of the march of history. As a result, the homosexual activists were given a complete free pass on all that nonsense.
But most annoying was NOM's insistence on a watered-down "moderate" pro-family message. They supported homosexual civil unions as an alternative to gay marriage. They seemed to go to great lengths not to be "anti-gay" even though homosexuality is the basis of this whole thing. And they curiously supported the proposed bill for a state-wide vote on "gay marriage" as an alternative to this bill. Ultimately, when you have these positions, it's hard to justify any absolute opposition to "gay marriage" itself.
All in all, it was a terribly one-sided battle which we nevertheless almost won. But we didn't win.
Where do we go from here?
Someday, wealthy conservatives will wake up and see around them a total state-imposed homosexual indoctrination, and they'll wonder what happened. They'll only have to look in the mirror.
If conservatives spent their money they way liberals do, we would be cleaning up.
We at MassResistance are absolutely convinced that the pro-family movement could win it all. There are more of us than there are of them. And most of "them" are, well, nuts. But if they're the German blitzkrieg and we continue to be the French at the Maginot line, it's not hard to predict the long-term outcome.
We need to make big changes before it's too late. This movement needs the proper tools, organization, and the funding to make it happen. Rhode Island should teach us all a lesson. The question is: How quickly can we learn it.