Ten thousand Hawaii citizens rally outside State House against 'gay marriage'. Arrogant Senate cuts off public hearing to pass bill.
Battle now moves to the House.
POSTED: October 31, 2013
An estimated ten thousand people rallied outside the Hawaii State House in Honolulu on Monday afternoon to send a loud message to their politicians as the special legislative session for the "gay marriage" bill began. The rally began at 4 p.m. and went well into the evening. As we reported last week, this giant rally was a culmination of weeks of uproar by churches, pro-family groups and citizens across Hawaii.

A sea of pro-family people. Above: the view from the atrium inside the State House, looking out. Below: Just outside the State House atrium area.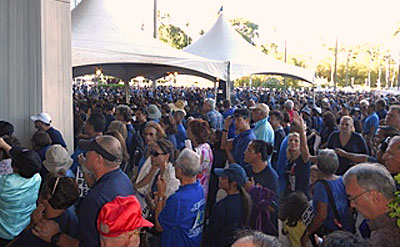 Throngs of people flooded the area outside of the State House and atrium area and down the streets. It was the largest pro-family marriage rally ever that we are aware of in the U.S.. "Official" numbers varied, but one Hawaii pro-family group passed out over 10,000 individual legislative cards, according to an activist we spoke to.
| | |
| --- | --- |
| The line of people from the rally stretched for blocks down the streets. | |
| | |
| --- | --- |
| | . . . and holding signs everywhere. |
| | |
| --- | --- |
| The people in Hawaii are not shy about their position! | |
MassResistance literature (including flyers) was also passed out to the crowd and available on a table. The signs people were waving and holding reflected their outrage.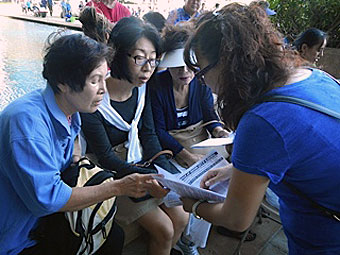 Above and right: The MassResistance flyer was handed out in great numbers.




Below: There was even a table with the MassResistance flyers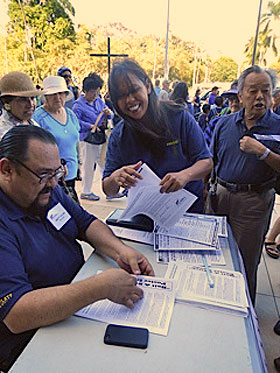 The people of Hawaii are more passionate on religious issues than than in any other state we've worked with. And as we've said many times, the religious people there are not intimidated by liberal political correctness.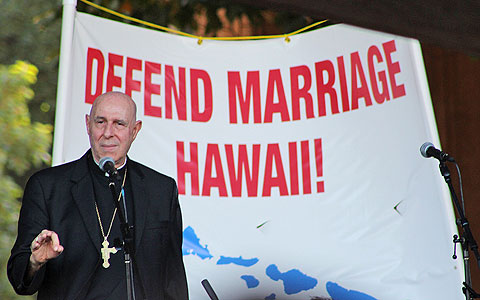 Above: Bishop Larry Silva of the Catholic Diocese of Honolulu spoke at the rally and continues his strong support for traditional marriage.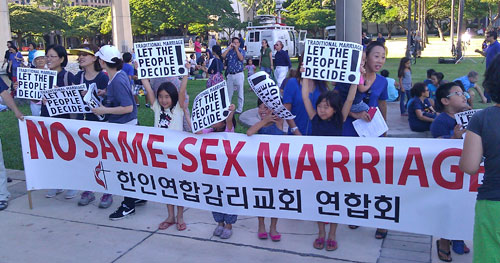 | | |
| --- | --- |
| Above and right: Hawaiians came together with one common message! | |
While the rally was going on outside, the Senate public hearing was taking place inside.
What makes this huge demonstration even most impressive is that traveling between islands in Hawaii is basically only done by airplane, and it's not inexpensive. So unless one lives on the Oahu island, coming to the rally and/or the public hearing is not a casual undertaking.
| | |
| --- | --- |
| Not quite like other states. If you live on Oahu, there were busses to bring you to the rally. But if you live on any of the other Hawaiian islands, it's an airplane ride. And they still got thousands and thousands to show up! | |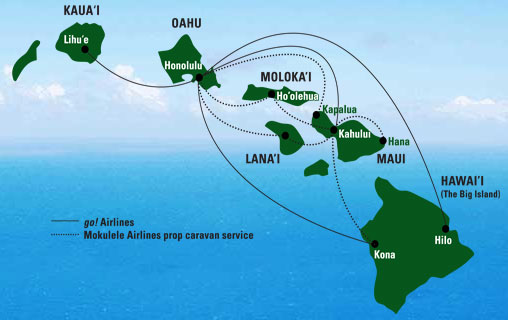 Outrageous Senate public hearing insulting to citizens
Over the years we have watched (and testified at) countless legislative public hearings in Massachusetts and other states. And we thought we'd seen every kind of sleazy move by arrogant, biased politicians. But we've never seen anything like what the citizens of Hawaii experienced on Monday.
To complicate things, a new version of the "gay marriage" bill had been posted only six days before the hearing, without much fanfare. So people had relatively little time to find it and then read, discuss, and analyze it.


The Senate panel (above) took in testimony -- giving each person just one minute.
| | |
| --- | --- |
| In the State House halls hundreds waited for up to 12 hours waiting to be called. | |
People in Hawaii are generally are less political than the rest of America. But not this time. By the time the Senate public hearing began Monday morning at 10:30 a.m., over 1800 people had come to the State House and signed up to speak. When they got there, they were told by officials that they would all get a chance to speak, though it would likely take all day and all night at least. But in fact, the committee members had already made up their minds and had no intention of allowing that.
The first group of speakers were public officials, including the Governor and Attorney General, and got as much time as they wanted to speak. When the "regular" people started, they were each given 3 minutes. But soon the committee cut the time limit down to 2 minutes, and soon after that down to 1 minute. For most of the time, people would barely get started when they were told to "wrap it up".
But worse than that, the pro-homosexual committee chairman, Sen. Clayton Hee, was unbelievably hostile toward many pro-family testifiers. As we watched via streaming video, we saw Sen. Hee interrupt, confront and argue with them during their testimony -- many of whom had never been to the State House before -- and try to paint them as being against civil rights, or that they were actually being un-Christian and intolerant. We've never seen that anywhere!
| | |
| --- | --- |
| | This man mentioned Mass-Resistance and talked about the what happened in Massachusetts because of "gay marriage." |
| | |
| --- | --- |
| | The man above was interrupted by the chairman, Sen. Clayton Hee, who was quite hostile and lectured him on "civil rights." |
Great pro-family testimony
But people refused to be intimidated by Sen. Hee and his committee. Instead they were even more resolute and fearless in their testimony. Their intellectual honesty was very refreshing. You could certainly tell that there was no moderate "establishment" statewide pro-family group controlling the "message".
God and the Bible were brought up over and over again. The legislators were reminded of the selfishness and unnatural actions they are preparing to push on the people. The far-reaching consequences of "gay marriage" were thrown at them. MassResistance was mentioned in the testimony. The inevitable homosexual agenda in the schools, which we've highlighted, was brought up a lot.
You can see the flavor what of much of the testimony was like in this short video titled "Perpetuating Hawaii's Covenant with God." Interestingly, it features a Hawaiian public official who is also a great real marriage supporter.
Chairman stops hearing and has committee vote
But then around 10 p.m. Hawaii time, the chairman simply stopped the hearing. After 425 testifiers -- most of whom were pro-family -- he decided the committee didn't need to hear from any more citizens. The rest of the 1800 people who had come and waited for over 12 hours to speak were told to go home. Needless to say, people were very upset.
The committee immediately voted on the bill and, predictably, approved it by 5-2. But the process was so outrageous that the following day the House Republican Leadership posted a public complaint about the terrible process used. And although the mainstream press ignored it, it was covered in some of the other Hawaiian media.
On Tuesday the bill went to the full Senate. The consequences in Massachusetts and Canada were brought up in the debate. And almost immediately, another senator discounted those concerns, insisting that in Hawaii "none of those things will happen." (He did not explain why it would be different in Hawaii.)
On Wednesday, the full Senate voted 20-4 to approve the bill. This was not unsurprising. The real battle will take place in the House. After the vote, committee chairman Sen. Hee reiterated his arrogant far-left worldview in an article in the Honolulu Advertiser newspaper:
Sen. Clayton Hee, the chairman of the Senate Judiciary and Labor Committee, framed the vote in the historical context of interracial marriage and Hawaii's decision to legalize abortion.

"This is a defining moment in all of our careers and we should embrace it," Hee told his colleagues.
On Thursday: Public hearing in the House
The fight now shifts to the House, where it's fairly divided on this issue. Currently, the inside info is that the "yes" side is ahead by 1-3 votes. But there are a lot of undecideds.
The House public hearing starts Thursday at 10 a.m. The pro-family movement is not letting up; a huge turnout is predicted. Given that there is a strong pro-family contingent in the House, we doubt that the outrageous behavior of the Senate will be repeated there. So look for a long, long day (and night) of strong testimony!
What needs to happen in the House
As wonderful as much of the pro-family testimony was -- and it's valuable to have it -- our observation has always been that the hard truth is that in the end, politicians are not swayed by logic and reason as much as by pressure.
Thus, over the last few days we have advised Hawaii's pro-family leaders and church leaders that if their state rep supports this outrage, then the promise of a challenger in the next Democratic primary -- with passionate support from churches and pro-family citizens -- is the kind of language they can understand.
This kind of threat would be particularly effective in Hawaii where the districts are very small and voter turnout is generally lighter than in the rest of the country. In addition, the homosexual lobby in Hawaii is very small compared to the size of the religious community and would not likely come to the aid of their politicians the same way they might on the mainland.
We think that Hawaii's politicians need to hear that threat over and over from their constituents -- with passion, anger and conviction. What these politicians are about to do is a huge slap in the face to a large part of the population. They need to know that the consequences of passing "gay marriage" will extend to their political careers.
MassResistance attacked by Hawaii Senate leader!
We were already pretty sure that MassResistance's work was rattling the liberals in the Hawaii State House, but we didn't realize how much until this week.
We were informed that back on October 11, the Senate Majority Policy Leader, Sen. Les Ihara, Jr., a far-left pro-homosexual advocate, sent a vicious email to all members of the Hawaii Legislature attacking MassResistance.
In that email, Ihara acknowledged that our booklet "What same-sex 'Marriage' had done to Massachusetts" has been repeatedly sent to legislators. He then says that "Unfortunately, it contains half-truths, misinformation, and outright lies." Of course, he just makes the general statement without saying specifically what any of those "lies" might be.
As "proof" of that, Ihara reprints a ridiculous email (see link below) that he received from a well-known homosexual activist named Patricia Gozemba, libeling MassResistance. Gozemba is, in our experience, particularly vicious and hateful. She is also the author of the infamous book "Courting Equality" which was written soon after "gay marriages" began in Massachusetts, to help normalize homosexual "marriage" in the minds of teenagers throughout the state. National homosexual groups were able to place that book in public schools across Massachusetts (which we exposed at the time, and report in our same-sex "marriage" booklet).
In her letter attacking us, Gozemba cites as an "authority" the Southern Poverty Law Center, a national far-left hate group that has been widely discredited, and whose work has been tied to domestic terrorism and attempted murder at a pro-family office. She also references "RightWingWatch", a puerile liberal website that attacks conservatives. Both of these groups use the tiresome radical Alinsky tactic of attempting to compare conservatives to Nazis and the Ku Klux Klan.
| | |
| --- | --- |
| | Patricia Gozemba's book, "Courting Equality" is being used in Massachusetts schools to normalize homosexual "marriage" in the eyes of teenagers and portray the homosexual movement as a great Civil Rights crusade. Homosexual groups had it placed in schools across the state. |
Gozemba also repeatedly accuses MassResistance of spreading misinformation, lies, etc., but does not give much in specifics -- because she can't. The things we've published are documented facts.
Hawaii group comes to our rescue!
Thankfully, the Hawaii Republican Assembly (HIRA) immediately came to our rescue. On October 14, HIRA sent a strongly worded email to the entire Legislature defending MassResistance, telling the truth, and demanding an apology from Ihara.
Read for yourself:
From Sen. Ihara attacking MassResistance (Oct. 11)

From Hawaii Republican Assembly telling the truth (Oct. 14)
This kind of sleazy tactic must be confronted by good people. YOU can contact Sen. Les Ihara HERE.
Luckily, nobody on our side in Hawaii takes the hate and vitriol from the homosexual movement seriously. MassResistance's material is being used more than ever! And we will continue to help activists in Hawaii and across America.
This just in: Hawaii state representative files lawsuit to stop session
Yesterday, Republican State Representative Bob McDermott filed a lawsuit to stop the "gay marriage" bill from further consideration in the Legislature. His point involves the Amendment to the Hawaii Constitution overwhelmingly passed in 1998. That amendment states, "The legislature shall have the power to reserve marriage to opposite-sex couples."
Rep. McDermott was in the legislature at the time that the amendment was crafted, presented to the people, and ultimately passed. His suit reflects a widespread position and sense of anger in Hawaii that the "gay marriage" bill is unconstitutional and represents a misleading "bait and switch" by the government.
Read the news article on the lawsuit HERE. In particular, the lawsuit contends that:
(1) The Constitutional Amendment specifically gives the legislature the right to ban gay marriage, but not to create it.
(2) Prior to the vote in 1998, the universal belief (original intent) was that this amendment would effectively would ban gay marriage unless another amendment was passed. The official instructions from the Hawaii Office of Elections as well as public statements by major legislators at the time completely support this belief.
There is no question that people across Hawaii were shocked that the Legislature could even take up a "gay marriage" bill. Everyone we've spoken to believed that that was settled with the 1998 constitutional amendment. And the arrogant way the governor and legislators are pushing this through with the special session, abbreviated public hearing, etc., just outrages people even more.
This is a critical time in our 50th state. We will keep you updated on the people's battle in Hawaii!
| | |
| --- | --- |
| It certainly appears to us that most people in Hawaii believe that the state Constitution requires permission from the voters to create "gay marriage." | |