Special MA election for Congress this Tuesday. Pro-family Republican being snubbed by GOP (a disturbing trend). Up against radical anti-family pro-LGBT Democrat.
POSTED: December 3, 2013
Ho - hum. Another day, another pro-family Republican congressional candidate being thrown under the bus by the GOP establishment. But this time it's especially upsetting because this is a special election -- next Tuesday, Dec. 10 -- against a particularly odious radical Democrat.
You may recall that in the 2012 general election, the national (and local Massachusetts) Republican establishment put considerable financial resources behind Richard Tisei, a pro-abortion "out" homosexual activist RINO Republican running for Congress, who unsuccessfully tried to unseat the Democrat incumbent, John Tierney (a political hack who might have been defeated by a good candidate).
Special election for Congress
That was the 6th District. This month there's a special election (an open seat) in the neighboring 5th District. But this time the Republican is a pro-family conservative running against a very radical Democrat, and the Republican establishment seems to be staying as far away as possible.
Earlier this year, when Barack Obama appointed John Kerry to be Secretary of State, an election was held for his vacated Massachusetts US Senate seat. Edward Markey, who was the Congressman in the 5th District, won, leaving his seat vacant. Next Tuesday, Dec. 10, is the election to fill that Congressional seat. The choice could not be clearer.
The Democrat
Katherine Clark, a state Senator, is the Democrat in the race. She won a seven-candidate primary in October. If elected, Clark would likely be the most radical Massachusetts member of Congress since Barney Frank -- maybe even worse. She would certainly be as combative as Frank. She's very open about wanting to go to Washington "to fight against radical Republicans."
Katherine Clark, center (then a State Rep) was quite demonstrative at the bizarre State House signing ceremony for the Transgender Rights and Hate Crimes bill on January 19, 2012. Standing near her, at bottom, is the Executive Director of MassEquality (a woman dressed as a male). At Clark's right is "out" lesbian State Rep. Sarah Peake. To her immediate left is former State Rep Alice Wolf, a school sex-ed champion.
[MassResistance photo]
According to Clark's campaign literature that we've seen:
Says she'll fight against the Republican "war on women."
Is solidly pro-abortion. Funded by Emily's List. Will fight for continued public funding for Planned Parenthood.
Will strongly support "LGBT rights." Was endorsed by MassEquality.
Pro-gun control. Says she "will work to end the NRA's stranglehold on Congress."
In past elections, she's also been endorsed by the ultra-left Democratic Socialists of America.
Clark is a true far-left ideologue. In our experience, Katherine Clark's dislike of people with traditional values is deep and visceral. For example, this past year as a State Senator and Senate chairman of the Joint Judiciary Committee, she ran the infamous "Public Hearing from Hell" on July 9, which included many important "culture war" bills. The hearing began at 1:00 pm. During the day she allowed numerous homosexual groups to testify. But the pro-family people were forced to wait until 10 pm to testify, and most of them had left by then.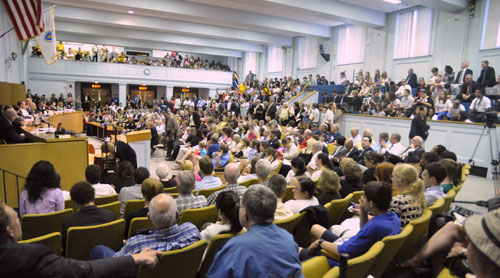 The public hearing from hell run by Katherine Clark on July 9. Her committee packed 210 bills into one day, and made pro-family people wait until 10 pm for a chance to testify. [MassResistance photo]
It doesn't get much worse than that.
The Republican
Clark's Republican opponent is Frank Addivinola, a lawyer, college instructor, and businessman. He easily won a 3-candidate primary, and is widely liked by GOP grassroots activists. He is pro-life, pro-family, pro-traditional marriage, and is also strong on a range of conservative issues. He wouldn't exactly be a conservative firebrand, though. He told us that he would not vote to impeach Barack Obama, which is annoying but no different from most of the other Republicans in the US House. (Later, a staffer told us that he might vote to impeach if there was "merit" to the charges). As a campaigner, he is quite articulate and has been a very hard worker going across the district.
| | |
| --- | --- |
| | Frank Addivinola |
There are some oddities. Although Addivinola was born and raised in the district, he currently lives in Boston (which is not in the district but that does not disqualify him from running) and his campaign committee address is in Boston, though we were told that the campaign office is in Woburn (in the district). Earlier this year he was on the ballot for Boston City Council.
Nevertheless, this would appear to be an opportunity for the GOP to pick up a seat in a traditionally "blue" district. It's an "open" seat. It's a special election which generally attracts a very low turnout -- and it's in December. And the population of the district, in our observation, is not as radically leftist as Clark.
But as far as we can tell, the Addivinola campaign has received almost no support from the state GOP establishment, and certainly none from the national Republicans either with fundraising or any other help. In other words, he's not pro-gay and "socially liberal" enough for the establishment -- certainly not another Gabriel Gomez. Thus, he's had to rely on a hard-charging volunteer-led campaign.
Clark refusing to debate Addivinola -- a no-show at 7 debates!
If all that isn't enough, there's more: We have never seen a Congressional election where one candidate flatly refused to debate the other candidate. There have been (at least) seven scheduled debates between Clark and Addivinola. They've been set up by media outlets, civic groups, and even a liberal Jewish Temple. Clark has refused to participate in any of them!
Clark refuses to attend and her campaign doesn't give a reason. We suspect that she knows her views are out of the mainstream even in Massachusetts, and in addition she does not want to have to defend Obama's record or the Obamacare train wreck! Perhaps she also knows she can't stand up to logical challenges from an articulate opponent.
But in a free society, one expects a candidate to stand up and defend his positions at least once. Obviously, Clark's opinion of that is different from the rest of us.
| | |
| --- | --- |
| TV VIDEO: At this Fox News scheduled debate, they had an empty seat for Clark, who refused to show up! (5 min 13 sec) | |
Of course, because Clark's a liberal, most of the media has outrageously ignored this. They don't even ask her about it directly. We could imagine what would happen if a Republican had that attitude.
The election is on Tuesday. In many ways, this is not unlike what we've been seeing across the country. In our opinion, the Republican Party has lost its way. You can contact the Addivinola campaign to help (or donate) HERE.