Angry mother files bill in Mass. Legislature after son was referred to outside "gay" club by school. Gives powerful testimony at public hearing.
Fights back with support from MassResistance
POSTED: October 11, 2013
The outrageous promotion of homosexuality to extremely vulnerable children in the public schools -- without concern about how it affects them -- has become legendary, particularly in Massachusetts.
This is the story about how one angry mother, with support from MassResistance, is fighting back. She is confronting the Massachusetts Legislature, pushing a bill she had her State Representative file to protect other children and their families from going through what happened to her family.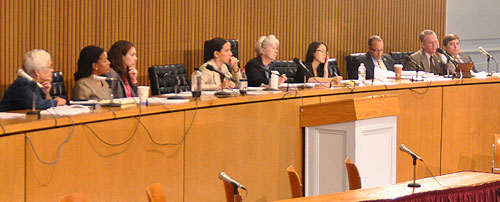 The Joint Education Committee of the Massachusetts Legislature on Oct 8.
Certain traumas during the formative years are known to cause sexual identity issues during adolescence. Most children outgrow this confusion unless otherwise influenced, which is why homosexual activists want unfettered access to public school children.
When the Splitz family's son had experienced such traumas, their pediatrician referred him for counseling and by all accounts it was working wonderfully. The boy was happy, vibrant and quite active in church and other extracurricular activities. He excelled in school and also very close to his family -- a model teenager.
The nightmare begins
But then, while attending high school at Upper Cape Cod Regional Technical School in Bourne, Massachusetts, things changed dramatically. He suddenly became distant, angry and disrespectful to his parents as well as to other adults he had once respected. He quit his church activity and many of his other activities, and almost flunked his junior year of school. Life at home became stressful and chaotic.
His parents learned that he had mentioned to the school's "adjustment counselor" that he thought he might be "gay." The counselor then gave him the business card of a local "gay youth" club run by adult homosexual activists and suggested he look into it.
At the "club" he was told in very strong terms that he was born gay, could never change, that trying to change was dangerous and apparently was introduced into the homosexual lifestyle by the activists there. Furthermore, he was instructed that anyone who didn't embrace his "gay" sexual identity was a hater and a homophobe including his parents. He was also provided with sexually provocative homosexual literature as well as anti-Christian literature.
He now considered himself "gay" and rebelled against his parents for not embracing his "identity." The high school continued to subvert the parents, taking further steps to alienate their son from them.
The Splitz family's nightmare continued as guidance counselors, administrators, and the Department of Education stonewalled them, lied to them, and manipulated them in ways that deeply wounded the family and put their son at risk.
Fighting back -- files bill in Mass. Legislature
Their son is now in college out of state and the family is trying to heal now that he is away from certain influences, and he is finally realizing that his parents have never stopped loving him. But Mrs. Splitz is fighting back against those who violated her parental rights and religious liberties, and greatly harmed her son.
Several months ago she contacted MassResistance and we've been working with her ever since. With the help of her state representative, Randy Hunt (R-Sandwich) she has filed a bill, H427 (see text below) which would ban school officials from referring children to outside organizations (not only homosexual organizations but also abortion clinics, etc.) without parental notification. The bill has bi-partisan support with 12 co-sponsors. And Mrs. Splitz has begun confronting the Legislature directly, and intends to continue.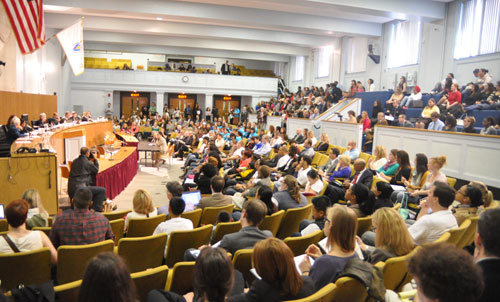 The hearing room that was packed with special-interest groups pushing their
various education-related bills. But it didn't faze Diane Splitz at all.
[MassResistance photo.]
Confronting the politicians on issue they'd rather avoid
This past Tuesday, October 8, she testified before the Joint Education Committee along with her state representative. MassResistance was also there. We had helped her prepare her testimony, but we didn't need to do much -- she isn't pulling any punches. In addition to listing some of the injustices done to her family, she also pointed out the Constitutional protections which provide that parents have the right to rear their children according to their values without interference from the government, including government-run public schools
Besides her testimony, she also submitted to the committee excellent documentation regarding the causes of homosexual confusion in children and teenagers, and the serious and sometimes deadly health risks associated with homosexual behavior -- which schools blindly promote as a "natural" alternative lifestyle. She also referenced a statement from the Ethical Standards for School Counselors declaring the legal rights of parents to be "the guiding voice in their children's lives, especially in value-laden issues." (Section A.2. Confidentiality, paragraph d.)
House Bill 427 joins the other bills that MassResistance has filed and/or supports that are now before the Massachusetts Legislature and which parents across the state are championing. We must put a stop to the Commonwealth's war on children regarding the promotion of reckless and destructive sexual, homosexual, and transgender behaviors and identities, robbing them of their innocence and putting them at emotional as well as physical risk.
The testimony
Tuesday's hearing before the Joint Education Committee was in the cavernous Gardner Auditorium in the Mass. State House. There were a number of bills that day that attracted a flood of special-interest testimony and it was nearly two hours before Mrs. Splitz and Rep. Hunt were called up. But from our standpoint, her testimony was definitely worth waiting for:
Diane Splitz addresses the Joint Education Committee. Sitting next to her, at right, is her state representative, Randy Hunt, who sponsored the bill for her.
[MassResistance photo]
TESTIMONY BY DIANE SPLITZ:

Thank you for the opportunity to testify regarding House Bill 427 concerning parental notification and the rights of parents to direct the education and upbringing of their children. My name is Diane Splitz and this bill was written after my husband and I had our parental rights usurped by guidance counselors at Upper Cape Tech [High School]. The Supreme Court has deemed it unconstitutional to interfere with the fundamental rights of parents. Parents have the legal right to rear their children without interference from the government including government run public schools.

At the age of 16, when our son told the adjustment counselor at Upper Cape Tech that he thought he was gay, she referred him to the Cape and Islands Gay Straight Youth Alliance (CIGSYA) without our knowledge or consent. She did not know that our son was seeing a counselor for childhood traumas that are known to cause sexual identity issues in adolescence.

At CIGSYA our son was told that he was born gay, could never change, and that anyone who didn't embrace his sexual identity was a hater and a homophobe, including his family. Our son's life and identity were closely tied to his family and his church. Those who encouraged him to abandon his family and faith caused extensive confusion, pain and stress on an already emotionally fragile child. This was not only a critical time in his social and emotional development, but it was also at a time when he was learning how to drive, preparing to graduate from high school, and selecting a college. Trying to help him through these coming of age responsibilities was exceptionally challenging with people undermining our authority and questioning our ability as parents.

At CIGSYA he was provided with sexually provocative and anti-Christian literature. When I asked the Upper Cape Tech adjustment counselor what gave her the right to refer our 16-year-old son to an outside organization without our knowledge or consent, she stated that she didn't "refer" him, but merely gave him a business card.

The school administrators defended her actions and when I asked them what law allowed them to refer students to outside organizations, they referred me to the Mass. Department of Education [DOE] who refused to answer my questions over the phone and ignored my certified letter. Seeing links to GLSEN [Gay Lesbian Straight Education Network] on the DOE website, I attended their conference last spring where teachers were given instructions on how to insert the LGBT agenda into every subject starting in kindergarten, and on how to deal with religious and conservative parents who found their materials objectionable.

Students at the event, age 14 and up, were offered condoms and lubricants used for anal sex and they were given, among other things, instructions on how to threaten schools with lawsuits in order to force them to promote their agenda. This is how activist counselors and teachers get away with imposing their agenda on our children and why administrators are willing to throw kids like our son under the bus rather than doing what is right and honorable to protect them.

There are alternative beliefs on how children develop a sexual identity that contradict the "born that way'' theory, but it is pretty clear that a balanced presentation is not offered at public schools. In fact, schools demonize people with opposing values.

Let me just finish by saying that this bill is not about what people believe, but about parental rights. The government, including public schools, does not have the right to override the rights of fit and loving parents simply because they don't agree with them. This is unfair and unequal treatment and this law is needed to remind educators of their limited responsibilities and to further secure the role of parents in the lives of their children.

Thank you.
View of Education Committee as Diane Splitz was addressing them.
[MassResistance photo]
Here are the business cards for the homosexual group that Mrs. Splitz's son received from the school steering him to the homosexual "club."

BELOW the CIGSYA homosexual group marches in the state-supported "Youth Pride" parade in Boston in May 2009. Note person at right front, holding up hands, is a "transgender" boy wearing a white skirt, tights, and a purple ladies top. [MassResistance photo] Watch the MassResistance video of that parade HERE.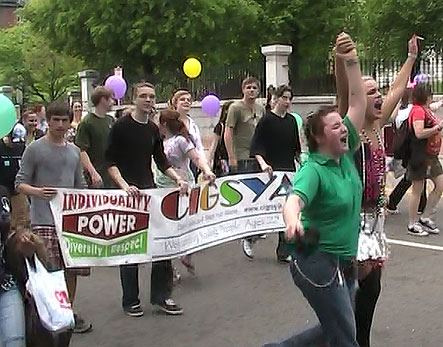 And more -- documentation for committee
Accompanying her testimony, Diane Splitz submitted the following documentation to the committee. It's a good bet they've never looked at these before:
Ethical Standards for School Counselors
American School Counselor Association

Letter to Superintendents: The facts about homosexuality & youth
American College of Pediatricians

Is homosexuality desirable? The brute facts
From "Homosexuality and the Politics of Truth" by Jeffrey Satinover, MD

Ten things gay men should discuss with their healthcare provider
Gay and Lesbian Medical Association

CDC Facts - Homosexuality & Male HIV/STD Risk

Gay and Bisexual Men's Health Recommendations
Centers for Disease Control and Prevention

Why isn't homosexuality considered a disorder on the basis of its medical consequences?
LifeSiteNews.com
Text of the bill and its sponsors
Here's the bill that Diane Splitz filed through her state representative, Randy Hunt:
Bill #427: An Act relative to parental notification for out-of-school-district counseling referrals

Sponsored by:

Rep. Randy Hunt (R-East Sandwich)
Rep. Matthew A. Beaton (R-Shrewsbury)
Rep. Angelo L. D'Emilia (R-Bridgewater)
Rep. Colleen M. Garry (D-Dracut)
Rep. Kevin J. Kuros (R-Uxbridge)
Rep. James J. Lyons, Jr. (R-Andover)
Rep. James R. Miceli (D-Wilmington)
Rep. Keiko M. Orrall (R-Lakeville)
Rep. Alan Silvia (D-Fall River)
Sen. Bruce E. Tarr (R-Gloucester)
Rep. Elizabeth A. Poirier (R-North Attleborough)
Rep. Stephen L. DiNatale (D-Fitchburg)


Section 37L of chapter 71 of the General Laws, as appearing in the 2012 Official Edition, is hereby amended by inserting after the fourth paragraph the following:-

No counselor, therapist, social worker, teacher or other individual who provides counseling, guidance, or instructional services for the school district of a city or town, a regional school district, a vocational school district, or a charter school, may refer a student under the age of 18 (eighteen) years to, nor provide the contact information, business card, brochure, or other informational materials of, an individual, organization, or entity not employed by or under the direct control of the school district to which that student belongs without notifying that student's parents or legal guardian forthwith.
A battle begins

We're proud to be supporting Diane Splitz in this fight. She has said she'll do whatever it takes to make the politicians on Beacon Hill face the horrors that they're allowing schools to continue pushing on vulnerable kids like her son.
| | |
| --- | --- |
| Diane Splitz with Brian Camenker of MassResistance outside of the Massachusetts State House after her testimony. | |
This was by no means an isolated incident. We're aware of many similar situations in other families. It's happening across Massachusetts and throughout the country. There needs to be a thousand more like Mrs. Splitz.

In this spirit, we have begun organizing people to stop the government's hideous "war on children." This is really part of a bigger fight on these issues, and it's time for all of us to act. People can start by contacting the Education Committee regarding House Bill 427. If you are willing to get involved further and help, contact MassResistance!