MassResistance reveals disturbing background of federal judge who issued vitriolic ruling against Pastor Scott Lively.
Should have been disqualified from case.
POSTED: December 20, 2013
The federal judge who recently issued a vitriolic 79-page ruling against Pastor Scott Lively has a disturbing background revealing prejudices and improprieties that under federal law should certainly have disqualified him from presiding over the case, MassResistance has discovered. Presiding Federal Judge Michael Ponsor issued the ruling back in August.
| | |
| --- | --- |
| | Federal Judge Michael Ponsor |
As MassResistance has been reporting, Pastor Scott Lively, a well-known pro-family author, theologian, and Christian minister, is currently the target of the most bizarre lawsuit in our memory. Pastor Lively is being put on trial for allegedly perpetrating "international crimes against humanity" harming the people in Uganda. The case is being brought by the far-left New York-based Soros-funded Center For Constitutional Rights (CCR).
| | |
| --- | --- |
| Christian Pastor Scott Lively is unafraid to speak the truth. | |
Lively's only "crime" seems to be his outspoken criticism of the homosexual movement. The lawsuit is not based on anything Lively (or anyone he's ever met) actually did. It is simply an outrageous concoction of accusations based on his pro-family meetings, writings, and conversations, which took place on a handful of occasions in Uganda and in the US. Furthermore, Lively has not been charged with any actual crime in either country.
CCR filed the case on behalf of a homosexual group in Uganda called Sexual Minorities of Uganda ("SMUG"), which claims to have been harshly persecuted and that Lively ultimately caused that.
This will have a disastrous affect on the entire pro-family movement in America if successful.
Case should have been derailed by recent Supreme Court ruling
The lawsuit was filed in the Federal District Court in Springfield, Massachusetts in 2012. Lively's Liberty Counsel legal team countered with a response and motion to dismiss, thoroughly refuting all the charges.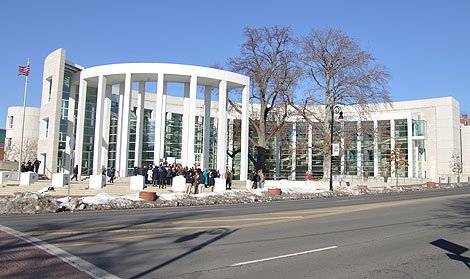 The US Federal Courthouse in Springfield on the day of the hearing on the
motion to dismiss. Note the crowd of homosexual activists demonstrating
in front against Pastor Lively.
The court's hearing on the motion to dismiss, held on January 7, 2013, was presided by Judge Ponsor. Lively's lawyers clearly indisputably demolished the plaintiff's points. CCR appeared weak and disorganized and as we reported, Ponsor appeared biased even then.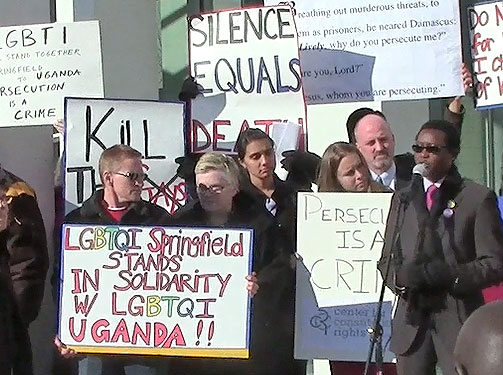 Angry demonstration against Scott Lively in front of the courthouse on the day of the hearing. NOTE: At far right speaking in microphone, member of SMUG contingent who came from Uganda. Second from right is Luke Ryan, local counsel for CCR and activist who had been in courtroom earlier.
In April, after the hearing on the motion to dismiss but before the ruling was issued, a startling thing happened. The US Supreme Court issued its ruling on the Kiobel case which essentially nullified the Alien Tort Act. That Act had been the main pillar of the CCR's attempt to charge Lively, a US citizen, for alleged acts in a foreign country. As weak as CCR's case had been, it seemed now infinitely weaker as nearly all existing suits around the country involving the Alien Tort Act were quickly dismissed. Everything seemed in place for a slam-dunk dismissal of this absurd case, as well.
Extremely hostile ruling by Ponsor rejecting motion to dismiss
But then on August 14, 2013, the nightmare happened. Judge Ponsor issued his extremely hostile ruling that flatly rejected every one of Lively's defenses and accepted all of CCR's charges against him as legitimate. Ponsor refused to acknowledge that the Kiobel ruling affected this case! Among many other things, Ponsor's ruling labeled Lively's speeches as "offensive conduct" and compared Lively to the Nazi war criminals in WWII. (We have a full analysis of that ruling coming up.)
Lively's lawyers (and the rest of us) were floored. This case itself makes no sense at all, except as a means to severely punish Lively for his views on homosexuality and to send a strong message to the rest of the pro-family movement.
In addition, this now opens the door for an intrusive personal "discovery" process against Lively by CCR's lawyers in preparation for the actual trial against him. In fact, that process has already begun.
An appeal against this particular kind of ruling asking for a higher court to dismiss the case, known as a Writ of Mandamus, is very unusual, but Lively's attorneys have filed a quite thorough writ. It is still in process.
Will our new findings have an effect on it? We hope so.
Ponsor's troubling background relative to this case
What is really going on that could explain Ponsor's absurd ruling? Recently, MassResistance has found out that there's a disturbing undercurrent to this story.
The homosexual movement is infamous for its success at shrewd "judge shopping" to push their agenda in the US court system. Ponsor was clearly a perfect choice. Ponsor is openly liberal and a protégé of pro-homosexual Judge Joseph Tauro, who recently ruled to strike down DOMA in the federal court. But that's just his more visible profile.
MassResistance has recently learned more on Ponsor's shocking background. This information was not known to the defendants when the case began.
An objective observer would question his ability to be impartial in light of these facts:
Outwardly supported radical homosexual movement very early on. Ponsor's bias favoring the homosexual movement goes back several years. At his judicial induction ceremony on Feb. 14, 1994 (after being appoint by Pres. Bill Clinton), Ponsor told the assembled crowd, "We have a proud, vibrant gay and lesbian community" in Western Massachusetts. At that time, it was a particularly unusual statement to make, especially for a judge.

Made indirect donations to plaintiff's organization. For the last two years Ponsor and his wife have contributed to the Community Foundation of Western Massachusetts (CFWF). CFWF has donated money to the plaintiff's organization, Center for Constitutional Rights (CCR) in 2012, 2011, 2010, 2009, 2008, 2007, 2006, and 2005.

Revealed bias regarding eastern African peoples (and SMUG). Several members of SMUG attended the hearing and sat in the courtroom. During the hearing, Ponsor remarked, "I'm pleased to adjudicate issues that affect the people of Uganda," and added that that it was "good to see the people whose interests are directly affected." It was an odd statement for a judge in a US courtroom to make. As a young man, Ponsor lived in Kenya (which borders Uganda) for over a year teaching English. He speaks Swahili, the official language of Uganda. He appears to be invested in "protecting" that area against those he feel would "harm" the people there.

Has homosexual issues in his family. Ponsor's former (second) wife, the mother of his two children (and whom he divorced in 1992) now lives a lesbian lifestyle and is "married" to a female Massachusetts judge. Among other things, she has written for the "Gay and Lesbian Review."

Ponsor's daughter wrote on an Internet blog that she "came out" as a lesbian in 1999, along with other references to lesbian activity.

Ponsor's first wife was heavily involved with pro-lesbian feminist groups during the time they were married.

Has troubling ties to plaintiff's local counsel, who is also a radical activist. The local opposing counsel in this case, Luke Ryan, worked as a law clerk for Ponsor from 2005-2007 and appears to be close friends with him. Ryan is an active supporter of Arise for Social Justice, a thuggish pro-homosexual group which, along with "Occupy Springfield," has terrorized Pastor Lively's downtown coffee house mission. Ryan is also involved with Out Now, a homosexual group that demonstrated against Lively at the court hearing.

| | |
| --- | --- |
| | Luke Ryan, local opposing counsel and radical activist, clerked for Judge Ponsor for two years. |
In addition to all that is Ponsor's outrageously activist judicial philosophy. This past June Ponsor told the local Springfield Republican newspaper: "At some point I realized that judges are the unappointed legislators of mankind, and what we do is just as creative." It's exactly what John Adams warned us about.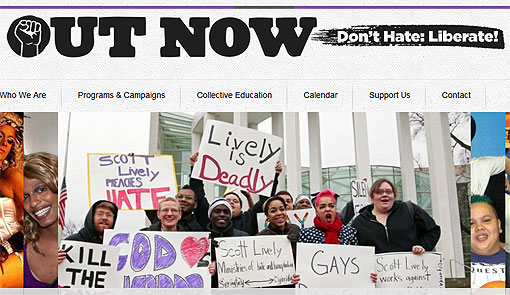 Website for local radical homosexual group "Out Now." Notice their vitriol against Pastor Scott Lively continues. Opposing attorney Luke Ryan is active with this group.
Federal law on the requirements of impartiality
The federal law and the Code of Conduct is pretty clear, as it should be:
The federal law 28 United States Code 455(a) Supp. IV, 1974 states:
Any justice, judge, or magistrate judge of the United States shall disqualify himself in any proceeding in which his impartiality might reasonably be questioned.
The website for the Code of Conduct for United States Judges adds:
An appearance of impropriety occurs when reasonable minds, with knowledge of all the relevant circumstances disclosed by a reasonable inquiry, would conclude that the judge's honesty, integrity, impartiality, temperament, or fitness to serve as a judge is impaired.
Given that Judge Ponsor's personal background facts were not disclosed to the defendant, and that they clearly show Ponsor is not impartial on homosexuality and other pertinent issues, he should have been disqualified from this case.
This absurd case has become a nightmarish miscarriage of justice. It represents the worst aspects of the "homo-fascism" that is gripping our country, which aims to utterly destroy anyone who disagrees with or opposes the sexual radical agenda.
We will continue to cover this for you.
Please support our cutting-edge work!

Donate to MassResistance!

Better yet - become a monthly donor (email us to get set up)!

Donations can also be mailed to: MassResistance, PO Box 1612, Waltham, MA 02454
ALL donations are confidential. MassResistance does not sell or lend any of its lists.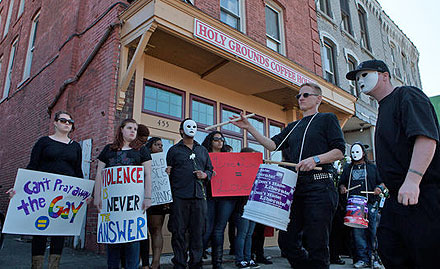 Local radical group Arise for Social Justice terrorizing Pastor Lively's
Holy Grounds Coffee House. Plaintiff's attorney Luke Ryan is active
with this group.