Boston St. Patrick's Day Parade fighting big political & financial pressure to include hardcore homosexual group.
They're not giving in -- but your activism is needed right now!
POSTED: March 14, 2014
On Wednesday MassResistance got a call from the organizers of the South Boston St. Patrick's Day Parade. The parade is this Sunday, March 16, at 1:00 pm. We spoke with them at length.
They need help from good people in Boston and across the country. We are asking everyone who gets this email to make a few phone calls and/or send a few emails. You can make an important difference with your activism.
| | |
| --- | --- |
| Here's what the family-oriented St. Patrick's Day Parade has always looked like. | |
This is what the politicians want it to look like.
[MassResistance photo]
The organizers of the Catholic-oriented pro-family South Boston St. Patrick's Day Parade are under siege by the media, politicians, and "gay" activists because of their principled stand against the homosexual agenda. The Massachusetts liberal establishment is pressuring them to include blatant homosexual-activist groups in the parade and threatening the parade's financial livelihood if it doesn't relent.
Protected by 1995 US Supreme Court ruling
The South Boston Parade is a very big target for the homosexual movement. In the early 1990s the "gay" groups used the courts to force the parade organizers to include them. They claimed that since the parade was a "public accommodation" it cannot deny homosexuals from being included. They "gays" won appeal after appeal by the parade.
But then in 1995 the U.S. Supreme Court ruled 9-0 that the First Amendment allows the parade organizers to decide for themselves who they include. And the homosexual groups have been seething ever since.
Boston attorney Chester Darling became a local legend when he won the 9-0 decision on the South Boston Parade case before the US Supreme Court. He later worked with Parents' Rights Coalition (now MassResistance) on parents' rights issues.
[MassResistance photo]
As a show of solidarity, for 20 years Boston's ultra-pro-gay mayor Thomas Menino refused to march in the parade, and instead marched in the outrageous annual Gay Pride parade.
Pressure tactics by new Mayor
This year, the new Mayor of Boston, Marty Walsh, decided to repay the homosexual movement for its huge support in his election last year by pressuring the St. Patrick's Day Parade organizers to "voluntarily" allow homosexual groups to march. In particular, Walsh insisted that the parade include the hardcore homosexual (and pro-abortion) group MassEquality.
Walsh has a long history of using pressure tactics on behalf of the homosexual movement. As a Mass. State Rep. in 2007, Walsh worked tirelessly as a "floor whip" to defeat the Marriage Amendment in the Massachusetts Legislature, peeling off enough votes to kill it just in time.
Over the last several weeks Mayor Walsh held several "negotiation" meetings between MassEquality and the parade organizers in his City Hall office. Things went back and forth; for a while it looked like the parade organizers might end up compromising. But ultimately they refused to give in to Mayor's pressure and the demands of MassEquality.
| | |
| --- | --- |
| Boston Mayor Marty Walsh talks to reporters during break from "negotiations" with parade organizers and homosexual activists. | |
All this generated a huge amount of press in the liberal media. And just about all of it has been predictably slanted against the parade organizers. And with it has come lots of terrible anti-Catholic vitriol by Boston Globe and Boston Herald columnists published in the papers.
Public isn't buying the party line this time
Nevertheless, the overall public sentiment would appear to be in favor of the parade organizers. Judging from letters to the editor (even letters from some homosexuals), comments on articles, talk show calls, newspaper online polls, and other barometers, a lot of people in Massachusetts seem sick and tired the homosexual movement forcing itself everywhere and the politicians pandering to them.
In addition, the Catholic Action League of Massachusetts, an activist group headed by C. J. Doyle of Boston, has been outstanding in articulating the outrage against the anti-Catholic bigotry in the press. Here is an example of his hard work on this issue. He has spurred on many across the state to action.
Cowardly politicians to boycott parade
But the political pressure against the parade has continued unabated. Mayor Walsh emphatically stated he was not going to give up, and will not march in the parade unless they let homosexual activist groups in. And a flood of other politicians -- many of whom have marched in the parade in previous years -- have reacted to the media circus and the possible wrath of the homosexual movement, and joined the Mayor in his boycott. According to Thursday's Boston Globe, none of the elected officials representing the South Boston area have said they'll be marching in it, the entire Mass. Congressional delegation is staying away, and all 10 candidates for Governor -- including the two Republicans -- are skipping the parade.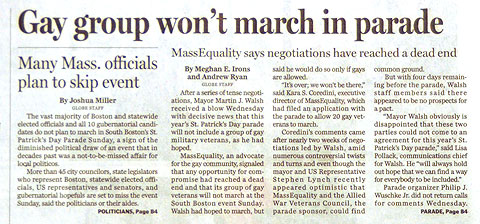 Boston Globe article, Thursday, March 13.
Attacking & harassing the parade's sponsors
The vicious tactics of the left were just beginning. On Thursday, March 6, Boston Herald columnist Margery Eagan, a vitriolic anti-Catholic, wrote a column describing how she personally telephoned the parade's major corporate sponsors and, as a member of the media, berated them for "supporting discrimination" and harangued them about withdrawing their sponsorship.
According to people we spoke with, that propelled an all-out campaign by the MassEquality supporters to harass and intimidate the corporate sponsors. (This tactic is standard procedure; the homosexual movement obsessively believes that no group which disagrees with them should be allowed to exist!)
Within a few days, many of parade's sponsors had called the parade organizers to say they no longer wanted to be sponsors, and were demanding that their logos be taken down from the parade's website. The parade people were forced to take down the entire "sponsors" page to keep more businesses from being harassed. Undortunately, the parade depends on this crucial funding to meet its expenses, and could be forced to shut down.
What you should do right now!
A lot of people sit on the sidelines and then complain when things are falling down around them. This is a time to do something. No matter where you live, the parade needs your activism!
#1: Let these corporations hear your outrage if they drop their support for the parade: These corporations have notified the parade organizers that they no longer will be sponsors, and that they wanted their logos taken down from the parade website, etc. Let them know that if they drop their support, you will never, ever buy their products again.
#2: Contact these cowardly politicians and let them know your disgust that they are helping force a pro-family Catholic group to include pathological anti-Catholic homosexual activists. (These are just the "main" ones -- that represent South Boston):
Mayor Marty Walsh
(617)635-4500
mayor@cityofboston.gov

Congressman Steven Lynch
https://lynch.house.gov/contact-me
Phone:(617)428-2000

State Senator Linda Dorcena-Forry
(617)722-1150
Linda.DorcenaForry@masenate.gov
#3. If you can, donate to the parade. They can really use the financial support!
Donate online HERE or mail to: South Boston Parade, P.O. Box 351, South Boston, MA 02127
We know that St. Patrick would be proud of you for standing up for what is right.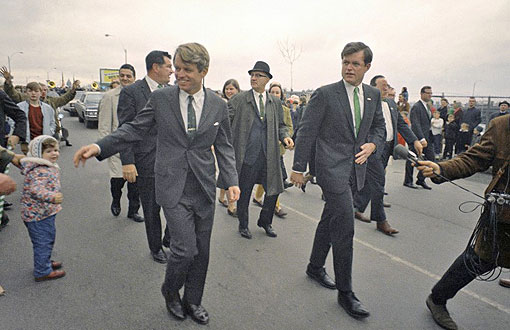 A different time. Robert F. Kennedy and Edward Kennedy march in South Boston St. Patrick's Day Parade on March 17, 1968. To our knowledge, there were no homosexual activist groups in the parade that day, either. [AP photo]