Update - MassResistance and the marriage fight around the world
POSTED: May 28, 2014
The "gay marriage" fight here in the US is going terribly (more on that below). But activists in countries around the world continue to look to MassResistance for help and advice. In particular, our eye-opening video "What 'gay marriage' did to Massachusetts" has been used in more countries than we can remember. (In fact, the video was originally created to aid the marriage fight in Australia -- which was successful!)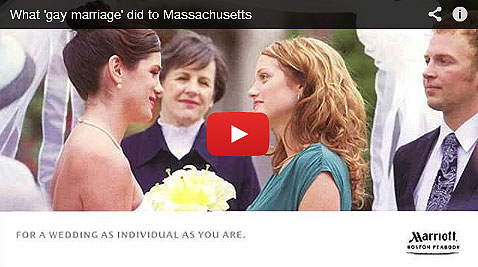 The MassResistance video "What 'gay marriage' did to Massachusetts"
has been used by activists across the USA and around the world.
* Now in Spain!
This week we were contacted by a pastor in Madrid, Spain who told us that the MassResistance video has come to Spain is helping him and others educate their churches. He told us, "I was glad and am still glad to watch this!"
We are going to work with him to get Spanish versions of our materials.
* MassResistance marriage video televised nationwide in Finland
In Finland on Tuesday, May 27, the video was televised nationally. Pro-marriage activists had created a special Finnish version, and it has been a big hit there.
Here's what a Finnish activist told us afterwards:
The broadcast was well done and just right in time. It is also now in archive and the impact of this video is felt throughout the whole country. Already something is taking place -- many have woken up to see the truth and serious consequence of that ungodly legislation. Thank for providing that video!

Near future it will be available also in Sweden and Estonia. We all thank you for providing this video for these countries. We are standing together with you in MassResistance action!
* MassResistance marriage video in Hong Kong
Last Thursday, a prominent Hong Kong TV station broadcast key parts of the Cantonese version of the MassResistance video as part of a special program to inform people about the consequences of "gay marriage."
* MassResistance featured in Al-Jazeera on marriage fight in US
No, we're not partnering with the Muslim Brotherhood. But Al-Jazeera, the huge international Muslim media empire, called our office (from Qatar, it appeared), so we talked to them.
Al-Jazeera was preparing an article "How gay marriage is winning America - Unthinkable just a few decades ago, same-sex marriage is now supported by more than half of Americans. Why?"
| | |
| --- | --- |
| MassResistance often seen as is one of the few groups willing to "tell it like it is" in the marriage fight. So we've been showing up in some interesting places. | |
They had been following our news and analysis on the "gay marriage" issue and wanted to include our perspective. The unbelievable situation right now in the US, with activist judges overturning a state constitutional protections almost weekly, made it particularly timely.
From their article:
Meanwhile, as the idea of gay marriage has become increasingly mainstream in the US, opponents speak of being sidelined from the public discourse, hampering their ability to win over minds.

"The media has closed ranks on the pro-family movement," said Brian Camenker, who leads Mass Resistance, a Massachusetts-based group that opposes gay marriage. "They've basically decided that the case is closed, and that anybody who differs on the issue at all is an extremist."

. . . One sign of the shifting tides: Whereas the amount of money spent by supporters and opponents of Proposition 8 was about even, in 2012 supporters of gay marriage initiatives outspent their rivals nearly three-to-one. Many of America's super-rich - especially those in the tech industry - have been generous donors supporting same-sex marriage. Meanwhile, once-big funders of gay marriage bans like the Mormon Church appear to have become less vocal on the issue.

"You simply can't fight this thing when you're being out-funded like 100-1, and every major company gives enormous amounts of money to the other side," said Camenker.
Interestingly, our bigger point, which the article didn't include, is that the mainstream pro-family movement still refuses to use the most effective and explosive arguments because of their fear of offending the left. This crippled us in the US Supreme Court and continues to do untold damage in court cases.
We also dispute Al-Jazeera's statement that "more than half" of the country supports it. If that were the case, there would be referendum elections for "gay marriage" popping up everywhere. But we're not seeing any. Instead, it's being pushed through the courts.
For the record, we believe that the great surge in the "gay" marriage movement is artificial. It's a massive house of cards supported by a well-executed combination of enormous money spent, brilliant use of the media, large-scale psychological manipulation techniques, and militant intimidation that has rarely been seen before in America. Without that, the whole absurd concept of "gay marriage" would not survive.