"Gay Pride Week" in Boston reveals what the media doesn't tell you about the homosexual movement.
Also: MassResistance protest at Gay Pride Parade draws anger & vitriol!
POSTED: June 24, 2014
Most people only see the filtered version of "gayness" that the mainstream media presents, which portrays it as wholesome, joyous, and even healthy. But the public spectacle of a "Gay Pride Week" (June 6-14) in a major city like Boston reveals a great deal about the pathologies, addictions, perversions, and general dysfunction surrounding homosexual behavior that is generally kept hidden.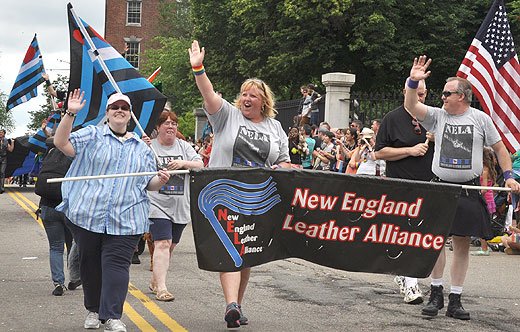 The "New England Leather Alliance," a sado-masochist group, had a prominent presence in Boston Gay Pride. Note the logo on their banner includes a whip. Their flag is a black-and-blue version of the US Flag. [All photos from MassResistance]
Make no mistake: "Gay Pride" is vastly different than the South Boston St. Patrick's Day Parade, or the Puerto Rican Parade -- or anything else you'll see in the public streets. It's not really about "fun" or even politics. It's more like a display of pathological issues.
It was not full of public sex acts like the Folsom Street Fair in San Francisco or some events in New York. But the "collateral damage" of LGBT behavior was very much in view.
For example, if you spent much time at the major "Pride Week" events you also saw examples of and references to:
Sado-masochism
Profanity and vulgarity, much of it in an angry tone
Homosexual sex; condoms and anal lubricant given out almost everywhere
Horrible "gay" diseases and psychological problems
The problem of "gay" domestic violence
Hatred of traditional religion, particularly Catholicism
Perversions such as cross-dressing and transsexual body mutilation
An obsession with children and teenagers
One couldn't miss the many very troubled and disturbed people marching and participating, and many others who were there to show what good open-minded "progressives" they are. It was an eerie feeling.
| | |
| --- | --- |
| At a Gay Pride Week event in Boston. The homosexual movement considers this fairly normal. | |
Equally disturbing was the huge support for "Gay Pride Week" from major US corporations, (Google, Microsoft, Bank of America, etc.), large hospitals, politicians, schools, and national radical organizations.
MassResistance will be posting a multi-part series documenting this further. (We will also continue our series documenting the GLSEN LGBT teachers' conference, and the recent state-supported Youth Pride Day in Boston.)
The centerpiece: An enormous parade and "festival"
The "Gay Pride Parade" itself (June 13) was enormous in scope. According to the organizers, it was the biggest ever in Boston. There were over 200 groups and at least 10,000 marchers. There were more corporations and health-related organizations than we'd ever seen before, many with contingents of over 100 people. Even though the Mass. Democrat State Convention was taking place on the same day in Worcester, many politicians still marched in the parade and others had supporters marching. (We did not see any Republicans in the parade this year. GOP gubernatorial candidate Charlie Baker was listed as a marcher, but did not show up.)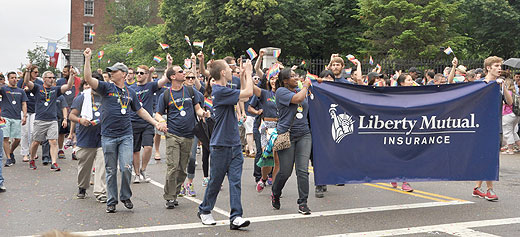 Liberty Mutual Insurance had over a hundred people marching. Each one was wearing a special "Pride@Liberty" shirt.
At the end of the parade route at City Hall Plaza was a large "festival" with dozens of booths by corporations, radical groups, health organizations, and others. Most of these also had contingents marching in the parade.
MassResistance campaign to pressure companies not to march
Prior the Gay Pride Parade, MassResistance posted an article about the virulent anti-Catholic group "Sisters of Perpetual Indulgence" which had been named as a Grand Marshall. This was clearly a move to underscore the homosexual movement's obsessive hatred of the Church. We got a LOT of feedback about that post, much of it thanking us for exposing this outrage.
| | |
| --- | --- |
| | The "Sisters of Perpetual Indulgence" were actually men (some with beards) mocking the Catholic Church. |
In that same article, we encouraged everyone to contact the corporations and politicians scheduled to march in the parade and demand that they NOT participate in such a hate-filled anti-Catholic event. We included a page with names and contact numbers for people to call. It was fairly last-minute, but we thought it was important to do.
Unfortunately, it didn't work. Every one of those politicians and corporations was in the parade.
Frankly, we were disappointed that there wasn't more spontaneous action on this from the thousands of people who get our emails, and more who read our website. One would have thought that such a disgusting thing would fire up pro-family people, whether Catholic or not.
Judging from feedback we got, most of the calling from our side came from outside of Massachusetts -- places like Florida and California. We've often observed that a lot of people here Massachusetts get very angry but are too timid (or too busy) to pick up a telephone or send a confrontational email. Instead, they'll give "moral support." So nothing happens.
As we have observed before, it seems that the homosexuals, even though they're few in number, are far more passionate and obsessive about pushing their agenda than our people are about stopping it. That must change.
MassResistance protests at Gay Pride Parade
It seems that every time there's a big public pro-marriage event, there are homosexual activists there with signs to protest it. So we decided it's about time we did that, too.
The difference, of course, is that at our events the pro-family people always react very civilly and calmly. However, when the tables are turned, homosexual activists tend react with vitriol, profanity, and threats. But our people didn't back down at all, which made it even more effective.
One of our activists had signs with five messages made up especially for the Boston Gay Pride Parade.
The marchers and their supporters really don't like being challenged. A fair number of middle fingers, f-bombs, and other crude behaviors were directed at our people. But they remained calm and even tried to engage them in discussion!
| | |
| --- | --- |
| | The best way to answer an obscene gesture is to just wave back. |
| | |
| --- | --- |
| This lesbian tried to block the signs. When that didn't work, she started passionately kissing her girlfriend right in front of them. (We'll spare you the photo of that!) | |
The verdict: The homosexual movement can dish it out but they don't take it very well. Maybe we need to do this more often.
Where was the Archdiocese of Boston in all this?
Many people have asked us what Cardinal Sean O'Malley and the Archdiocese of Boston were doing about the "Sisters of Perpetual Indulgence" being honored, and obscene anti-Catholic bigotry that this represents.
It was actually even worse than that. Boston's St. Anthony's Shrine -- administered by Franciscan Friars, members of the same religious family as Cardinal O'Malley -- had announced they would have a pro-LGBT booth at the Gay Pride Festival.
The Catholic Action League of Massachusetts informed the Archdiocese of everything and organized a campaign to urge the Cardinal to act. Unfortunately, according to the League, the Archdiocese did its best to dodge the issue completely. St. Anthony's was even allowed to have its "gay" booth.
| | |
| --- | --- |
| Friars from Boston's St. Anthony's Shrine pose for MassResistance as they put up the banner for their booth at the Boston Gay Pride Festival. | |
Many religious Catholics were very upset. Here is the write-up (scrol down) on the Catholic Action League website by Executive Director C.J. Doyle.
COMING UP: Much more on Boston "Gay Pride Week" 2014 -- that you won't read anywhere else!