'Gay marriage' battle brewing in US Virgin Islands. Pastors fearlessly organizing to stop it.
MassResistance called on to help.
POSTED August 11, 2014
The US Virgin Islands -– St. Thomas, St. Croix, St. John -– are facing a "gay marriage" battle. A bill was drafted in their legislature in May, and although it hasn't yet been formally filed, the fight has already started. Pastors have organized across the territory and have begun to confront the "gay marriage" threat.
| | |
| --- | --- |
| | The front page of the major newspaper in the Virgin Islands on July 10 tells it all. (Read article here.) |
Unlike in many parts of the United States, the pastors in the US Virgin Islands are leading the charge. More importantly, they have taken the gloves off and are not being stopped by "political correctness." At this point they are overwhelming the organized homosexual movement there. MassResistance has also begun helping and Brian Camenker may be asked go there at some point.
| | |
| --- | --- |
| The U.S. Virgin Islands are located just east of the Dominican Republic in the Carribean. | |
Bill written by lame-duck Senator
The bill was written by Sen. Judi Buckley, a liberal who is not running for re-election this year. (The Virgin Islands has a unicameral legislature with 15 senators, each with 2-year terms.) Being a lame-duck – and not having to face voters -- is part of the reason she's doing this. "The reality is, when you know you're not running for re-election, it takes away the fear," she told the local press.
Sen. Judi Buckley
[Photo: St. Croix Source]
The laws of the US Virgin Islands currently state that marriage is "between a male and a female." The bill would change that to "between two persons" and also deal with same-sex divorces, annulments, and similar issues. It would also allow clergy (or anyone else) to refuse to perform any marriage ceremony.
The bill is currently in draft form, and is still before the legislature's legal counsel. It's expected that it will not be formally introduced into the Senate until after the November elections, and most likely after the next session starts in January (when Buckley will no longer be in the Senate). Nevertheless, she's told the press that she's glad she got the process started. And the fact that it's in the queue has shaken up many on the islands.
Clergy react strongly and swiftly
The bill's appearance caused immediate distress and outrage across the territory. Even though it was in "draft" form, people could see that the "gay marriage" train was starting to roll –- and that it needed to be confronted immediately. Within days, MassResistance got a call from one of the major pro-family activists on St. John asking for information, materials, and advice –- which we were happy to supply.
"One Voice Virgin Islands"
A few weeks later, a group of pastors from all three islands met to talk about what to do to stop the "gay marriage" bill. They decided to form a pastors' organization which they named "One Voice Virgin Islands" to carry the battle across the territory.
| | |
| --- | --- |
| "One Voice Virgin Islands" is off and running! | |
They are not shy about voicing their principles. "The bottom line is: It's immoral," the pastor who is vice-president of the new organization told the press. Other pastors were quoted saying that "it would be un-Christian not to speak out against the bill" and "we do not wish to be America's same-sex paradise."
They immediately set up a One Voice Virgin Islands FaceBook page that has galvanized support across the territory.
They also set up a petition on Change.org titled: "Petitioning Governor and Legislature of the U.S. Virgin Islands: Petition to Uphold Traditional Marriage Law In the U.S. Virgin Islands." As of today, the petition has 416 signers. The statement on the petition includes Bible verses supporting traditional marriage and condemning "effeminacy and sexual acts between persons of the same gender." It's already a serious political movement. According to press reports, signers of the petition include politicians running in the 2014 gubernatorial and senatorial races.
Pastors begin taking the fight to the people!
The pastors wasted little time taking their fight to the people, and have been organizing regular rallies. In particular, For example, Pastor Dexter Skepple of Speak the Word Ministries on St. Croix has organized religious rallies and interviewed major politicians on his radio program.
"We are going to have to go to jail for this kind of thing," Pastor Skepple has told the local press. "Same sex marriage is not a human right, not a civil right," he said. "Could you imagine two men raising a baby? That's disastrous. God has designed a husband and a wife to raise a child."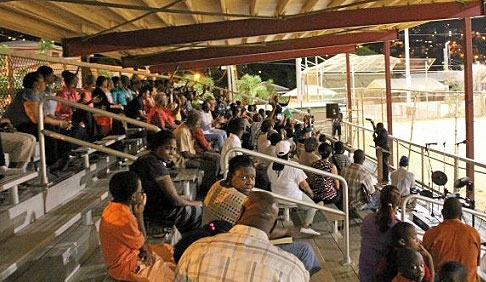 Pastor Skepple gives a fiery speech on "gay marriage" at one of his rallies
on July 9. Watch the video of Pastor Skepple's speech here. [Photo: Virgin Islands Daily News]
| | |
| --- | --- |
| Pastor Skepple interviews a candidate for Governor of the Virgin Islands on the "gay marriage" issue. | |
Homosexual group emerges to support the bill
Until now there has not been a significant homosexual movement in the U.S. Virgin Islands. Because of that, public sympathy for so-called "gay rights" is not widespread there, and "gayness" is certainly not as public as in other places. Even the media is much more evenhanded on these issues.
In March, two months before the bill was submitted, a homosexual group "Gay Pride V.I." appeared and started a Facebook page. That timing is now believed to have been in anticipation of the bill's May debut. Sen. Buckley told the press in July that said she actually started writing the bill last year, but for strategic reasons waited until this May to submit it.
Gay Pride V.I. appears to be fairly small, made up of devoted pro-homosexual activists. But like "gay" groups in other places, their main activities so far have been to disrupt and harass the One Voice Virgin Islands activities and to aggressively label anyone who disagrees with "gay rights" as bigots and haters. But from what we can tell, the One Voice people are clearly not intimidated by this.
MassResistance enters the fight
A media confrontation came on July 22. Talk radio is a big deal in the Virgin Islands. Lots of people listen. That morning a major station with a well-known liberal host did a "gay marriage" show with some prominent guests in studio, and took calls.
We got a call at the MassResistance office from a Virgin Islands pro-marriage activist asking if Brian Camenker would come on a segment of the show and debate the host, and discuss what "gay marriage" brought to MassResistance. People in the Virgin Islands need to hear this, he said.
It was a very spirited debate, to say the least. One Voice Virgin Islands later posted the entire show on YouTube (Note: Camenker is introduced at 22:35):

Radio show on "gay marriage" broadcast across US Virgin Islands on July 22. Camenker of MassResistance is introduced at approximately position 22:35.
After the show, activists said that as the bill gets closer, they would like to bring Camenker to the Virgin Islands to work with the pastors organization and help inform the public what "gay marriage" really brings to a society.
One Voice Virgin Islands holds press conference in public park
Two days later, on July 24, One Voice Virgin Islands held a press conference at Emancipation Garden, a major public park in St. Thomas. There were several speakers and they were clear as a bell as to what they wanted, and why. Not surprisingly, a gaggle of homosexual activists also came to jeer them. But it didn't hold the pastors back at all.
| | |
| --- | --- |
| | Inviting the media and islanders to the press conference. |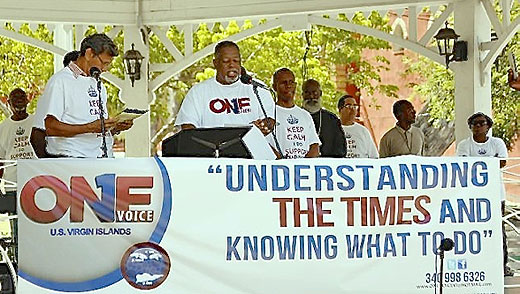 At the press conference the pastors read their statement, made speeches, and answered questions.
Here's part of the official statement that the One Voice Virgin Islands people read:
Let me be clear. we are steadfastly and unalterably opposed to this bill or any other efforts to legalize same sex marriage in the Virgin Islands. We believe that marriage, whether performed as a religious or civil ceremony, is a divinely ordained covenant between a man and a woman, period.
While we understand that some will not agree with our position and understand why we are so adamant in our opposition to same sex marriage, we have a moral responsibility to make our position known and take a strong stand. We will not be deterred from our position. The issue of same sex marriage is a state by state decision. despite what other jurisdictions have said and what the courts have ruled, all of those authorities do not trump the authority of God. The Bible is clear on this issue. We believe the Bible and that is our position. Frankly, we also believe that this is the position of the majority of the residents of the Virgin Islands.
. . . While some may view this as a human rights or civil rights issue it does not matter what label is placed on it. It is still the same. It is a moral issue. While some may manipulate the science and the political argument, those arguments do not change the fact that marriage is ordained by God to be between a man and a woman. And that position does not change regardless of the decisions of the V.I. Legislature or the US Supreme Court. Accordingly, we are committed to doing everything within our power to stop the bill from becoming law. We intend to educate the people concerning the effort to force this agenda upon us so an informed decision may be made during the political process and beyond. The decision of the people of the Virgin Islands will most assuredly affect unborn generations, our children! We are our brother's keeper! We are calling on all like-minded individuals, groups, and organizations to join in our opposition to the same sex marriage bill.
(Note: We have yet to see any wimpy "every child needs a mother and a father" type arguments meant to placate the "mushy middle" and which never work. Luckily, these pastors haven't been "educated" by the American mainstream pro-family movement.)
| | |
| --- | --- |
| Homosexual activists came to the press conference to try and disrupt it, but the pastors weren't intimidated at all. | |
In addition, One Voice Virgin Islands announced that on August 24 they would march in the streets of St. Thomas from Addelita Cancryn Junior High School to Emancipation Garden, followed by a rally there, to support traditional marriage laws. According to press reports, the homosexual activists are also considering attending the march. We'll see what happens.
The pastors' fight: An exciting breath of fresh air
"Gay marriage" bans are being aggressively challenged by the national homosexual movement in state after state here on the U.S. mainland. In opposition to that, pretty much all we're hearing from our side is mushy, moderate, punchless rhetoric that's mostly inspired by a dreadful fear of the angering media and/or upsetting the "political middle." That strategy has become almost useless.
These pastors, on the other hand, are doing far more effectively. The public is always more inspired by clear thinking and unyielding passion and emotion. And the word of God is a much easier sell than most conservatives realize. When you listen to these guys talk, you get inspired.
| | |
| --- | --- |
| | You've got to love the "One Voice Virgin Islands" gang! |
It will be a fight, for sure, if this bill starts to get traction. The international homosexual movement cannot be underestimated. But if these pastors keep up their rhetoric and energy, and don't yield to the temptation to water it down, they can stop this cold.
How it got started: A "Christian" politician who drank the Kool-Aid
Sen. Judi Buckley, the author of the "gay marriage" bill, who admittedly will probably be out of office when it gets officially filed, appears to have been hand-picked for the task. We've seen it in state after state: a leftist politician with traditional roots who is spoon fed the emotional stories about being denied "equal rights" as defined by the activists.
Buckley told the press she "set aside the teachings she was raised with," to write the legislation because soon after she was elected, many people asked her to "take it on." She added:
"I was raised in church, and I was raised in the teachings of the Bible. However, as I have gotten older, and I have understood better the Constitution, and I have understood the rules of church and state, I recognize as a lawmaker that I have to set aside my personal convictions," Buckley said. "For me, this is not an issue of morality. I believe that this is an issue of human and civil rights. No one should be discriminated against."
In other words, when deciding what's good for society, timeless morality God's teachings may be personally fulfilling, but should be trumped by man's "superior" reasoning. It's very compelling if you don't think about it too carefully, and has a long history of leading to disaster.
How do deal with politicians like this? In our opinion, the Virgin Islanders are doing it right. You can't pander to them and moderate your message. You've got to plow through it with the straight truth.
The start of the legislative process
The process of passing bills into law in the Virgin Islands is relatively slow, and unlike most places, can overlap legislative sessions. The bill is now just in draft form. Once it is introduced, it must be assigned to a committee, have public hearings, be approved by the committee, go through the Rules and Judiciary Committee, be passed by the Senate, then be signed (or vetoed) by the governor.
---
Your generous support makes our work possible . . .

Donate to MassResistance!

Better yet - become a monthly donor
(Contact us to get to donate monthly via credit card)

Donations can also be mailed to: MassResistance, PO Box 1612, Waltham, MA 02454
ALL donations are confidential. MassResistance does not sell or lend any of its lists.