MassResistance addresses defiant rally for marriage at South Carolina State House
Legislators, pastors, doctors, and others ignite the crowd for bill to bypass federal court ruling forcing "gay marriage" on state
See rousing VIDEO BELOW!
POSTED: March 8, 2015
On Feb. 28, people from across South Carolina gathered in front of the State House in Columbia. They came to support a bill filed in the General Assembly which would re-establish the state's sovereignty on the "gay marriage" issue. Legislators, pastors, doctors, and others -- including Brian Camenker of MassResistance -- spoke at the rally.

VIDEO (21 min 8 sec) -- Excerpts from speeches by: Rep. Bill Chumley, Sen. Lee Bright, Dr. Tom Kendall, Rev. E. Ray Moore, Brian Camenker (MassResistance), Rep. Mike Burns, Rep. Garry Smith, Pastor Stephen Williamson, Rep. Jonathon Hill, Pastor Michael Parnell, Josiah Magnuson.
In 2006, 78% of voters passed a constitutional amendment defining marriage as between a man and a woman. On Nov. 12, 2014 it was supposedly "struck down" by one man -- Federal District Judge Richard Gergel. The citizens of South Carolina were justifiably outraged.
State Rep. Bill Chumley is leading the battle in the South Carolina General Assembly. This past December, he filed bill H 3022 that would cut off all state funding (including pay and pension) to any state employee or activity that processes a "gay marriage" certificate, or legitimizes, enforces, or recognizes a "gay marriage" in any way.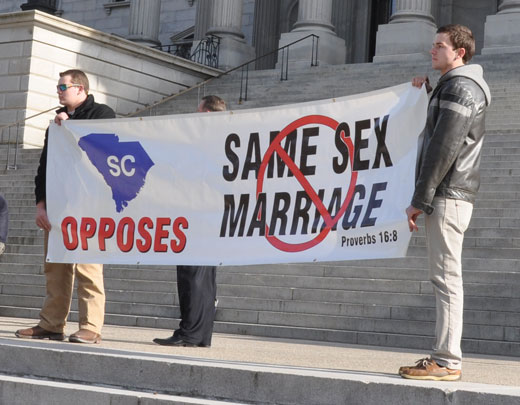 This was the opinion of 78% of the people in the state when it came up for a vote.
The momentum is growing. Pro-family legislators have filed nearly identical bills in Texas, Oklahoma, and most recently Missouri. [See our report here.] And in Alabama this past week the State Supreme Court ruled that state employees must follow the state constitution on marriage, not the federal judge.


Folks still aren't ambiguous about how they feel about the issue, that's for sure!
The rally: A riveting afternoon!
All of this has galvanized people. The speakers addressed history, law, theology, natural rights, and the Constitution – and also the "gay marriage" horror stories from Massachusetts. It was a rousing afternoon.
| | |
| --- | --- |
| Rep. Chumley, the sponsor of H 3022, was one of five legislators to speak at the rally. | |
To anyone accustomed to hearing the mush from politicians in the Northeast (even "conservative" ones) this was really different. There is something particularly refreshing about Southern lawmakers who are completely unafraid to tell the truth and invoke God's law over man's law. And the pastors were bold and inspiring, unlike so many around the country who shy away from controversy.
| | |
| --- | --- |
| Brian Camenker of MassResistance let them know exactly what they can expect if the judges get their way! | |
The crowd was visibly energized and ready to take on the battle. Many lingered afterwards to talk to the speakers and among themselves.
Lobbying effort still needed . . .
Still, a strong lobbying effort by citizens is going to be needed. There will be a battle over this bill even in the South Carolina legislature. Although the GOP dominates the state, there are a lot of RINO, Lindsay Graham-types in key positions who wield strong influence, and many who are more conservative are hesitant to make waves or deal with a possible constitutional crisis.
In addition, the Governor, Nikki Haley, reportedly has national ambitions and has been siding with the pro-homosexual GOP establishment. So even though the constitutional amendment on marriage passed by 78%, the legislators are definitely going to have to be reminded of that in very unambiguous terms by the citizens.
Local pro-family groups stepping up to the plate
Local South Carolina pro-family groups are organizing and lobbying. Americans for Constitutional Government (ACG) in Greenville, SC, had a speaker at the rally and is wasting no time diving into this battle. The group passed out their new "protect marriage" flyer to the crowd. The John Birch Society and other groups are also mobilizing for the effort.
However, it's very troubling that the prominent statewide "establishment" pro-family group in South Carolina, the Palmetto Family Council, which was a major force working to pass the 2006 constitutional amendment, was not at the event even though they were invited to speak. A staffer told us that they are concerned that Bill H3022 would clash with the federal courts. (Yes, it would. That's the point!) Instead, we were told, they are supporting a new constitutional amendment on marriage that would be acceptable to the courts. (An impossibility?) This is not at all reassurring. But we're still working with them to get on board.
| | |
| --- | --- |
| | Camenker of MassResistance (right) with State Rep. Jonathon Hill, a fearless pro-family legislator. |
As we've written before, these are critical times. It is very important that states take this bold step and stand up to the corrupt and clearly unconstitutional rulings of these radical federal judges.
We'll keep you up to date on this fight!