VICTORY: Knights of Columbus drop out of "pro-gay" Boston St. Patrick's Parade after massive outrage from traditional Catholics
Outrage in Massachusetts, across USA, and even Europe!
POSTED: March 13, 2015
Today we saw the triumph of resolute religious believers over the homosexual lobby.
All this week the Massachusetts Knights of Columbus (K of C), a prominent Catholic mens' organization, repeatedly vowed that they would "absolutely, definitely" march in the newly "gay-inclusive" Boston St. Patrick's Day Parade on Sunday. But the group finally bowed to the intense pressure from traditional Catholics. At 3:32 pm on Friday afternoon they sent out an email announcing they were dropping out of the parade.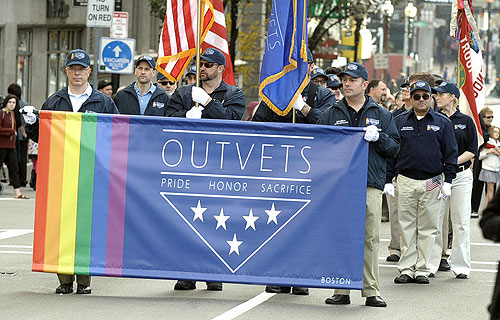 Homosexual group OUTVETS will now be marching in the "Catholic" St. Patrick's Day Parade in Boston this Sunday. [Boston Herald photo.]
The K of C had not been in the parade for at least 20 years. But several Catholic groups dropped out, including the landmark St. Patrick float. On Feb. 26, the K of C suddenly announced they would march in the parade with a float of their own. This clearly seemed to be a collusion with the liberal political establishment.
After reading the reports by MassResistance and the Boston-based Catholic Action League of Massachusetts, faithful Catholics and others reacted swiftly. From Massachusetts, across America. and as far away as Europe, they made their anger and outrage unmistakable. According to one K of C person, even many priests called.
They phoned and emailed the Massachusetts K of C offices, state officials, and also the national K of C headquarters in New Haven, CT.
In the end, the K of C was clearly overwhelmed. According to observers, it appears that the national office finally saw that this was not worth the fight, and they backed off the plan to march.
Insulting treatment by K of C when contacted
Many people who protested were particularly angered by the insulting treatment they felt they received from the K of C. Besides being adamant that they would not change their decision, K of C officials refused to acknowledge people's concerns and insisting that the inclusion of homosexual groups would have no effect on the Catholic character of the parade, and that Catholic groups should have no issue with it. The K of C even began labeling it the "Evacuation Day Parade" to downplay the Catholic connection.
Sadly, even after their announcement, rather than be gracious and apologize, the Massachusetts K of C did not relent from their disingenuous line of reasoning. Here's what they've posted on their website:
. . . We deeply regret that some have decided to use this occasion to further the narrow objectives of certain special interests, which has subjected this occasion to undeserved division and controversy. In addition, certain groups have chosen to misrepresent our reason for marching, insisting that we were participating in the parade to support another group or for political reasons.
Such statements, of course, completely miss the point and purposely obscure the real reason that people were so upset. The event is not about "special interests" or "political reasons" at all. It's a celebration of faith. And the overwhelming number of faithful Catholics – and others -- understand that.
C.J. Doyle, executive director of the Catholic Action League sent us this statement:
I want to thank Brian Camenker of MassResistance without whom this victory wouldn't have happened. Though not a member of the Catholic religion, he has shown more courage and clarity in defending the Natural Law teachings of the Catholic religion than the faculties of most of the Catholic universities in New England.
We are honored to have been able to help!
Yes, you can fight back!
This shows the power that people of faith have within themselves. We've said many times that the "LGBT movement" is an unsustainable house of cards held up by money and political power, but cannot last. As we hold fast to our principles, we'll gain momentum, so there will be more victories like this.
A final note: The weather forecast for Boston on Sunday calls for rain changing to snow.