Middle school tries to sneak in "gay" assembly -- but MassResistance intervenes!
Pressures school - which finally notifies parents
POSTED: January 16, 2015
A middle school in suburban Boston clandestinely scheduled an assembly to introduce and recruit students to the school's new "gay-straight alliance" club -- without parental notification. But after MassResistance intervened, the school relented and notified parents about the time and nature of the assembly.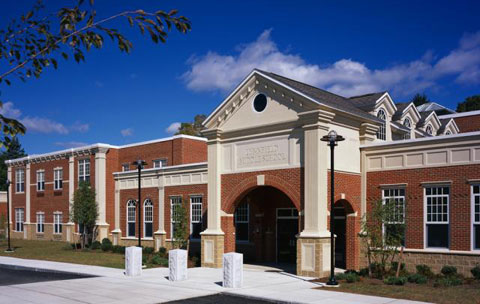 Lynnfield Middle School, Lynnfield, Massachusetts.
The school later told a parent that they were using the new "anti-bullying" laws as a reason for bringing the programming to the school.
"Gay clubs" coming into middle schools
As MassResistance recently reported, a major push of the national LGBT movement is to put "Gay Straight Alliance" clubs (GSAs) into middle schools, targeting younger students (ages 11-13).
These GSAs provide a way for radical activists to persuade young students that homosexuality, transgenderism, etc., are perfectly normal to engage in. They take troubled kids and exploit their emotions and confusion, telling them that if they feel "different" or if they "don't fit in," then they may be "gay" or "transgender." This can lead to considerable trauma and even serious physical disease.
An additional purpose of GSAs is to indoctrinate all youth (including those considering themselves "straight") in the radical ideas of the LGBT movement ("queer theory"), creating movement "allies."
A call to MassResistancce
On Friday, Dec. 12, 2014, MassResistance was contacted by a frantic mother with a child in the Lynnfield Middle School in Lynnfield, Massachusetts. She heard "through the grapevine" about a planned GSA assembly to be held during school hours the following Tuesday. But no notice from the school had been given to her or any other parent she knew.
In her opinion, she said, "they were just going to slip this by the parents." It certainly appeared that way. We searched online at the school website and reviewed the online December newsletter to parents and could find no mention of the planned assembly.
We called the school to ask if it were true that they were going to hold this assembly.
We were told yes, it is going to happen. (The person who answered the phone seemed surprised that someone was calling about it. Whether that was because she didn't know that the news got out or because we were the first to call them on it, we don't know.) During this conversation we were put on hold twice.
We asked why parents hadn't been notified of the event so they could opt their children out. We were told that an email hadn't gone out yet on the matter. We asked if an email would definitely be going out to parents to inform them, and they replied "yes."
Our next question: When would the email to parents be sent? There was only one school day left before the event (scheduled for Tuesday, Dec. 16). The woman we spoke with did not know exactly, but she thought it might get sent either Sunday evening or on Monday morning.
We also inquired as to why there was no mention of the assembly anywhere on the school's website or in the school newsletter. She said that it was "a last-minute event" and that it would "be brief."
During the conversation she did say that parents could call now and opt their child out -- or "wait and see what the assembly was all about."
Our call got their attention!
Obviously, our conversation with the office staffer got their attention. They didn't waste any time. Within a few hours of our phone call, the Lynnfield Middle School principal sent out the following email to parents:

From: "LYNNFIELD MIDDLE SCHOOL"
Date: Dec 12, 2014 4:35:08 PM
Subject: LMS GSA Assembly

A message from LYNNFIELD MIDDLE SCHOOL

Dear Parents,
On Tuesday, December 16, students in grades 7 and 8 will attend a brief informational assembly (during STAGE time) regarding our new GSA (Gay Straight Alliance) club at LMS. Members of the Lynnfield High School GSA will lead the assembly along with the middle school GSA faculty advisors. During this assembly, high school students will discuss the importance of being an ally and share their positive experiences as high school GSA members. As an after-school club, participation in the LMS GSA is optional for students in grades 7 and 8.

If you do not wish for your child to attend the informational assembly, please contact the LMS Main Office no later than 8:30 am on Tuesday, December 16, via written note or telephone.
Thank you,

Stephen Ralston, Principal


Note that the event was to include high school gay-straight alliance members who were to tell the middle schoolers about "the importance of being an ally" and would "share their positive experiences as GSA members." This is the kind of strategy used to attract kids who may be confused, troubled and looking for somewhere to fit in. And the event was to include the middle school GSA faculty advisors. Invariably, GSA faculty advisors are either homosexual themselves or fiercely pro-gay "allies." Another red flag: The GSA meetings will be held after school, when there is less oversight and parents would be less likely to find out about them.
After the event – the spin
The mother who called us kept her child home that day. The next day the child's friends said that the event was "pretty dumb and boring." That's a good sign. But the messages very likely sunk in with many other kids.
Afterwards the mother had a conversation with a school official about the new GSA. In our opinion, the school official was not honest with her. She was told that the GSA was "basically a support group" and that in particular they want to "give support for kids with two dads or two moms." The school official said they planned to "keep it contained."
However, the email's pitch about joining the GSA and "being an ally" is clearly about bringing in kids and persuading them to become activists for the larger LGBT movement. And the call to "share their positive experiences" is also meant to make it attractive to the general student population, and bring them into the LGBT circle, emotionally if not politically.
The event was obviously not "a last-minute thing" but was planned well in advance. There was no reason that proper notification and publicity in the school community could not have taken place.
| | |
| --- | --- |
| GSA's across the country are coordinated by the national homosexual group GLSEN. | |
"Anti-bullying" laws and the LGBT agenda
The school official also told the mother that the state's new "anti-bullying" law gave the school the authorization – if not the mandate – to bring in "gay" programs like this. This is what MassResistance warned about when the state's onerous anti-bullying statute was passed. As we showed at the time, much of the language of the Massachusetts law (and also that of other states) was originally crafted by national homosexual groups. The express purpose is to leverage the "anti-bullying" concept to bring homosexual and transgender programs into the public schools. And we're seeing it now.
More and more: It's parents vs. schools
Had this one parent not stood up and come to us, it's almost certain that the school would have had the GSA assembly and attracted a great number of kids. And parents would have not known a thing about it.
It is infuriating to see this destructive and militant agenda now coming into the lower grades. Unfortunately, this reveals the underlying hostility and deceitfulness that parents are up against when it comes to the LGBT agenda in their children's schools.
If this is such a "good" thing, why were the school officials so secretive about it and eager to keep parents from knowing about it? Why were they so skittish when people like us at MassResistance – who know the ropes, so to speak—finally called them up and asked simple questions? And why was the school official so blatantly dishonest with the mother about the true nature of GSAs? This must constantly be confronted.
It's up to the parents (with support from groups like MassResistance) to confront this decisively, especially when it affects young children in the lower grades.