Dr. Church goes before hospital's Board of Directors on Oct 7. Last possible appeal of his expulsion for telling the (politically incorrect) truth.
Will review Dr. Church's evidence that his firing -- and unsuccessful appeal hearing -- were blatantly biased and violated hospital rules.
You still need to get involved – NEW petition to sign! (see below)
POSTED & UPDATED: Oct 2 2015
How can we trust the medical profession with our health and safety if it expels a doctor for telling " the politically incorrect" truth?
The Board of Directors of Boston's Beth Israel Deaconess Medical Center (BIDMC) has agreed to conduct an "appellate review" of Dr. Paul Church's expulsion from the hospital and subsequent unsuccessful appeal. A special committee of the Board has been appointed and will meet on Wednesday, Oct. 7.
This is BIDMC's gushy "Human First" logo: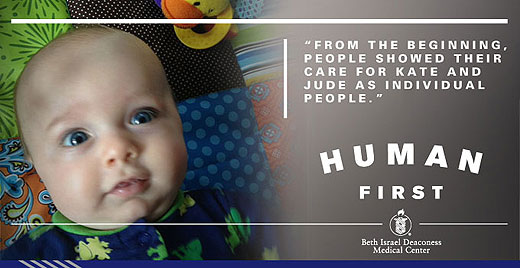 Here's our version .. .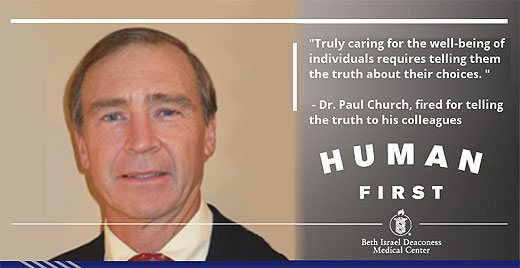 Unbelievable: Fired for telling the truth
Dr. Paul Church has been a urologist on the BIDMC staff for nearly 30 years and is a member of the Harvard Medical School faculty. He has done research on diagnosing prostate and bladder cancer, and has spoken on the subject of high-risk sexual behaviors. BIDMC is a major Harvard-associated hospital in Boston.
As MassResistance has reported, the BIDMC Medical Executive Board claimed that Dr. Church's statements to colleagues about the medical dangers of homosexual behavior, and moral issues surrounding it, were "offensive" and constituted "discrimination," "harassment," and "unprofessional conduct." Thus, they expelled Dr. Church from the BIDMC medical staff.
An appeals panel of colleagues upheld the expulsion of Dr. Church after holding a two-day hearing.
BIDMC's slogan on their website:

If they were honest, it would be more like this:

Dr. Church demands – and is getting – a review by Board of Directors
According to the hospital by-laws, Dr. Church had the right to ask the Board of Directors for an "appellate review" of the appeals panel verdict if he could demonstrate that the panel "acted arbitrarily, capriciously or with prejudice or that the recommendation of the panel was not supported by the evidence."
No specific information about the hearing has been made available. But people connected with Dr. Church's defense team have indicated that the panel's biases and actions were outrageous and could easily be documented.
The Board's committee will meet on Wednesday morning, Oct. 7. In addition to submitting documentation, the committee has decided to allow Dr. Church and a lawyer for the hospital fifteen minutes each to come and present their case in person. However, we don't know if the decision process will finish that day or take several days..
But more important: Will the Board of Directors use common sense or cave in to the political culture? We will find out soon.
Outrage across the country
The firing of Dr. Church has angered people around the world.
On Sept 18, Brian Camenker of MassResistance delivered over 4000 petition signatures – from all 50 states and 77 foreign countries -- to the BIDMC president's office. The petition demands that Dr. Church be reinstated and that the hospital, Boston's Beth Israel Deaconess Medical Center (BIDMC), stop harassing him.
During August there were a number of MassResistance-led protests outside of the hospital. Thousands of flyers were given out to BDIMC staff, patients, and others. Many were shocked to find out what was happening at their hospital.
National physicians' group sends press release on Dr. Church
This past week the Association of American Physicians and Surgeons sent out a hard-hitting press release to media across America in support of Dr. Church, also informing about the delivery of the petition names by MassResistance. This was subsequently written and reported on the Yahoo news website.

Reverberating throughout the conservative media
Although the local pro-"gay" Boston media and most of the mainstream national media has refused to cover the story, it has gotten a lot of play in conservative news sites here and in other countries. We've even done several radio interviews for stations around the country on the Dr. Church issue. But the major Boston "conservative" radio station WRKO-AM still ignores it.
What you can do NOW:
We are not ruling out more protests at the hospital – or other strategic venues. But right now, here's what you can do:
1. Sign the NEW CitizenGO petition targeting the BIDMC Board. Even if you signed the old one, we STRONGLY encourage you to sign this one. This goes to the members of the Board, not just the hospital president. Sign the petition HERE.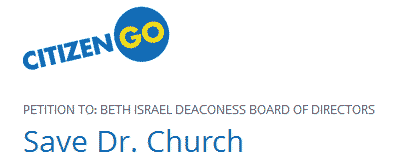 2. Contact the BIDMC Board. The BIDMC Board of Directors is made of many wealthy "outsiders" who are not part of the day-to-day operations of the hospital and thus may not be fully aware of this issue. They may not yet appreciate the horrific consequences of this action in the larger medical world. You can contact members of the board directly HERE.
Don't stop!
This perversion of justice will have huge implications across the country if this abusive expulsion is allowed to stand. It represents a complete inversion of the principles of sound public health and the triumph of radical ideology over health and safety.
Good people everywhere must support Dr. Church, one of the most courageous people in America right now, in his stand against what is truly the culture of death. If you can get involved with this, by all means do so.