MassResistance takes to the streets for Dr. Church!
Signs and flyers at busy entrance to hospital in Boston
POSTED: August 4, 2015
On Thursday afternoon, July 30, MassResistance took the fight for medical truth into the streets. A group of protesters gathered during lunchtime outside of one of the busy entrances to Beth Israel Deaconess Medical Center (BIDMC) in downtown Boston.
VIDEO: Standing up for Dr. Church! (1 min 4 sec)

Our activists carried signs and distributed information to doctors, staff members, patients, and even passing cars about the embattled Dr. Paul Church.
Dr. Church, a well-respected urologist, was recently expelled from the medical staff of BIDMC, a major Harvard-affiliated hospital, because he voiced concerns to his colleagues about the unhealthy nature of homosexual behavior and objected to the hospital's aggressive promotion of "gay pride" activities. July 30 was the second day of Dr. Church's appeal hearing at the hospital.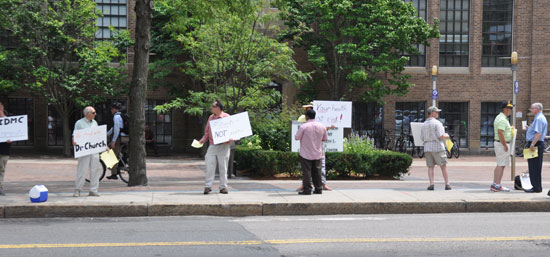 Most people were completely unaware of the situation. Many were shocked when they learned about it. Our flyers were taken by so many people that we ran out and had to quickly get more printed! Read the flyer here.
One nurse on her way to Beth Israel Deaconess West (who didn't want to be identified) told MassResistance, "Everyone should have the right to speech." Her sentiment was echoed by many others that day.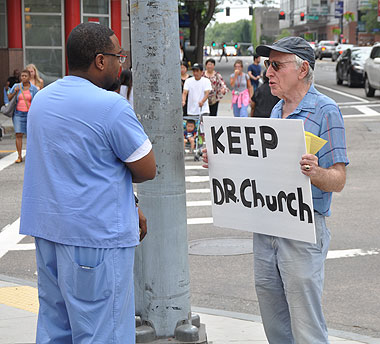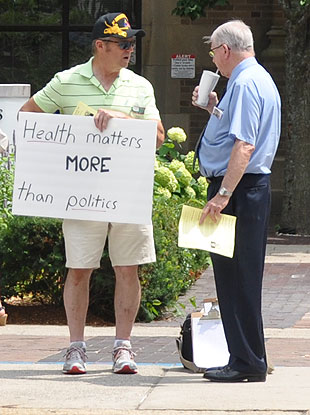 One man became so upset about it that he stayed for nearly forty minutes and talked to several of us. He said that the establishment's role in the breakdown of society bothers him greatly.
But another man, who identified himself as a homosexual who worked at the hospital, said that doctors should not be allowed to discuss those things because people like him found them offensive. "But eventually the truth will win out," the MassResistance protester said. "No, it won't," the man answered, and walked away. That's the kind of "thinking" that Dr. Church has been up against.
That is why it's very important that good people get out and do something. This is critical, especially since the media has been avoiding this news. Dr. Church's job is on the line and he's counting on us. The hospital needs to be pressured. More demonstrations may be coming. If you can get involved, please contact us!
And sign the national CitizenGo petition to demand justice for Dr. Church. Each signature also sends an email to the BIDMC president!