Protests by MassResistance at hospital in Boston continue over expulsion of Dr. Church
Hundreds of flyers (per hour) having an effect among staff!
POSTED: August 18, 2015
Last week MassResistance activists continued protesting at Beth Israel Deaconess Medical Center (BIDMC) in Boston. On Wednesday and Friday they demonstrated outside of the hospital's busiest entrance and handed out hundreds of flyers per hour to hospital employees and passersby.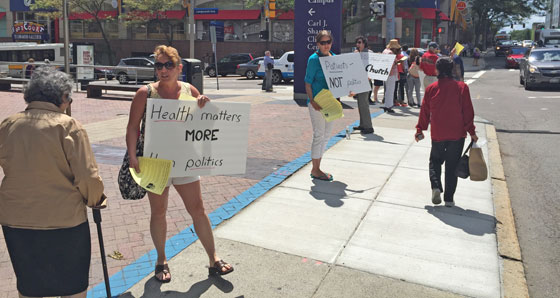 Dr. Paul Church, a well-respected urologist and member of the Harvard Medical School faculty, was recently expelled from the medical staff of BIDMC. His crime? He voiced concerns to his colleagues about the unhealthy nature of homosexual behavior and objected to the hospital's aggressive promotion of "gay pride" activities. See our report and timeline of events.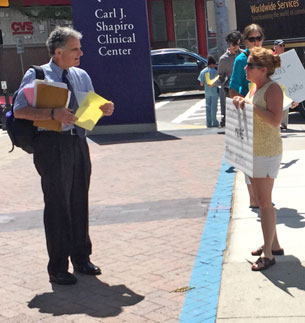 Dr. Church had an appeal hearing by a hospital committee on July 29 and 30. There has been no word so far as to the decision.
It is an outrageous and frightening situation when public health is hijacked by political correctness. As we also found in the previous week's demonstration, people were quite interested, and many were shocked, that such a thing could happen at their hospital. We have more demonstrations planned for this week.
Having an impact at the hospital
There's no question that several hundred people at BIDMC have gotten our flyer. It's getting around the hospital. When Dr. Church came to BIDMC last week (pending his final appeal, he still does work there) several people came up and asked him, "Are you the Dr. Church they're demonstrating about outside?" We've also been told that BIDMC's public relations department has been trying to come up with a way to deal with this. (So far, the hospital has had no comment at all that we have seen; certainly not on their FaceBook page.) It's an interesting situation: How do they justify silencing medical facts that affect public health?
Conservatives need to do more of this!
Is this what the homosexual movement has in store for America's public health? It certainly is looking that way, and we can't let that happen.
We really want to thank the people who have come from literally across the state – from Cape Cod to Holyoke – to actively support Dr. Church and stand up to this horrible situation.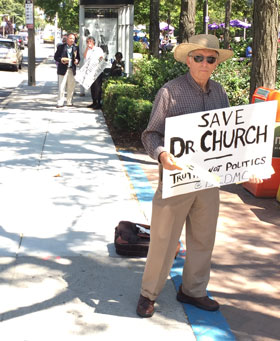 People don't generally expect conservatives to actually confront the culture of death. Our side is usually afraid to do it. (Except for Operation Rescue, of course, which is too often shunned by the conservative "establishment.")

But taking to the streets is one way to make things happen. It's where the action is. And it's an exhilarating feeling to be on the front lines doing something. We definitely recommend it to all conservatives. Far too many of us just read articles, send emails, and go to meetings.


ALSO: Everyone can sign the PETITION

Our CitizenGo petition has nearly 4,000 signatures. Each time someone signs, the hospital president gets an email. And we are planning to deliver the signatures to the hospital personally!