SCOTUS re-trial on marriage issue? It's possible if GOP doesn't cave in.
ACTION info below!
POSTED: Jully 9, 2015
It's not completely over yet. But a group of treacherous and cowardly Republican politicians are standing in the way. A new fight is on, and everyone's help is needed.
Prominent pro-family figures, some GOP presidential candidates, and hundreds across the country are pressing Ohio Attorney General Mike DeWine to formally file for an appeal hearing on the US Supreme Court's 5-4 "gay marriage" ruling handed down on June 26.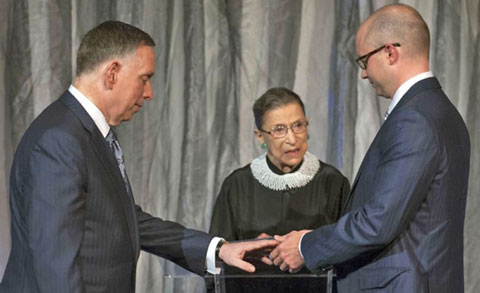 Impartial? Supreme Court Justice Ruth Bader Ginsburg performs a same-sex "marriage" on August 31, 2013. She told the Washington Post, "I think it will be one more statement that people who love each other and want to live together should be able to enjoy the blessings and the strife in the marriage relationship." [Fox News photo]
According to the Court's published rules, within 25 days of a ruling a party can ask the Court for a "rehearing" of a case on pertinent issues that would merit an appeal. The issue of "merit" here is that Justices Kagan and Ginsburg – both of whom ruled "for" same-sex marriage -- were clearly required by Federal law to recuse themselves from this case.
Kagan and Ginsburg's actions and statements mandate recusal
The right of impartial court proceedings is the very basis of the entire American system of justice – from the lowest court to the Supreme Court. Thus, federal law 28 U.S. Code § 455 states:
Any justice, judge, or magistrate judge of the United States shall disqualify himself in any proceeding in which his impartiality might reasonably be questioned.
During the year prior to the Supreme Court case, Justices Ruth Bader Ginsburg and Elena Kagan publicly performed same-sex "weddings." At one such event, Ginsburg told people that the acceptance of same-sex "marriage" reflected "the genius of our Constitution." Ginsburg also told Bloomberg Business News that she thought that Americans were ready for gay marriage.
Kagan's aggressive advocacy for LGBT "rights" goes back to her years as Dean of Harvard Law School (2003-2009), and is thoroughly documented in our MassResistance report.
Supreme Court Justices are usually scrupulous in avoiding the appearance of impropriety. They regularly recuse themselves from cases based on relatively mundane issues, such as comments they've previously made, involvement by relatives in peripheral issues, and past employment. Kagan has recused herself from several cases involving the government because she served as Solicitor General. But this case clearly is very emotionally connected to the worldview of Kagan and Ginsburg.
Earlier attempts to bring up recusal – ignored by our side's legal team
This case, Obergefell v Hodges, originated in Ohio, but is also a consolidation of cases in Tennessee, Michigan, and Kentucky – the other states in the Sixth Circuit. Thus, all four states have standing to act.
The actions of Kagan and Ginsburg immediately raised the ire of the pro-family movement. In the months preceding the April 28 hearing of the case before the Court, numerous groups tried desperately to bring up the obvious need for their recusal.
But the legal team preparing to argue the case and the attorneys general for the four states involved all adamantly refused to take any action on it. On behalf of several groups, constitutional attorney Andy Schlafly even drew up a Motion for Recusal that the legal team or the attorneys general could use. But they all ignored it.
We recall speaking with a well-known legal writer connected to the case about it in March. He made it clear that they were all afraid – afraid of antagonizing the Justices, afraid of looking unprofessional, afraid of the backlash. When pressed, he gave contrived reasons why they shouldn't even try it, and dropped the subject.
Finally, the day before the April 28 Supreme Court hearing, the Foundation for Moral Law filed its own Motion for Recusal of Ginsburg and Kagan which laid out the issue in detail. It was followed by another Motion for Recusal filed by pro-family activist Dr. Steven Hotze.
Procedurally, it's practically unheard of for someone not officially connected with the case to file such a motion. And although apparently the documents were eventually processed, it's not known whether the other Justices are even now fully aware of Kagan and Ginsburg's actions.
The Court's rules for filing a motion for a re-hearing
The Court's "same-sex marriage" ruling was announced on June 26. There is a 25-day window for further action (ending on July 21), if our side choses to file.
In a situation where important facts were not brought up and a re-hearing of a case is merited, the Supreme Court provides a method for it. Rule 44 of the "Rules of the Supreme Court of the United States" reads:
Any petition for the rehearing of any judgment or decision of the Court on the merits shall be filed within 25 days after entry of the judgment or decision, unless the Court or a Justice shortens or extends the time.
… The petition shall be presented together with certification of counsel (or of a party unrepresented by counsel) that it is presented in good faith and not for delay.
… A petition for rehear­ing is not subject to oral argument and will not be granted except by a majority of the Court, at the instance of a Justice who concurred in the judgment or decision.
A further discussion of Rule 44 can be found HERE. The main purpose of the rule is to bring up pertinent issues that the Court may not have considered in the case. It is not often utilized, and to our knowledge it has never been used for a recusal issue. But recusal is definitely a preeminent issue of this case.
Focus is on Ohio Attorney General to file for re-hearing
It immediately became clear in the four states involved with this case, though dominated by Republicans, the officials had little interest in pursuing this further, despite the gross injustice of the case and the general outrage among millions over it.
So a few days after the ruling, national pro-family activist Janet Porter called together a few dozen of the top pro-family groups and activists (including MassResistance) to get it started.
Ohio Attorney General Mike DeWine appeared to be the most obvious choice to file it. He can act without permission of the Governor, he has a pro-family background, and several members of Janet's group know him personally and could likely meet with him. A former US Senator, DeWine lost his seat in 2007 after supporting some oppressive pro-gay legislation, angering his conservative base. He apparently got the message. It's widely rumored that he's preparing to run for Governor.
On July 1, Janet's group contacted DeWine. At least one of them spoke to him by phone. The Foundation for Moral Law emailed him a letter outlining the situation in detail. Governor Mike Huckabee sent him an email urging him to file the appeal as did several others. We were told that Rick Santorum also called him.
Fight back against cowardliness – put on the pressure!
Unfortunately, DeWine has reacted initially with some hostility. Despite the universal outrage among his base about the "same-sex marriage" ruling, he seems most interested in distancing himself from any further confrontation. When asked about a possible re-hearing by the press, his spokesman bluntly told the Columbus Dispatch "We do not plan on filing a motion." And he may have more personal concerns. We've been told that some key players in the GOP are homosexual, and he doesn't want to ruffle any more feathers on this issue. He clearly needs to be more interested about what's best for the country.
Everyone needs to get involved. Take five minutes.
PLEASE CONTACT DeWine's office!

Ohio Attorney General Mike DeWine: 800-282-0515
Email: mary.mertz@ohioattorneygeneral.gov (his assistant)

Tell him: "File the motion for a Supreme Court re-hearing!"
Let him know that if he capitulates on "gay marriage" he can expect your opposition in any political race he runs in again.

Please tweet this out on your Twitter account (copy and paste):
@OhioAG please file a Motion for Rehearing Obergefell v. Hodges immediately! #nullifySCOTUS http://hrefshare.com/8b3cd
Personal meeting with DeWine on Friday. On Friday, July 10, a group of Ohio activists is meeting with DeWine personally. We suspect that he will be read the riot act. Perhaps DeWine does not realize how much of an emotional issue this is to his conservative base. Perhaps he does not remember that in 2004 the Ohio Marriage Amendment passed by 62%, despite being vastly outspent by the other side. Does he want to be another Mike Pence (the Republican governor of Indiana who capitulated on the religious freedom bill, and likely will never get elected again)? We're sure much of that will be brought up.
As bad as DeWine seems, it's not looking too good in the other states. Republican Gov. Rick Snyder of Michigan has issued an immediate statement of capitulation and full compliance, instructing state officials to amend the marriage license for use by county clerks. He's also said he'll veto any "religious freedom" legislation unless it includes adding "sexual orientation" and "gender identity" to the state civil rights law. (And this is from our "friends"!)
We have until Tuesday, July 21. We're also looking at a second try with officials in Tennessee and Kentucky.
Why is this important?
Given the super-charged political nature of this particular Supreme Court ruling and the general arrogance of the majority of the Court regarding their power to vastly re-define the Constitution, the likelihood of this ruling being reversed in a re-hearing is not great. But filing this motion for a re-hearing is still very important.
First, it will "officially" bring the issue of Kagan's and Ginsburg's failure to recuse themselves (in violation of federal law) into the public spotlight. Right now, it's relatively buried in motions and various news articles. And it will reinforce understanding of the overall illegal nature of this ruling.
Second, it spotlights the overall illegitimacy of today's Supreme Court, its overtly un-Constitutional approach to shaping our laws, and its illegal power grabs far and beyond what was intended by the Founders.
Ultimately, this ruling – like the abortion ruling in 1973 and so many others – must be conscientiously ignored, dishonored, and violated by all good Americans. It starts with this.