MassResistance hammers Education Committee at public hearing on "student survey" bill
Outrageous issue reported on Boston TV, radio, & across the Internet
POSTED: May 10, 2015
Legislators in the Massachusetts State House were stunned and shocked when confronted by parents from MassResistance at a public hearing on May 6 of the Joint Education Committee.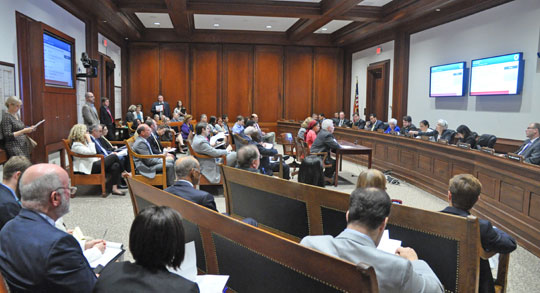 The hearing room was packed with a lot of left-wing special interest groups pushing various school bills. [All photos from MassResistance]
Parents came to demand passage of Bill H382 – to protect school children from obscene, sexually graphic, psychologically intrusive surveys conducted by the public schools without parents' knowledge. These surveys also ask youth to reveal their criminal activity, personal family matters, and other intimate issues. (See our detailed report here.) Our bill was filed in the Massachusetts Legislature in January by MassResistance with an equal number of Democrat and Republican co-sponsors.
The issue has become so incendiary that the local Boston Fox TV and National Public Radio affiliate came to the public hearing to cover it (see below). It's also been reported in national conservative news websites including Breitbart.com, ConservativePost.com, numerous blogs, and even TheFirearmsForum.com. At the hearing one Education Committee member, a State Rep who immigrated from Cambodia, compared it to what he experienced living in a communist country.
Unwavering testimony before the Committee
The parents were resolute, expressing their outrage before the Committee. In particular, they focused on the state-run "Youth Risk Behavior Survey" given to schoolchildren in middle schools and high schools.
Highlights of the testimony include:
| | |
| --- | --- |
| | From testimony by Brian Camenker, president of MassResistance: |
I'd like to read just a few questions from the survey. This was given to students in middle schools and high schools. "How old are you?" The answers range from 12 years old to 18 years old. "How old were you when you had sexual intercourse (oral, anal, vaginal) for the first time?" The possible answers are "never" and 11 through 17. "In the past three months how many people have you had sexual intercourse (oral, anal, vaginal)?" The possible answers range from 0 to 6. "In the past 30 days how many days did you carry a weapon?" "In the past 30 days what's the largest number of drinks you had in a 4-hour period?" Answers range from 1 or 2, to 10 or more. There are questions about suicide, illegal drugs, and even whether your parents text while driving.
The questions were written and the surveys are conducted in a completely unscientific manner. And because of the nature of the questions kids may lie and exaggerate. And let's be honest: These surveys are used by special interest groups to lobby for funding.
Nobody cares how it affects the mental outlook of a child, or what a child pictures in his mind when he reads these questions.
| | |
| --- | --- |
| | From testimony by Jayme Allan, mother of two children in public school: |
At the end of a long attachment to an email I received from the school, it said there was a survey developed by the state, and if you choose you can contact us.
I am a stay-at-home mother of two teenage children. But typically there's either a single parent that's working or both parents are working. We get many, many emails. Most parents aren't going to go the extra mile and even open the attachment, and then contact the school. We trust that the schools will keep our children safe. Not just physically safe but emotionally and psychologically safe.
I have a little more time than most. I actually asked for a copy of the survey. I was shocked. I was sick to my stomach. There are 88 questions. There are five questions about "Have you tried to commit suicide." Some kids struggle with depression. After that kind of experience, they'd need to see a psychologist. That's going to stir up things, and most parents aren't even aware it's being stirred up. There are questions on "anal sex, do you use condoms, drugs, etc." These questions don't say "if you …". They say "when you …" To have a flood of these questions – is normalizing this kind of behavior.
I don't know who these people are who are doing this in our schools and accessing our children. Who gave these people the authority? Instead of "opt out" this should be "opt-in."
| | |
| --- | --- |
| | From testimony by Lakeilia Johnson, mother of two children in public school: |
My son has not had sex. He doesn't know about anal or oral anything. He does not know what cocaine is. And that's on the survey as well. He does not know what heroin is. This is teaching our kids things that they don't even know. This is something that I should talk to my kids about. It's not appropriate for schools to make that decision without my knowledge.
Most of the Education Committee members, certainly the very liberal co-chairmen, were probably aware of the existence of the survey, and likely some were aware of the graphic nature of it. But they had never been confronted quite like this.
State Rep: "This is what they did at a communist country"
Newly elected State Rep. Rady Mom (D-Lowell), an immigrant from Cambodia who had been sent to a Khmer Rouge camp with his family as a young boy, was particularly shocked at the testimony, and said to one of the mothers after she spoke:
I'm just thinking of the questions being asked and I'm saying to myself, wow, this is what they did at a communist country where I just came from. This is amazing. This is what they're trying to accomplish at our schools? I will look into it more. Thanks for coming.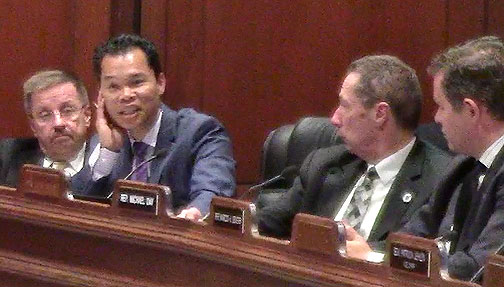 Other Education Committee members react as Rep. Rady Mom (second from left) compares what he's just heard to what he experienced living in a communist country.
Media coverage of the hearing
This got the attention of media in Boston:
Local Fox TV. The local Fox TV News came to the hearing to report on the testimony. Their news report aired that evening. (However, the report confuses the concept "opt-out", which currently exists but does not work properly, with "opt-in with written permission" which the new bill would require.)
Watch the Fox News video HERE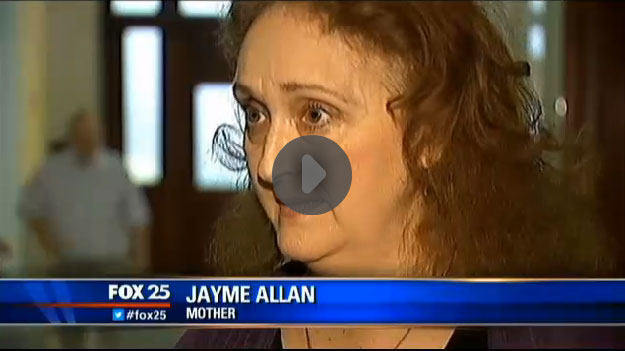 Boston NPR Affiliate. The local National Public Radio affiliate, WGBH-Boston, also had a reporter at the hearing, who filed this report on their website.
WRKO morning drive-time radio. The next morning, radio host Jeff Kuhner of WRKO radio AM 680, Boston's major talk-radio station, jumped all over it. Kuhner spent approximately two hours during morning drive-time radio discussing the issue in detail, quoting from the MassResistance website. Jayme Allan and Brian Camenker also called in and were interviewed by him. It was a powerful show.

Strangely, the audio of the show was never posted on the WRKO site, which is very unusual. But you can listen to it HERE. (Starts at 3:00 minutes in recording.)
Resolution before Medford (Mass.) City Council on surveys
Even public officials are already starting to react to our exposé of these horrible surveys. We've just been informed that the following resolution is on the agenda for the May 12 meeting of the Medford City Council:
Item 15-453 Offered by Councilor Penta
Be it resolved that the ongoing school sex survey be questioned as it is being challenged by Mass Resistance.
What can you do now?
The committee got an earful, but many parents from across the state contacted us to say they really wanted to come to the State House to testify but couldn't. The short notice (a few days) of the hearing date, work schedules, the unpredictable length of hearings, and the general hassle of driving into Boston, all made it difficult. In fact, as often happens with "conservative" bills, the committee chairmen bumped Bill H382 to near the end of the hearing, so our people had to wait quite a while as testimony on nearly two dozen other bills was heard first.
The next step is for the committee to vote on whether the bill moves forward to the House floor, or gets effectively "killed." Although the hearing was on May 6, the committee vote could take place any time in the next few months. (When it gets to the House floor, we have another strategy for that.)
Right now: Call / Write / Email the Joint Education Committee

This committee needs to hear from outraged citizens – to demand that H382 be passed. (You can also submit written testimony supporting H382 via email or mail.)

Phone: 617-722-2070
Email: House Committee Chairman, Rep. Alice Peisch, [email protected]
Mail: Massachusetts State House
Joint Education Committee, Room 473G
Boston, MA 02133.
We'll keep you informed.