Start of 'Gay Pride Week" in Boston: Politicians raise rainbow flag over City Hall and honor virulent anti-Christian group.
Elected officials celebrate a 10-day period of perversion and lunacy.
(See video below.)
POSTED: June 9, 2015
As "Gay Pride Week" starts in Boston, the political establishment has a message for religious believers: You're not welcome here.
For the second year in a row, prominent Boston politicians honored a virulent anti-Christian group (along with a cast of other bizarre characters) during a "ceremony" at City Hall Plaza to mark the beginning of "Gay Pride Week" in Boston by raising the homosexual rainbow flag over Boston City Hall.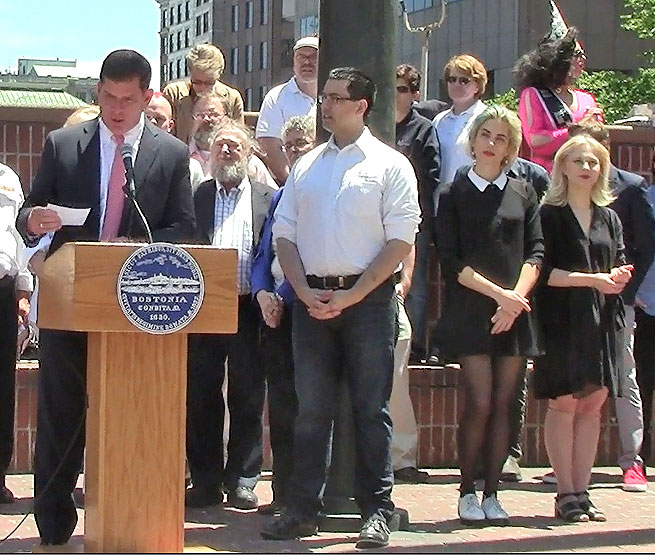 Boston Mayor Marty Walsh (left) addresses "flag raising" event as two members of "Pussy Riot" (right) stand at his side. In middle is Boston Gay Pride Week organizer.
[NOTE: All photos by MassResistance except where noted.]

Last year, the politicians outraged Catholics by honoring the "Sisters of Perpetual Indulgence," a hateful group of homosexual cross-dressers that mocks the Church.
This year, they honored the Russian female band "Pussy Riot" which notoriously staged a repulsive demonstration inside an Orthodox Church in Russia in 2012, outraging citizens in that country. The band desecrated Moscow's Christ the Savior Cathedral during a service -- storming in, stooding in front of the altar, and screaming the vulgar, profane lyrics of a song entitled "Holy Sh-t". According to news reports, it was prompted by their anger at the Church's (and Prime Minister Vladimir Putin's) traditional moral stand on homosexuality. Members of the band were arrested and spent time in jail. But they've been celebrated by the LGBT community in the US as cultural heroines.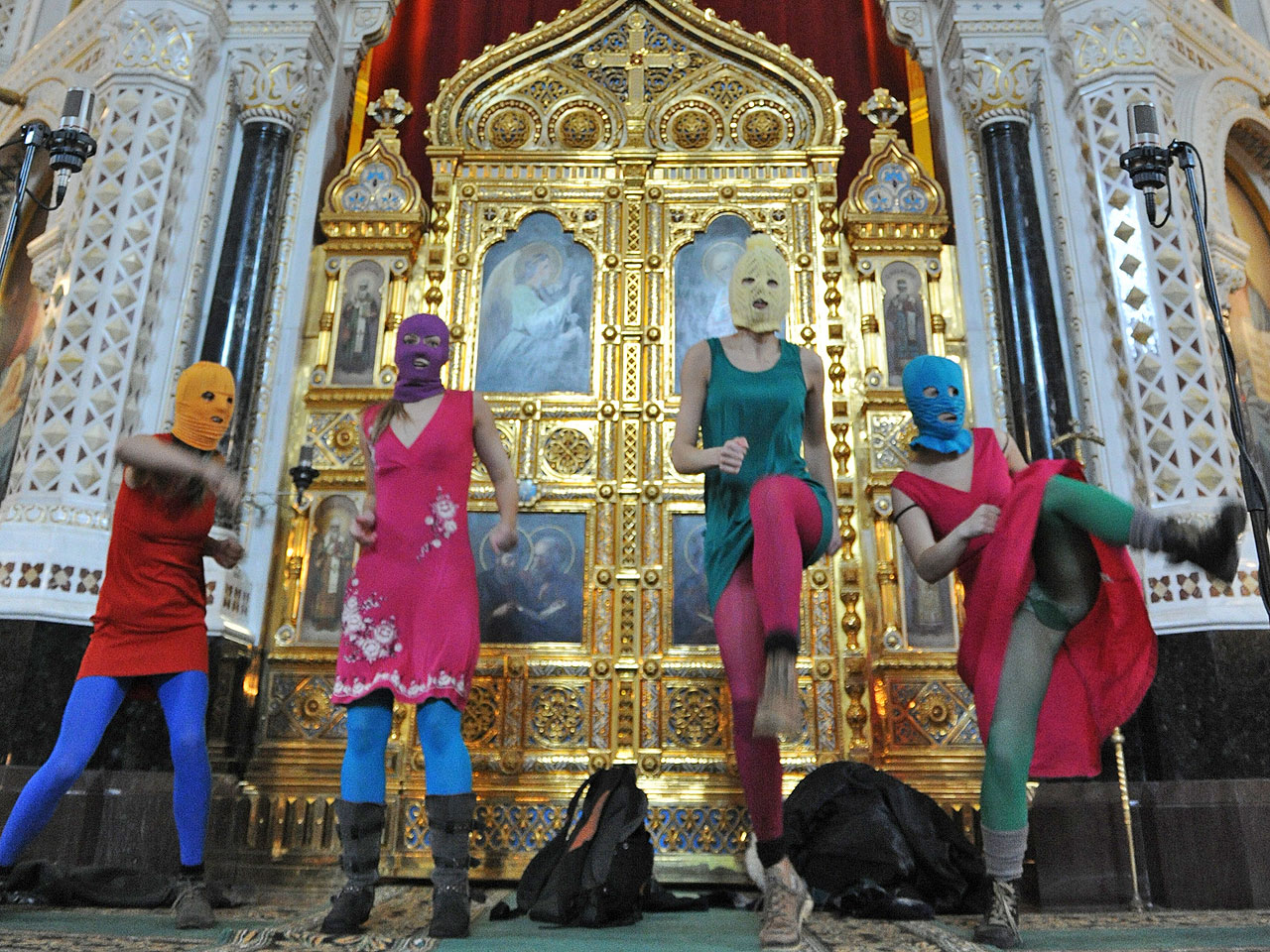 "Pussy Riot" screaming obscene lyrics in front of altar inside Russian Orthodox
church in 2012. [News photo]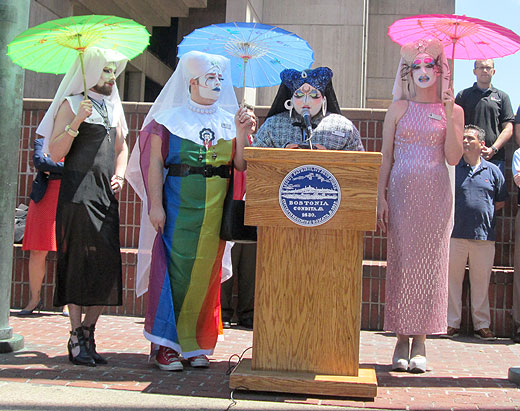 At last year's flag-raising event the anti-Catholic "Sisters of Perpetual Indulgence", a group of homosexual men dressed as flamboyant nuns, were honored.
Over the years this annual "flag raising" ceremony has become de rigeur for Boston politicians who want to show their unwavering fealty to the homosexual movement, their hardcore activists, and their latest radical causes. Each year dozens of elected and appointed officials, both from Boston and statewide, stand behind the podium during the event as various perverted activists and their causes are celebrated.
This year Boston Mayor Marty Walsh played a prominent role. Speaking for the political establishment he told the LGBT activists:
I'm so proud to be mayor of the city which hosts the largest pride event in New England. And that's something you should be proud of and we should brag about here in the city of Boston and as you go around the country.
Boston has a thriving LGBTQ community and today we have a thriving LGBTQ leadership in government and across all industries. And here at City Hall this leadership spans across all departments and reaches all the way to the cabinet chiefs in my administration.
See the State House News report on Walsh's comments.
VIDEO - Watch excerpts from the event for yourself! (4 min 47 sec):


Watch this video on YouTube
Radical anti-family politics
Then there were the speakers . . .
The LGBT movement continues its obsession with children. A major goal of the Mass. homosexual lobby this year is passing bill H97 which would ban therapy for minors suffering from sexual-orientation or gender-identity issues. This is basically the same bill we helped defeat last year.
This cruel and dangerous bill is being aggressively pushed by the LGBT lobby across the country. It would ban all professional counseling to youth who want help with their unwanted homosexuality or transgender issues. Many youth in this situation have been sexually molested and desperately need help. Many young people have been greatly helped by this kind of counseling and therapy. None of that matters to these people.
For Gay Pride Week an out-of-state activist (who sports a red Mohawk haircut and high-heel shoes) was brought in to whip up support at various events. Here's the twisted (and false) party line he told the crowd:
"I'm a survivor of conversion therapy, a horrible dangerous discredited practice that tells us that we can change gay people into straight people. I'll tell you this right now. We can't. And sadly, here in Massachusetts, it's still legal. So I ask the Massachusetts legislators -- finish the job. Let's pass the bill. And let's make sure that our LGBT youth are protected from this practice."
And more weirdness
A sampling of the speakers . . .
| | |
| --- | --- |
| | One of the Pride Parade's Grand Marshals: "Boston always makes all their events trans inclusive. In case you don't know, I am a transgender." |
| | |
| --- | --- |
| | Don't forget the "B" in LGBT: "I've been leading the Bisexual Resource Center for the last 10 years. Many of you may not know that the Boston "bi" community is one of the most vibrant "bi" communities in the country, and we're really lucky to have so much support here in Boston to a community that is often not acknowledged, often not recognized, and often invisible-ized." |
(There was no mention, of course, that the male "bi" community acts as a bridge for many sexually transmitted diseases, including HIV/AIDS, spreading infection to heterosexual women.)
| | |
| --- | --- |
| | Holding up a letter from Barack Obama congratulating participants of "Boston Gay Pride Week 2015." These days, what perverted cause would be complete without that? |
Pols from near and far
In addition to the Mayor of Boston, politicians who crowded onto the podium included: Boston City Council President Bill Linehan; City Councilors Timothy McCarthy, Matt O'Malley, Mark Ciommo, Frank Baker, Salvatore LaMattina, Michael Flaherty, and Stephen Murphy; Boston police commissioner William Evans; Suffolk County Sheriff Steve Tompkins; State Senators Sonia Chang-Diaz and Sal DiDomenico; State Reps Elizabeth Malia and Adrian Madaro; Mass. State Auditor Suzanne Bump; Mass. Secretary of Housing and Economic Development Jay Ash; and sadly even the Consulate General from Israel Yehuda Yaakov. Many others who couldn't make it sent representatives from their offices.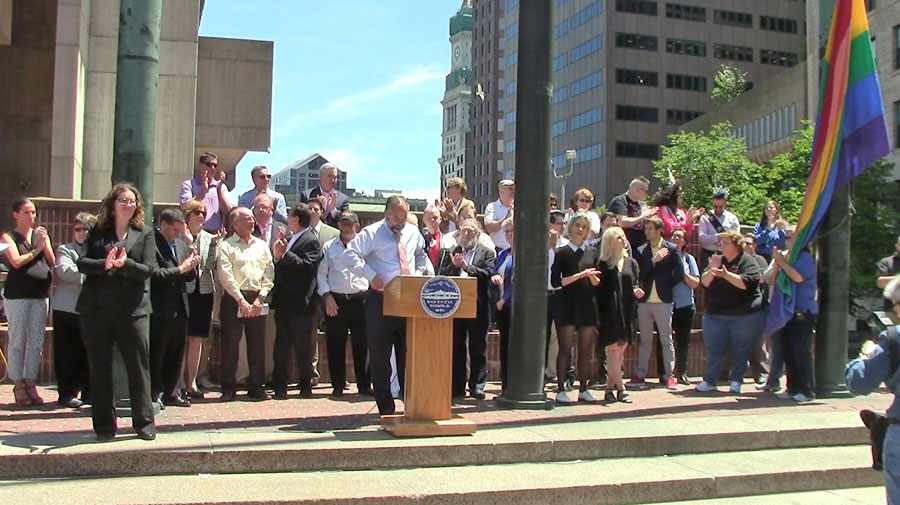 Politicians and LGBT activists applaud as rainbow flag waves in front of them before being solemnly raised.
Raise the flag!
At the end, the highlight of the event – the rainbow flag is raised over Boston City Hall where it will fly for the entire "Gay Pride Week"
How did we get to this bizarre place?
This is just the beginning of a very disturbing week in Boston.
Many people around the country (and around the world) may think that this could not happen there. Well, that's what they thought in Boston. This is the same old story of corrupt, amoral people being in power and the churches and similar institutions caving in, compromising their principles, and abandoning the battle. But we're not backing down and neither should you.