With new Finnish government elected, move to repeal "gay marriage" law ignites across Finland. Activists using Finnish-language versions of MassResistance materials.
POSTED: August 21, 2015
With a new pro-family government elected this year, the "gay marriage" battle is gearing up across Finland again with more energy and momentum than ever, using Finnish language versions of MassResistance materials to educate voters.
Late last year, as we reported, the Finnish Parliament narrowly passed a "gay marriage" law. As we've seen in so many other places, proponents used an aggressive, undemocratic strategy that allowed no parliamentary debate, discussion, or amendments to push the bill through its final stages. Within a week, over 12,000 people had resigned from the Finnish Lutheran Church over its Bishop's pro-gay marriage remarks.
But last April's nationwide elections changed the political landscape. A new Parliament was elected. The top people in government are openly pro-traditional marriage. As a result, the Finnish pro-family movement has ignited across the country to get the bill repealed. Over 70,000 people have already signed a special petition to get it before the Parliament. And to counter the "gay" propaganda, they are out educating the population and the political leaders about the consequences of "gay marriage" for society.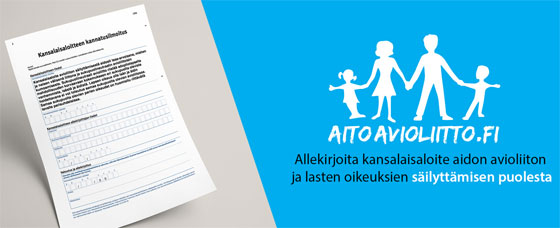 The Finnish pro-family movement is gathering thousands of signatures to force Parliament to re-visit the "gay marriage" law.
MassResistance materials
MassResistance materials are being used extensively. Last month Finnish activists finished creating a Finnish-language version of our booklet "What same-sex 'marriage' has done to Massachusetts." It is being distributed across the country and to the nation's political leaders. Our video, "What gay 'marriage' did to Massachusetts" is being shown on national TV translated into Finnish, Swedish, and Estonian.
During July, one of the coalition leaders emailed us on their progress:
We are so thankful what you have been doing to support us in this battle. Homoseksual lobby is claiming that this issue is settled, but it is not over, for we have a very good chance to defeat them.
Now your booklet is finally translated into Finnish language and is ready for the distribution. We are going to hand it out free of charge all over this country. We've also added a few additional pages in the beginning and at the end of this publication to apply your message specifically to our setting here.
We are now working to inform our Prime Minister, his government and the Parliament as well as all church leaders and all leaders, what is really involved in this same-sex marriage. We are mailing your booklet to all of them and after that, all over Finland so much as possible, to wake up the whole nation. I will let you know how our leaders respond to this campaign. Your publication will support also a new nation wide effort by www.aitoavioliitto.fi association to stop the same-sex marriage legislation.
People have been very much touched by your video, which is in three TV7 Channels - In Finnish language, Swedish and Estonian. It has already stirred up large multitude and we believe that the additional impact will come over this whole nation.
They are clearly gaining momentum.
Latest report from the front
Just this morning we received this updated report from the Finnish pro-family leader. (Note his comment that the Minister of Justice is not cooperating with enforcement of the "gay marriage" law. We need more of that spirit here in the US!)
Yes, set up is quite favorable for our cause.
(1) The Prime minister Juha Sipilä, the Foreign minister Timo Soini, the Minister of Justice Jari Lindström and several others are - as far as their personal opinion is concerned - for the traditional marriage standing with us. How forcefully they are willing to persuade their parties to stand with them - that is one of the questions now!
(2) The Minister of Justice, Jari Lindström has set up his mind not to carry on - not to workout - not to confirm legislation concerning the same-sex marriage. Finnish media is quite mad with him.
(3) People defending the traditional marriage between one woman and one man - they are campaigning to defeat the same-sex marriage - foolish voting done in the parliament. Up to this date well over 70.000 have rallied behind us in this aitoavioliitto.fi campaign.
However, according to statistics there are in Finland about 3.000.000 who personally are for the traditional marriage, but most of them think - it does not matter what happens - it does not affect me. They do not understand how serious it is to legislate the same-sex marriage. Your video and booklet is wonderfully stirring up sleeping ones. My personal target is especially the men and women in high position, those who do have the authority to make the final decision concerning this matter.
(4) Our greatest obstacle is the media! Media is by and large for the homosexual lobby. Media is 'brain washing' multitudes with false information. The whole nation and political leaders have been programmed by the media - unfortunately!
(5) The second problem is our situation in Finland. We are part of the European Union and our previous governments have shoveled most of the money to outsiders, especially to Greece. Financial problems, unemployment and various kinds of difficulties are heavily resting upon our ministers and they do not have time to put themselves to see what we say.
However, due to this aitoavioliitto.fi campaign - our parliament has to reconsider what we say. They are bound to take it again to the legislative committee and for general voting in the parliament.
Consequently, the government ministers, the members of our parliament, the media - these are key factors to determine what happens. The final result depends on what they do.
All over Finland there is a large prayer campaign going on to stop and to defeat the homosexual movement. Homosexual lobby is rallying little children to march with them in Pride Parades waving the rainbow flags. We trust that the sensible part of our population could wake up and get upset of that 'sexual force feeding'!
I will let you know what happens when the parliament is reconsidering our aitoavioliitto.fi demand. You could see the campaign webpage www.aitoavioliitto.fi and my personal campaign page www.suomijeesukselle.fi Your materials, links to see them and to read them are posted in my campaign webpage www.suomijeesukselle.fi Thank you for standing together with us and providing your materials to support us in this worldwide battle to uphold traditional & Christian family values.
The petition has until September to collect names. Given the change in government after the recent election -- and the momentum across the country to reverse the "gay marriage" law forced on citizens -- it's possible that the challenge could be taken up in Parliament this fall. Or maybe sooner?
In any case, it will be a big battle! We'll keep you informed.