Powerful pro-family conference on "Understanding Homosexuality – the politically incorrect truth." Oct 26 in Salt Lake City. Learn how to deal with the radical agendas!
Sponsored by major US pro-family groups -- including MassResistance
Nationally known experts presenting

Tickets available to attend – or watch at home via streaming video!
POSTED: Oct 17 2015

Possibly the most powerful conference dealing with the LGBT agenda ever held in the U.S. will take place on October 26 in Salt Lake City. Homosexuality in all its aspects is the topic of the inaugural Stand4Truth Conference. Titled "Understanding Homosexuality – the politically incorrect truth," it is a comprehensive conference for the public that explains truthfully and thoroughly the issues of homosexuality in terms of science, therapy, the law, the media and religion. This is the conference that much of America has been waiting for!
Vital information for this critical time in America
"Politically correct" public policies and court decisions -- in combination with the pro-"gay" mainstream media and educational system -- are forming public opinion without conveying the facts. Propaganda is silencing and distorting the truth: the truth about psychology and medical science, the truth about religious tenets and their scriptural foundations, the truth about constitutional law, and the truth about real people of all ages whose lives have been physically, emotionally, and spiritually damaged by homosexuality.
The impact of the normalization of homosexuality in the workplace, the classroom, the church, and the family reaches into every facet of modern life and portends ominous implications for the future of society. The average person must learn how to understand it, deal with it, and confront it. Truth can prevail only through education, knowledge, and action.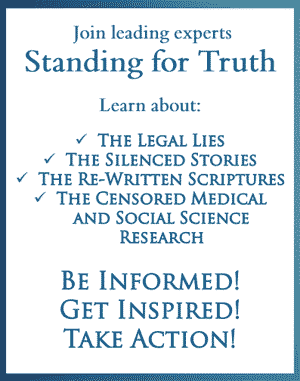 You can register to watch it live via webcast or to attend if you're in the Salt Lake area. Register HERE.
Heavy hitters of the pro-family movement involved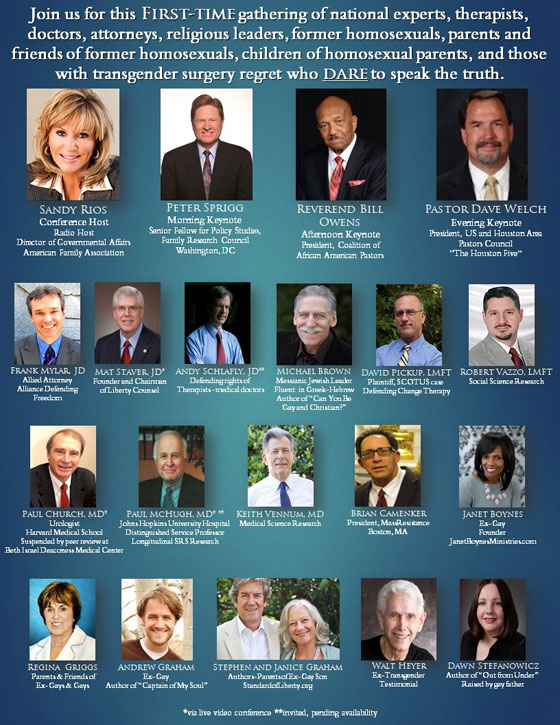 The presenters include nationally-known medical experts, scientists, therapists, a range of clergy, ex-gays, and others (from Massachusetts - Brian Camenker of MassResistance and Dr. Paul Church):
Conference Host
Sandy Rios- Director of Governmental Affairs, American Family Assn

Attorneys
Frank Mylar JD - Alliance Defending Freedom
Matt Staver JD - Founder and Chairman of Liberty Council

Physicians
Paul McHugh MD - John Hopkins University Hospital
Keith Vennum MD - Medical Science Research
Paul Church MD - Urologist, Harvard Medical School

Religious leaders
Reverend Bill Owens - President, Coalition of African American Pastors
Pastor Dave Welch - President, US and Houston Area Pastors Council
Dr. Michael Brown – Evangelical scholar, author of Can you be Gay and Christian?

Researchers
Peter Sprigg - Senior Fellow for Policy Studies, Family Research Council
Peter LaBarbera – Americans for Truth about Homosexuality

Therapists
David Pickup- LMFT, Defending Change Therapy
Robert Vasso- LMFT, Social Science Research

Ex-gay / Ex-transgender
Janet Boynes - Ex-Gay, Founder JanetBoynesMinistries.com
Regina Griggs - Parents and Friends of Ex-Gays and Gays
Andrew Graham - Ex-Gay, Author of Captain of My Soul
Stephen & Janice Graham - Authors, Parents of Andrew Graham, Ex-Gay Son
Walt Heyer - Ex-Transgender testimonial (post surgery)

Child of homosexual parent
Dawn Stefanowicz - Author of- Out From Under. Raised by Gay Father

Pro-family Activism
Brian Camenker- President, MassResistance, Boston
The conference is sponsored by Family Research Council, American Family Association, MassResistance, the American Association of Physicians and Surgeons, the EOS mobile phone company, and a major Salt Lake City radio station, KTKK AM 630.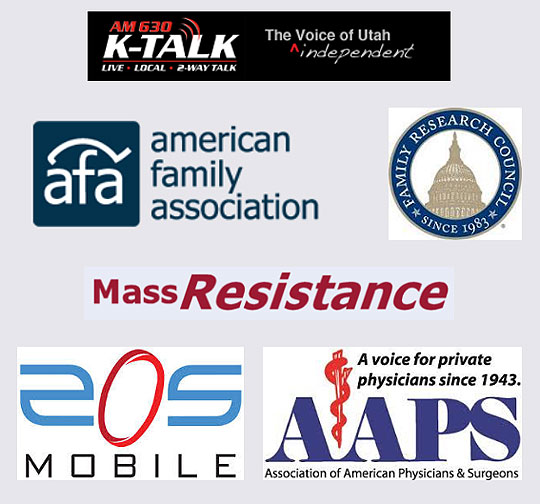 The conference is organized by The Liberty Lineup, a group of incredible pro-family activists in Utah with a daily show on KTKK/KTalk Radio AM 630.
A full day of vital information
The conference will provide a full day of information, from 10 a.m. to 9:15 p.m., including speeches, presentations, and panels of subject-matter experts. It's divided into morning, afternoon, and evening sessions.
Major topics include the TRUTH about:
Sexual orientation and real change
Self-censorship by the medical profession and the dangers it causes
Laws based on lies and Constitutional Voodoo
Adulterated religious doctrine versus moral & scriptural integrity
Real people and their personal experiences with homosexuality
Where we can and must go from here
See the entire conference schedule here.
Will equip you with knowledge and tools to fight back!
The mission of the conference organizers to inform, inspire, and motivate to take action -- "Ye shall know the truth and the truth shall make you free." (John 8:32) .
Parents, teachers, school administrators and board members, media, doctors, therapists, religious leaders and people of faith everywhere will be enlightened, leaving the Stand4Truth Conference equipped with generally unknown information and essential tools to confront the radical agendas being pushed at society.
Register now to attend – or watch at home
Don't be left out! Register now to attend the conference if you can be in Salt Lake City that day -- or to watch it from anywhere via webcast. (See conference program).
This promises to be a landmark event!