RINO Mass. Governor's well-funded attempt to purge conservatives from GOP State Committee has moderate success, but expands his majority.
Most targeted conservative incumbents survived - See our full list of results.
The same day: All three State Rep races won by Democrats.
POSTED: March 5, 2016 UPDATED: March 10, 2016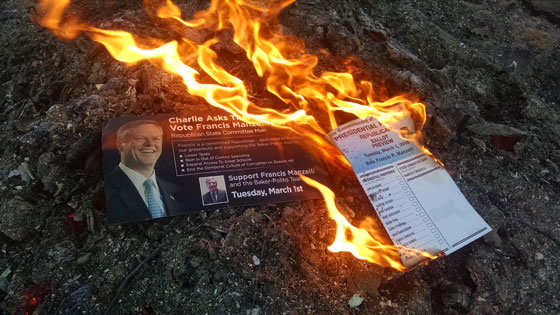 "Feel the burn." One pro-family Republican voter sent us this regarding her opinion of Gov. Charlie Baker's mailings to her house promoting his RINO State Committee candidates.
The "establishment" may have enormous money and power, but it couldn't completely overcome the grassroots conservatives.
GOP activists across Massachusetts fought back against a tidal wave of mailings, robo-calls, and emails promoting Gov. Charlie Baker's slate of socially-liberal candidates for the 80-member Republican State Committee in Tuesday's statewide elections.
This was all about eliminating the pro-life and pro-traditional marriage voices from the state GOP. As MassResistance reported earlier this week, it was an unprecedented campaign to keep conservatives from having any significant say in the Party's direction or policy.
Mass. GOP State Committee election RESULTS:
including complete list of candidates & endorsements.
According to media reports Gov. Baker personally raised $1 million to defeat social conservatives in the local GOP State Committee elections. Most of the conservative candidates spent relatively little money on their races. In a few cases, candidates won who were endorsed by neither group.
When the dust cleared, Baker's people had widened the slim majority they previously had. But they fell far short of the total purge of conservatives they had planned for.
Wins and losses
Baker's people endorsed candidates in 52 of the 54 contested races. Of those, they won 29 and lost 23. Most important, of the 16 conservative incumbents targeted by Baker, only 4 lost their seats, and 12 won. The conservatives targeted 22 Baker-endorsed incumbents with candidates of their own, and managed to knock off 4 of them. The "Tank the Gas Tax" leaders, Steve Aylward and Marty Lamb -- both heavily targeted by Baker -- easily won their races.
The grassroots conservatives generally had the advantage of being known GOP leaders in their districts, whereas most of Baker's recruits were relatively unknown and had to depend on his personal endorsement and campaign machine, which had less influence on the arcane State Committee races.
Baker also endorsed the candidates in 22 of the 26 uncontested races. Many of those people are known to be personally conservative, and two of them emailed MassResistance to say that Baker's people had never contacted them. However, from past experience, it's possible that Baker's people believe that if push comes to shove, they would work with him.
Republicans lost the three IMPORTANT state races that day
While Baker was spending enormous amounts of money to defeat fellow Republicans in less important State Committee races, the important business was largely ignored.
There were three races for State Representative seats that day -- in Brockton, Peabody, and Fitchburg. The Democrats won all three races. The Peabody seat had been held by a Republican. The Fitchburg race was lost by just 150 votes. The GOP didn't even bother to run a candidate in Brockton. Baker and his people seemed uninterested. This is a disgrace.
Baker not letting up
According to a Boston Globe article, Baker is not letting up. He'll be enforcing his squishy "moderate" (actually, liberal) approach to social issues. As the Globe observes,
Baker's folks, believing they have kicked the hard-right conservatives to the curb, think the nasty fight has all been worthwhile. Now the party will be far less unwieldy and more reflective of Baker's more moderate image and ideology.
According to the article, one the first things on Baker's list is replacing National Committeewoman Chanel Prunier when the new State Committee meets on April 2 to elect the national committeeman and committeewoman. Even though she strongly supported Baker in 2014 against his pro-life, pro-traditional marriage primary opponent Mark Fisher, Baker has never trusted her because of her pro-family activism. (In fact, a large number of pro-family GOP activists were willing to support Baker against Fisher. Don't get us started on that.) But Prunier's cardinal sin was supporting the conservative slate of State Committee candidates, and even raising money for a robo-call for them. There can be no diversity of opinion allowed at that level of the State GOP, so the establishment has determined that she's got to go.
State House News reported on March 7 that Baker is backing Rep. Keiko Orrall (R-Lakeville) to replace Prunier. Orrall's husband, Norman Orrall, a state employee, won a State Committee spot as part of Baker's slate.
The fight continues. But the establishment has irrevocably distanced itself from its own base – something the Democrats would never think of doing. We'll see how this works in November when the Party needs help in the trenches.
Pro-family candidate Jim Dixon (standing, in suit) held his fundraiser in a Waltham bar.

When the votes were counted ... Jim won!