Supporters call on MassResistance to expand in other states – to help parents fight the LGBT agenda in schools.
Supporter in South Carolina offers $5K one-week matching donation to jump-start our operations!
POSTED: April 3 2016
MassResistance's recent work in Tennessee helping parents and school board officials confront the national LGBT movement's push into the schools – as well as our work in other states – has brought calls from supporters and activists to expand our operations elsewhere.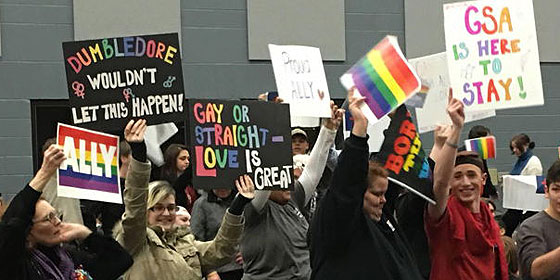 Homosexual activists from across Tennessee came to the local school board meeting to intimidate parents.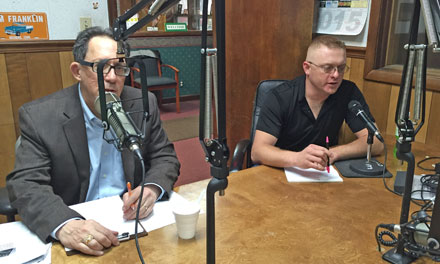 But Brian Camenker of MassResistance (left) came to Tennessee and went on the radio with a local parent to help parents across the county to fight back!
A supporter from South Carolina has now offered a $5,000 matching donation to jump-start this expansion. "We want to see more victories," he told us. "And MassResistance is the best conservative organization to do it." He's calling on our supporters to match his offer this week (April 3-10) to get things rolling.
People have approached us about state and local chapters
To many, this is long overdue. People everywhere desperately want to have an organized way to fight back. From across the U.S., people have approached MassResistance wanting to form a state or local chapter. Besides our base in Massachusetts, there is already a state MassResistance chapter in Virginia. We have received requests and inquiries from local activists in: New Hampshire, Colorado, Utah, Arizona, California, Minnesota, Iowa, Texas, Mississippi, Alabama, North Carolina, South Carolina, Georgia, Tennessee, New York, Pennsylvania, Hawaii, Puerto Rico, and elsewhere.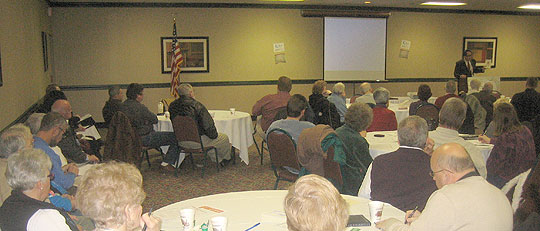 Camenker (at podium, upper right) speaks to a strategy breakfast in Omaha, Nebraska for activists battling the "transgender" agenda.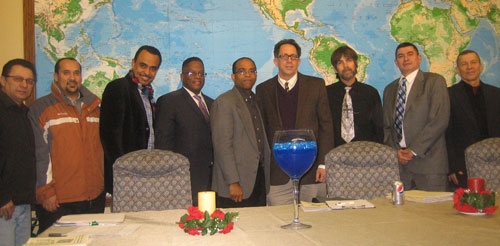 Camenker met with Hispanic pastors in Providence, RI., to discuss methods to pressure the pro-"gay" Legislature.
And foreign countries …
MassResistance has also been active in other countries – some where the radical agendas are even farther along, and others it's still getting momentum. But people are worried. We've received requests from pro-family activists to help form chapters in Australia, Canada, the United Kingdom, Uganda, Ghana, the Bahamas, and Costa Rica.
In addition to that, we've worked with parents and activists in Jamaica, Poland, Croatia, Finland, Ireland, Northern Ireland, South Africa, Israel, Spain, and France.
Why haven't we moved forward already with developing more chapters and activist groups? It comes down to resources, and money. We have big ideas and aggressive plans. But it takes resources and money to carry them out. And -- with the help of our supporters -- this is the time to do it.
*** DONATE to help us match the $5K challenge - double your money! ***
The schools, in particular
The situation in our children's schools is getting much worse. Funded by major US corporations, and even pushed by the National Educational Association, the radical homosexual movement's push into the nation's public schools has become overwhelming and frightening.
| | |
| --- | --- |
| A mother testifies before the Massachusetts Legislature about the local high school leads kids to outside adult-led homosexual groups without the parents' knowledge. To her left is her State Representative who has filed a bill to stop it. | |
Here are some of the things that parents are up against. These were unheard of even a generation ago but are now embedded in more and more school systems. MassResistance is here to expose them and help you confront them wherever they are:
"Gay" clubs formed in high schools – and now middle schools.
Students being given access to outside LGBT groups run by adult activists.
Lavish taxpayer funding for LGBT programs in schools
"Comprehensive" sex-ed programs – including abortion, homosexuality.
State-mandated transgender agenda in the schools, including mixed-sex locker rooms.
Courts forcing parochial schools to have homosexual activists on staff
LGBT programs and materials now in middle schools and elementary schools.
Sexually graphic and psychologically intrusive surveys.
Anti-Christian plays and materials given to students.
Students introduced to sado-masochism and adult practitioners of it.
Students being told "your parents hate you" if they have traditional beliefs
Parents with traditional values attacked by LGBT activists on social media
Homosexual-themed school books read to kids in lower grades.
Aggressive LGBT propaganda put in schools by national activist groups.
Offensive school-wide events such as "Day of Silence" organized by national groups.
"Gay history" in regular history classes.
Homosexual staff members bullying students who disagree with the LGBT agenda.
School staff not informing parents or outright lying about LGBT activities in school.
We're taking on the battle
MassResistance was founded in 1995 as Parents' Rights Coalition. For over 20 years we have been helping parents and citizens expose and counter the radical anti-family agendas and attacks on religious believers being pushed into the schools and other institutions of society. And we've help them fight back against the government officials and major corporations that support and fund these groups.
| | |
| --- | --- |
| | This MassResistance activist helped kill a destructive LGBT bill by going in and telling the legislators the truth about what's really happening! |
Our no-backing-down, take-no-prisoners approach has often earned us the scorn of the polite and non-offensive "establishment" pro-family groups – and certainly the wrath of the Left. But our approach has a superior track record of getting results. We think that the biggest problem today is that traditional pro-family groups are too often too polite, too non-confrontational, too compromising – and ineffective.
Another problem is that unlike the Left, the conservative pro-family movement puts too much emphasis on writing and not enough on organizing and training. As a result, parents have no idea how to deal with the overwhelming onslaught directed at their children in the schools. MassResistance helps parents understand and deal with school officials, local school committees, legislators, and even the homosexual activists pushing the programs in the schools (and the corporations that fund them).
How we see this "culture war"
A lot of people in the pro-family movement are going through the motions, but personally believe that the battle is lost. We believe the opposite. This can and will be won. These agendas are completely unnatural, destructive, irrational, and, yes, perverted. Like other horrific periods in the past where a society seemingly went insane, there will come a time when no one will even believe these things even happened. Our job is to make it all pass faster, rather than slower.
*** Please DONATE here to help us match the $5K challenge! ***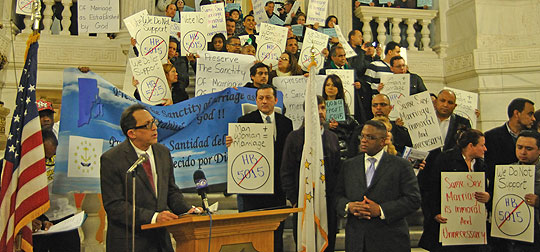 Camenker speaks at a pro-family rally inside the Rhode Island State House.