Newest MassResistance affiliate -- in Maine! Group files papers for statewide referendum to repeal "sexual orientation and gender identity" non-discrimination laws.
Fighting back! Leader Mike Heath has winning track record.
May 13, 2016
| | |
| --- | --- |
| | Mike Heath (left) with fellow Maine activist Paul Madore at the Secretary of State's office on April 21 with the new signature papers. The two of them have worked on referendum battles together for decades. |
The newest MassResistance affiliate is going for the jugular of the LGBT movement – the "non-discrimination" laws that they leverage so well.
As we all have seen, the LGBT movement uses the "sexual orientation" (and now "gender identity") non-discrimination state laws (and local ordinances) as their first line of attack to push their agenda into schools, businesses, government, and other institutions of society.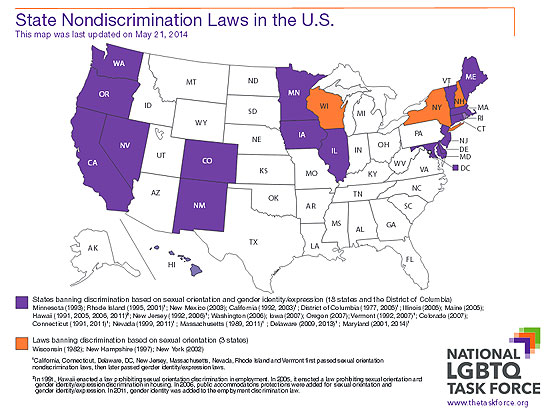 Map of states with LGBT "non-discrimination" laws on National LGBTQ Task Force website. There is a similar map on the radical Human Rights Campaign site. Both groups pour enormous funding into pushing these laws into states and cities across America.
Arguably the best record in America
Michael Heath served as Executive Director of the Christian Civic League of Maine for over two decades. He stepped down in 2009. During that time he had arguably the best record in America for fighting and winning referendum battles on the homosexual / transgender issue.
Here is what he did in Maine:
1990: In his first election battle, Mike Heath led a citywide effort in Portland, ME to stop a sexual orientation referendum. Unfortunately, his effort LOST, and the referendum passed.
1991: Led a citywide effort in Lewiston, ME to a stop sexual orientation referendum from passing. This time he WON – it was defeated with a 67% vote.
1998: After the Maine Legislature passed a state "sexual orientation" non-discrimination law, Mike led a statewide referendum (called a "People's Veto") to repeal it. He WON, and the law was repealed.
2001: The LGBT movement came back with a statewide referendum to re-instate the "sexual orientation" non-discrimination law. Mike organized the statewide effort to stop it, and he WON. It was stopped!
2005: Not content with the people's vote twice on this issue, the politicians in the Maine Legislature again passed a state "sexual orientation" non-discrimination law. Mike organized another statewide "People's Veto" referendum to repeal it. This time, unfortunately, he narrowly LOST.
2009: After the Maine Legislature passed a "gay marriage" law, Mike was a leader in a statewide "People's Veto" referendum to repeal it: His effort WON and it was repealed.

(Unfortunately, in 2012 the LGBT movement came back with a statewide referendum to reinstate "gay marriage." Mike had left the Christian Civic League and was not involved with that effort, except for holding a few press conferences. Thanks to enormous funding from the national LGBT movement, the referendum was successful and "gay marriage" again became legal in Maine.)
Mike is now back into action!
The LGBT grip on Maine has gotten much worse since he left his post at the League. So Mike has come back into action!
Last September Mike formed the group "Equal Rights, Not Special Rights" to bring the battle statewide yet again. Brian Camenker of MassResistance is on its Advisory Board. Mike has also been bringing together dedicated activists from across Maine. This month the group became a new affiliate of MassResistance!
In addition, since leaving the League, Mike has become an ordained Christian minister – fighting kind, not the bland social-worker type that permeate so many of the churches these days. It's refreshing just to be around him, say many committed Christians.
Filing papers for a statewide referendum
Starting in late 2015, Mike began putting together the plan for another statewide referendum. to remove "sexual orientation" and "gender identity" from the Maine non-discrimination statute.
In March he and his group officially filed the papers and created a separate No Special Rights PAC. The ball was rolling!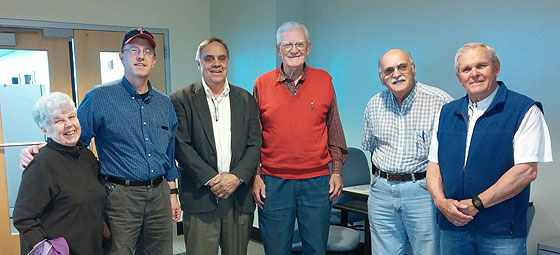 Mike Heath and Paul Madore (second and third from left) with statewide activist leaders in Maine Secretary of State office getting the first batch of signature papers.
The LGBT anger erupted quickly!
When the word got out, the reaction in the press was fast and furious! After all, Michael Heath is no ordinary activist. He has a track record of success that spooks the LGBT establishment!
On the morning of April 6, the Bangor Daily News included a column by David Farmer on the referendum filing. Farmer is a prominent far-left writer and occasional pro-LGBT activist. It was titled, "An attack on LGBT Mainers is lurking in the shadows." He was fuming, and employed the usual unhinged anger:
A new and dangerous campaign to gut Maine's Human Rights Act, which protects people from discrimination, is ready to begin collecting signatures.
Zealot Michael Heath is on the verge of launching a ballot initiative attacking gay and transgender people in the state — again.
Secretary of State Matt Dunlap confirmed Tuesday that Heath has completed all but the final step in starting a petition drive. The proposed ballot initiative would remove "sexual orientation" from the law and legalize discrimination against gay and transgender people.
Heath, a longtime opponent of gay and transgender rights, has submitted language, which has been approved by the secretary of state, and completed other necessary steps. All that needs to happen now is for Heath to pick up the approved petition and start collecting signatures.
… It would be easy enough to dismiss Heath … He's been disowned by many of his old allies and his angry, dangerous rhetoric is out of touch with the way most people feel about their gay and transgender neighbors, friends and families.
… Followed by immediate media frenzy
By mid-morning that day, Mike's phone began ringing. Newspapers and TV stations from far and wide converged to get the story.
Within 24 hours, the following appeared in various Maine media: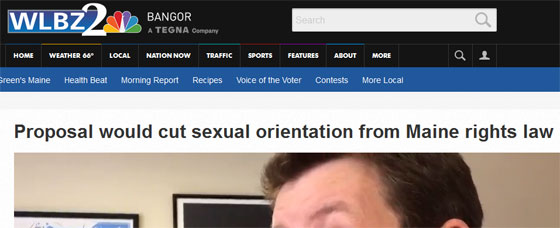 The mainstream press didn't waste any time.
A week later, the Bangor Daily News agreed to publish a rebuttal opinion article from Mike Heath titled, "Society can flourish if we restore virtue, repeal gay rights law." Note that they added their photo.
Officially getting the referendum started
On April 21, Mike and a group of top activists went to the Maine Department of the Secretary of State and officially picked up the petitions.
Since then, they have been organizing petition gatherers and are getting ready to start the signature gathering process. According to Maine law, beginning on the day they actually start collecting signatures, they have one year to get 65,000 in total. That start day should be any time now, Mike has told us.
This is the kind of real activism needed everywhere!
We are proud to be working with this great bunch of activists. This kind of on-the-ground, direct action is exactly what the our side needs to be doing. We've been saying for a long time that the pro-family movement does too much talking (which is easy and safe) and not enough actually working for change. We intend to nurture this spirit across the country and beyond.