Boston Mayor, Senate president, other politicians join radical activists raising "transgender" flag over Boston City Hall. Hold press conference vowing to fight to pass "bathroom bill".
See VIDEO from their ridiculous speeches, below.
Complete disconnect from reality?
May 7, 2016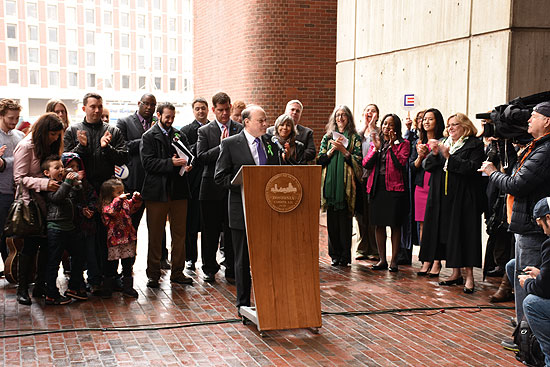 You really have to see this for yourself …
On May 2, the Massachusfsetts Legislature's controversial transgender public accommodations "bathroom" bill (H4253 / S735) was brought out of committee, on its way to votes in the full House and Senate. The bill covers not only bathrooms and locker rooms, but also all locations that could be designated "public accommodations" under the Mass. statute.
The following day, Tuesday, May 3, a bizarre "transgender flag" was officially raised over Boston City Hall. That afternoon the Mayor of Boston, Senate President, Boston City Council President joined radical transgender activists for a press conference at the adjoining City Hall Plaza, to promote passage of the bill.
People know that blue state and big city politicians tend to be liberal. But as the "culture wars" go on, most people aren't aware of how profoundly disconnected from reality many of these elected officials have become. It is sadly not an exaggeration to say that promoting mental illness and sexual perversion as a "civil right" has become the norm.
According to the activists, this is the first time the "transgender flag" has been flown in the state of Massachusetts. Mayor Walsh said in his speech that he intends to keep it flying over City Hall until full "transgender rights" become state law.
To the average person, on the surface, the press conference looked like a circus with bizarre rhetoric, revealing a disturbing disconnect from reality.
But the speakers were all very serious and emotional. It was not mere "political correctness." Their incredibly elitist attitude and their utter in-your-face disdain for the opinions and values that most Americans hold on this issue was clear and unmistakable.
*** VIDEO: See and hear for yourself! (8 min 32 sec) ***
A few things to note: For this occasion, most of the politicians wore "transgender" color-coordinated blue-pink-purple clothes.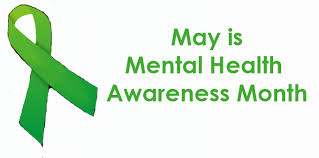 Also, many of the politicians and activists were wearing green ribbons, obviously in recognition of "Mental Health Awareness Month." The irony of that was clearly lost on the group!
Some of the "highlights" from the speeches:
| | |
| --- | --- |
| | LGBT Youth Activist - man dressed as woman. Grace Sterling Stowell, leader of homosexual / transgender "youth" group that gets state support. Says he's worked with "thousands" of young people to deal with their "gender expression" issues. (He has been recognized by a national LGBT group for his decades of radical activism.) |
"Entertainment" – a transgender singing group. Men with fake breasts and women with facial hair.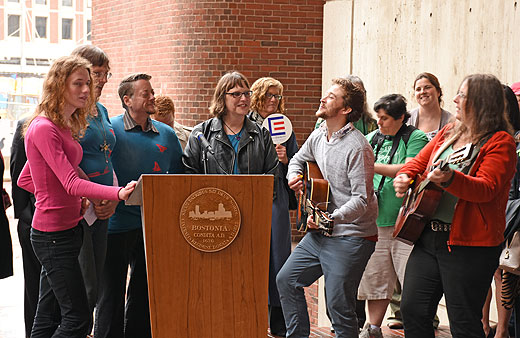 The press swooned!
| | |
| --- | --- |
| | "Transgender" poster child. And of course, they brought young children. Child in photo is a 5-year old girl that the parents are bringing up as a boy, and is publicly featured on the transgender lobby website. Very sad. |
Problem for pols
Interestingly, one of the big sticking points among many state legislators of voting for this bill is the predicted anger and outrage from their constituents, especially with this year's upcoming elections. (Even in Massachusetts, the average person has a problem with the state ordering that men must be allowed into in women's restrooms and showers.) But the legislative leadership is convinced that people who disagree are just backwards and ignorant. They think their fellow legislators should just have the "courage" to "do what's best."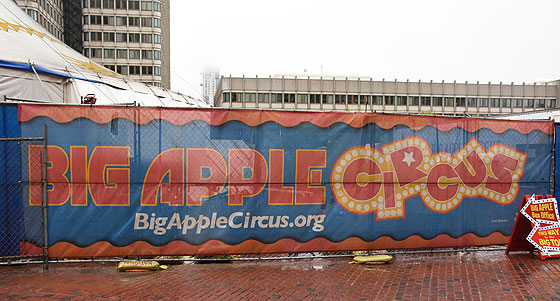 What a coincidence: An ACTUAL circus was being set up just yards away from the press conference, in Boston City Hall Plaza!
Truth is the biggest casualty
This is what happens when politically correct nonsense is allowed to be repeated and repeated without challenge. It is why it we keep saying that boldly telling the truth about this – to politicians and others – is so important in this fight. We must strongly oppose laws that are based on ideological fantasy and people's unfortunate delusions, and are intended to oppress and punish citizens who don't agree.
The State Senate is set to vote on this public accommodations "bathroom" bill on May 12, followed by the House. We'll keep you up to date on this issue.
| | |
| --- | --- |
| | Transgender activists posing for a few quick shots. |