Massive pro-marriage rallies held across Mexico Sept. 10. MassResistance helped make it happen!
Confronting Mexican president's effort to impose 'gay marriage' nationwide
Over a million turn out in 122 cities & towns
Another rally planned for Sept. 24 in Mexico City - MassResistance invited!
September 16, 2016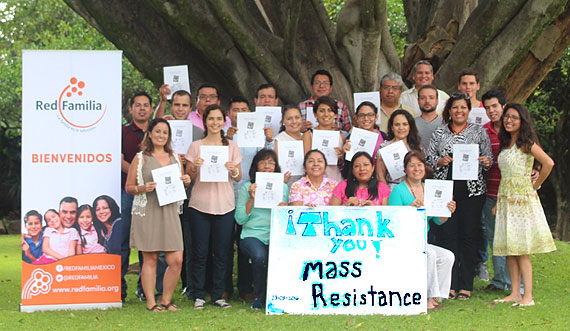 Pro-family activists in Mexico holding up copies of the Spanish version of the MassResistance booklet "What same-sex 'marriage' has done to Massachusetts."
On Saturday, Sept. 10, the streets of 122 cities and towns across Mexico were rocked by pro-marriage rallies. They were organized by a group called "Frente Nacional por la Familia" (National Front for the Family).
MassResistance helped make it happen! On July 17, Brian Camenker of MassResistance received an email from one of the organization's leaders:
Dear Mr.Camenker,

I write you from Mexico.
As you probably know, last May 17th. Enrique Peña, Mexican president, proposes to legalize marriage for homosexuals. In Morelos, a Mexican state, the homosexuals have been approved to be included in civil marriage.
We have created the "Frente Nacional por la Familia" to fight against this presidential imposition.

I would like to talk to you about this to receive recommendations, feedback and help.

Thank you very much in advance for your prompt answer.
Soon afterwards, we spoke on the phone. The President of Mexico was pushing hard to legalize "gay marriage" throughout the country -- by persuading the Congress to write it into the Mexican constitution. Several states and Mexico City have started to permit it on their own -- but not the rest of the country. The Mexican President has also started a large pro-LGBT propaganda campaign across the country.
The "Frente Nacional por la Familia" wanted our help in spreading the word throughout Mexico and educating people on the long term horrible effects of  "gay marriage" for the whole society.
Our powerful booklet, "What 'gay marriage' has done to Massachusetts," was just what they needed. It is clear and concise, and doesn't pull any punches. Thousands and thousands have been distributed across the US and overseas. And we already had a Spanish version!
They hadn't seen it before, but they immediately knew it was what they needed!
Rather than send them copies of the book, we sent them the digital files so their local printing companies could print as many copies as they wanted. Over the next several weeks, they sent thousands and thousands of copies of the book across Mexico. They also distributed digital versions to their email lists.
In addition, our video, "What 'gay marriage" has done to Massachusetts," was translated into Spanish, with some added material. (Note in the video Brian Camenker of MassResistance is speaking Spanish!) Our contact in Mexico said that this was also very useful to them.
Here's the Spanish version of our video!(6 min 20 sec)
The word got out across the country
On August 10, the group leader emailed us an update on the booklet distribution:
I do not have the exact number of copies but they have been distributed in meetings with leaders from all parts of Mexico and also to general population in different types of events: Conferences, parishes reunions, etc. But more important, the booklet has been shared digitally with more reach through emails, whatsapp, etc. Thank you!
He also told us about the two upcoming national rallies:
We will march in all the capitals of the states along the country on September Saturday 10th. and a mega manifestation in Mexico City on September 24th.
Throughout August, they got the truth about "gay marriage" to people in cities and towns throughout Mexico. As in the US, people were shocked to find out what it brings. The group also has a great website and Facebook page.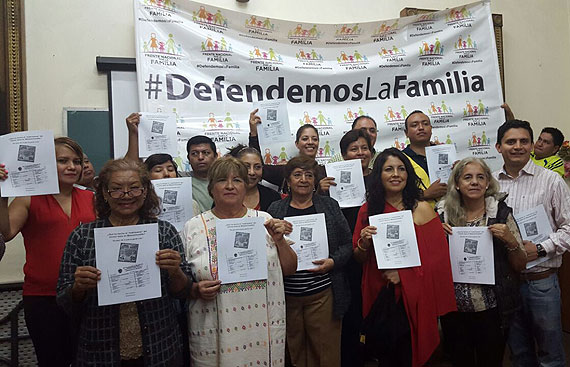 Holding up copies of the Spanish-version MassResistance booklet!
On Sept 10  – over a million people took to the streets!
The series of rallies across Mexico on Sept. 10 were an enormous success! According to news reports over a million people in 122 cities came out to demonstrate. The liberal political establishment was quite shocked. Afterwards, the Mexican pro-family leader thanked MassResistance for our help!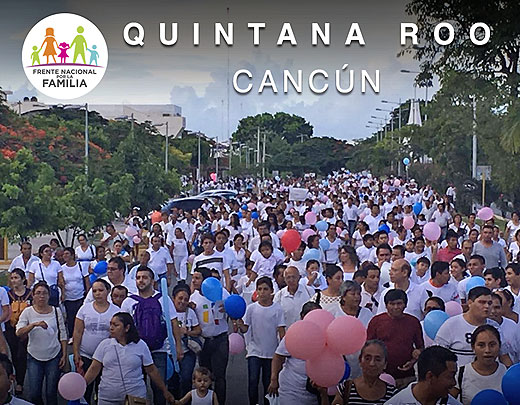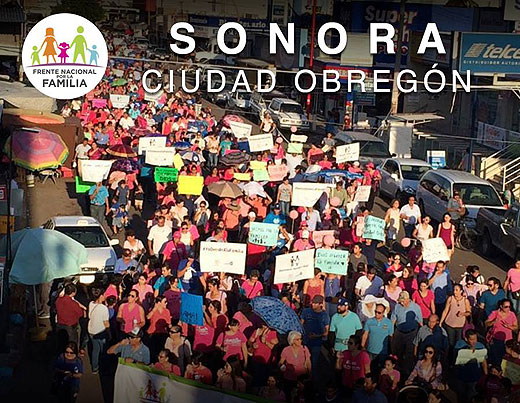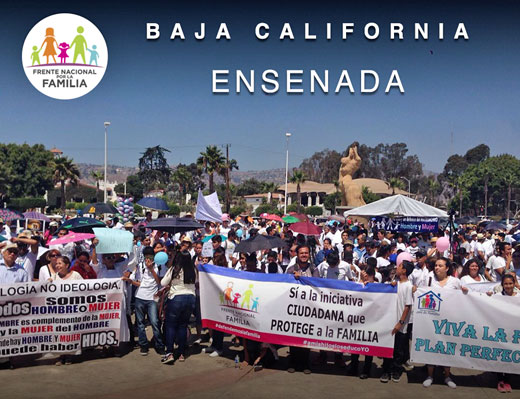 Again next weekend, Sept. 24 – Huge rally in Mexico City
They aren't stopping! A huge rally is planned in the streets of Mexico City next weekend. In particular, they want to send a strong message to the Mexican Congress.
It will likely be bigger than any of the individual city rallies have been so far. A key part will be the presentation of a petition with at least 100,000 signatures to the Mexican Congress.
Brian Camenker invited to Mexico City for Sept. 24 rally!
The Frente Nacional por la Familia leader has asked Brian Camenker of MassResistance to join them in Mexico City as they lead the rally! We told him we would do our best to be there with them.
(We are now quickly trying to raise the funds so Camenker can travel to Mexico City -- approximately $1,500. If anyone reading this can help with a donation for this, please contact us right away.)
Rallies in US to support Mexico's fight for marriage!
The Mexican pro-family leader has also asked if we'd be willing to help organize rallies in US cities on Sept. 24 to support Mexico's fight for traditional marriage. It would mean a lot to them, they said, if American pro-family people would stand up for them in their cities.
The Mexicans are outstanding pro-family people and must have our support!
California MassResistance has already agreed to rally at the Mexican consulate in Los Angeles. And we're working to get some of the other MassResistance chapters on board.
MassResistance is committed to helping citizens around the world confront the assaults on pro-family values and religious freedom. We hope to do a full report on the Sept. 24 rally from Mexico City!