LGBT activists fill Federal Courtroom to stop Pastor Scott Lively's efforts to dismiss "crimes against humanity" case against him
Being sued by New York-based George Soros legal group
A new tactic that could affect the entire pro-family movement
(Part 1 of 2)
November 12 2016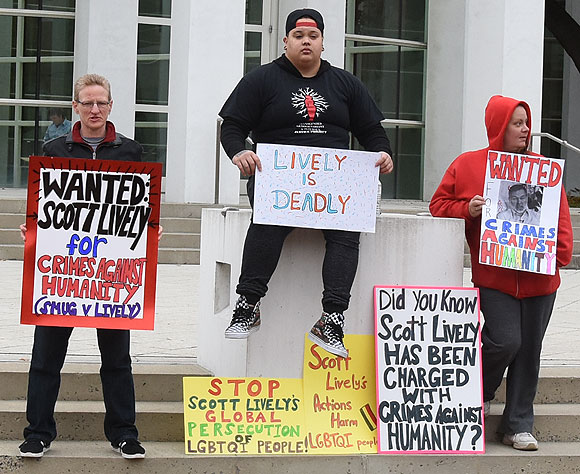 This is a court case that the pro-family movement around the world must pay attention to.
Over a hundred LGBT activists converged on the US Federal Courthouse in Springfield, Mass., on Wednesday, Nov. 9. Inside, Lawyers representing Pastor Scott Lively, an internationally known pro-family author, advocate, and lecturer, were presenting arguments to dismiss a bizarre and hideous lawsuit brought against him by the international LGBT movement. Activists demonstrated outside, completely filled the courtroom, and spilled out into an overflow room.
About two dozen supporters of Pastor Lively also attended.
Being sued for "crimes against humanity"
Lively is being sued for alleged "international crimes against humanity" by the George Soros-funded Center for Constitutional Rights (CCR, based in Manhattan), on behalf of the fringe group Sexual Minorities of Uganda (SMUG). Pastor Lively is represented by the national pro-family, pro-bono legal group Liberty Counsel.
Scott Lively made three visits to Uganda between 2002 and 2009. He made a few speeches at pro-family events warning people about the homosexual agenda. CCR and SMUG are claiming that those speeches and other discussions constitute a "conspiracy" that years later caused "persecution" of homosexuals. But none of the perpetrators of any harassment or criminal acts in Uganda knew anything about Lively, had heard his speeches, or read anything he wrote.
Even more outrageously, CCR is claiming that Lively's pro-family speeches were "international crimes against humanity" are comparable to the Nazi crimes in WWII.  CCR is attempting to sue Lively in a United States courtroom using a law from the 1700s. Read more here.
The lawsuit against Pastor Lively has been ongoing since 2012 and has garnered international notoriety. To a normal observer, the extent of this lawsuit strains the imagination that a court would allow it at all. But to the LGBT activists, it makes perfect sense.
In July, Lively's lawyers filed a lengthy and detailed Motion to Dismiss. The hearing was originally scheduled for September, was postponed twice, and finally took place on Nov. 9.
Very serious about seeing this case through
The LGBT movement was very serious about this. They not only brought local activists, but nearly 50 of them were bussed from Manhattan for the Nov. 9 hearing. Eleven had traveled all the way from Uganda, according to news reports.
Their intent was to send a not-so-subtle message to Federal Judge Michael Ponsor, who is presiding over this case. Stopping the dismissal of this case was clearly a huge priority for the LGBT movement. Ponsor is very pro-LGBT and appears to have been hand-picked for this case. But on paper, the case is very weak, so the LGBT activists are taking no chances.
However, it's also likely that Ponsor was actually colluding with them, and it's suspected that he may have even postponed the hearing to accommodate their travel schedule.
The hate in their eyes against Scott Lively and pro-family people in general was quite apparent. They are obsessed with crushing all opposition to their agenda or criticism of their behavior.
At the end of the two-hour hearing, Judge Ponsor announced that he would issue his ruling on the Motion to Dismiss "fairly soon." That could mean a few weeks -- or months.
Reflects where the international LGBT movement is headed
This case portends a tactic that the worldwide LGBT movement will likely be using against all pro-family citizens. That's why Liberty Counsel is putting so much effort into stopping it.
CCR is seeking huge financial penalties from Lively (that would easily bankrupt him) and is asking the federal court to prohibit Lively from, among other things, preaching in Ugandan churches and lobbying or advocating against same-sex marriage in Uganda.
But there are larger reasons that the LGBT movement is expending enormous funds on this. Much of this came to light during the Nov. 9 hearing, which MassResistance attended. The world's pro-family movement needs to pay attention.
We will explore these larger issues in detail in Part 2, our next post.

Not to be silenced, a few of Scott Lively's supporters brought signs also!