Colorado district leads middle school students to sexually depraved material and X-rated pornography. School officials attack & threaten parents who object.
Worse than anything we've ever seen.
Parents have formed Colorado MassResistance chapter to fight back!

Is this where "comprehensive sex-ed" is headed?
January 12 2017
We've often reported on the dramatic influx of "comprehensive sex-ed" into schools across the country in recent years despite vocal outrage by parents. The graphic sexual content and LGBT topics that schools are pushing at students has been very disturbing for some time now, and is getting much worse.
Where does all this lead? How bad can it get? You will not believe what you are about to see.
Children attending middle schools in the Cherry Creek School District in suburban Denver, CO are now being given access to extremely graphic sexual and homosexual pornography, material encouraging them to become sexually and homosexually active, descriptions of "sex toys," and much more. (See links below to the material.)
Moreover, parents at the Fox Ridge Middle School in that district who have complained and protested have been rebuked, intimidated, and even threatened by school officials – and ignored by elected school board members. All of this has been documented by MassResistance.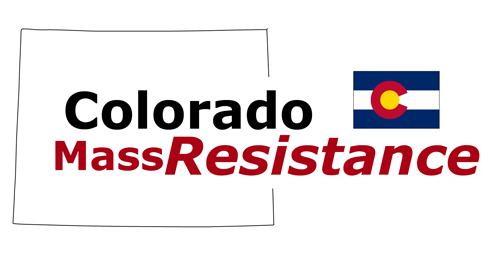 This is the future unless we fight it. The middle school parents and allies have formed a Colorado chapter of MassResistance to confront this outrage. So far it has been a mind-numbing experience, but the parents are not giving up this fight.
School's own Internet portal leads kids to obscene material
The children are given access to this depraved material through special Internet portals set up for the district's middle schools. (Other portals have also been set up for the high schools.) These ostensibly include regular library material and legitimate health knowledge, science, and similar topics. However, children are given one password, and their parents are given a different password. The material is omitted from the parents' accounts and is only available through the childrens' accounts.
The school is getting the material through a company in Massachusetts. The company does not deny supplying pornography to schoolchildren, according to parents who have spoken to company officials. (More on this coming up.) The middle school material also includes a range of extremely left-wing political articles.
When the parents presented samples of the pornography and other explicit sexual material found on the students' portal to school officials and board members (through email exchanges and at meetings) the officials did not deny that that it is being made available to the middle school students. They simply do not see a problem with it. And they said that the parents were "breaking school policy" by using the students' password instead of the parents' password.
See for yourself
This is all about de-sensitizing young, vulnerable children -- without their parents' knowledge. These are kids in grades 6-8, as young as 11 years old.
How bad is it? There is an enormous amount of pornographic material on the site readily available to the students. We have divided it into several categories. All of this is from samples downloaded by Fox Ridge Middle School parents from the school's web portal, and we've logged into the portal and seen it ourselves. (The parents have presented these tiems to school officials.)
NOTE: Much of this material is extremely disturbing and pornographic. View it at your own risk.

Below: Student log-in and library Internet portal for a middle school -- that lead kids to the sexual material and pornography.


More coming up in our coverage
In upcoming posts we will document the unbelievable interactions between the parents and school officials over this horrific material – including shocking video of parents being aggressively cut off from finishing their testimony at a school board meeting by the superintendent.