How Colorado school officials are lying to parents, the press, and citizens about x-rated pornography in local middle school. Claiming it doesn't exist.
So a mother made a video proving it! (See below.)
Schools' tactics similar in states across the country.
January 28 2017
Deny, deny, confuse, conceal, and claim it's the parents who are lying. The tactics being used by school officials in this Colorado district are almost as shocking and angering as the horrible x-rated material that is being made available to middle school students.
This kind of behavior by school officials is not new, of course. We've seen for years it across the country. We even recall one Massachusetts elementary school that told three parents in a row who called upset about a homosexual event there that they were "only one" who had complained.
The Cherry Creek School District (CCSD) in suburban Denver, CO, has made available to middle school students an enormous amount of hardcore pornography (including homosexual erotica) through the school's web portal which is also used by kids for school assignments.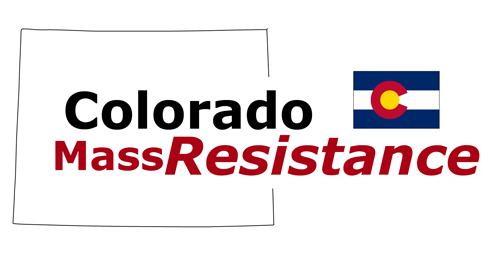 As we've reported, parents of CCSD's Fox Ridge Middle School complained and were ignored, deceived, and even threatened. MassResistance has helped them fight back and get the word out. As a result, they have been on several local and national radio shows and news and pro-family sites.
School tells reporters that the parents are lying
But soon after the initial media exposure, reporters began calling MassResistance to say that the Cherry Creek School District is claiming that it's all a lie, that it's fake news, and there is no pornography at all available to children.
So we had one of our activists who runs a news blog call the school. Here's what he said they told him – which is similar to what we heard from the others:
I just spoke with the school district's director of communications, Tustin Amole. She said that this allegation is false. She told me that a link to positive.org is "not distributed" by the Fox Ridge student portal. She said this is a disinformation campaign that's entirely the work of "one family."
The first part is an outright lie; the allegation is not false. The second part is purposeful misinformation. The school has contracted with third-party information data sites from various companies to integrate into the school portal. Several of them, including positive.org contain disgusting pornography. From the user's standpoint —the middle school child using the school's portal – you go from one into the other almost seamlessly (as you will see in the video below). 
And actually, "one family" has been most public about this because other parents were effectively intimidated by the school's hostile tactics. But that's changing. They've now formed a group – Colorado MassResistance.
Lying to local residents
One man who lives in the Cherry Creek School District emailed the School Board asking why this was going on. He specifically asked that the School Board Chairman contact him (because the man is in the Chairman's board district). But instead, he got this dishonest reply from an assistant superintendent.
From: "Scott A Siegfried" <ssiegfried@CherryCreekSchools.org>
Sent: Monday, January 23, 2017 7:33:34 AM
Subject: FW: Fox Ridge sex-ed classes....
Mr. [xxxxx],
I am responding on behalf of the board of education and superintendent.
There is no pornography in the middle school health curriculum or resources – you are welcome to review all utilized materials at a time that works for you.
Please let me know if I can assist in arranging a review.
Thanks,
Scott
_____________________________________
Scott A. Siegfried, Ph.D.
Associate Superintendent
Cherry Creek School District
http://www.cherrycreekschools.org/EducationalLeadership/Pages/default.aspx
Again, this is purposeful misinformation. The pornography isn't in the "health curriculum." But it is in the middle school "resources" – the web portal. He invites the man to come and review "all utilized materials." What does that mean? Put the man in front of a school computer (with a filter, which the school claims to have), and let him try to figure out how to navigate it?
Another twist to the school's story
We've recently heard that CCSD school officials are also telling people that the access to pornography is the parents' fault for not having sufficient Internet filters on their children's computers and cell phones. (However, school officials have privately admitted to the parents that even the school's filters don't really block all the pornography from these sites.)
Of course, that ignores the real question: Why is this disgusting x-rated pornography available through the middle school's own website at all, through companies that the school has contracted with?
The parents prove it to you (see this video!)
The most aggravating lie that school officials are telling the public is that the pornography isn't there at all – that the parents are faking it.
So the mother of a Fox Ridge Middle School student made a video of how easy it is to get to x-rated pornography starting from the Fox Ridge site. The pornography is available through the school's online library or the student's private login to which students are directed for their research. It cannot be viewed using parent logins.
HERE is the parent's video. See for yourself. You will be shocked.
(CAUTION: Very disturbing content.)
Beyond belief
The biggest problem that so many people are struggling with is how horrible, disgusting, and unbelievable all this is. It is unimaginable that any human beings (much less school officials) would knowingly let this thoroughly depraved material anywhere near children. And what kinds of minds would create this? What kind of companies would sell this for middle schools?
Most importantly, people need to understand that this is what is beginning to happen now across the country. Unfortunately, it's so horrific, we're seeing that most "conservative" media are afraid to touch it. But MassResistance isn't afraid to confront it.
COMING UP: The companies that supply it to school systems across the country.