** LAST WEEK TO REGISTER--We need a firm count by March 31 **
MassResistance Luncheon - to be held Sunday, April 9, in Boxboro, MA!
Presentations by Dr. Paul Church and Brian Camenker.
Understanding where the "culture war" stands in 2017, and what works when fighting back.
March 3, 2017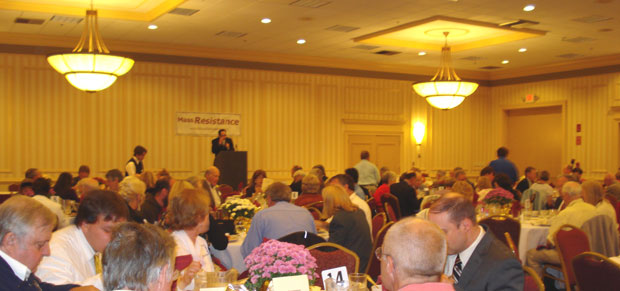 We are in a psychological and spiritual war. MassResistance is not just another observer, but is on the ground, fighting in the thick of the "culture" battles. We now have activist chapters across the US from Maine to California, and also in Australia, Nigeria, and the UK. So our perspective is unique among pro-family organizations.
You will become well informed. And you'll meet other MassResistance activists from around New England and beyond.
Our speakers are:
Dr. Paul Church: "The Great Lies and the Cost of Telling the Truth: How medical evidence is being suppressed and censorship is being enforced in our major hospitals regarding the unhealthy behaviors of homosexuality - and the effect on our society."
You'll hear the shocking story of what's happening in today's medical profession.
Dr. Church is a urologist and an Assistant Clinical Professor of Surgery on the faculty of Harvard Medical School. He has been harassed and even fired from a major hospital because of his unwavering medical and moral principles. (See more at MassResistance.org.)
Brian Camenker: "Fighting the Culture War: What works and what doesn't." Learning from our victories and our defeats. How our movement too often uses futile strategies.
Also: Special discount for new book, The health hazards of homosexuality.This is an important tool that people have needed for a long time.

Don't be left out. Get your tickets today!
Event: MassResistance Luncheon
Date: Sunday, April 9, 2017
Time: 12:30 pm - Lunch served 1:00 pm
Where: Boxborough, MA (We'll send you the address & directions)
Cost: $40 per person. ($300 for a table of 8)
How to reserve your seat:
Mail a check to: MassResistance, PO Box 1612, Waltham, MA 02454
Or by credit card: Call our office during the day at: 781-890-6001
Please buy your tickets by March 31 so we have a count for the food. For more information email us back or call our office.
We hope to see you there!