After Mass. House budgets $750,000 for gay programs in schools . . .
Full court press: homosexual lobby brags how they're pushing their agenda in Legislature.
May 7, 2008
Massachusetts faces a billion dollar revenue shortfall. Programs are being cut right and left in the upcoming 2009 budget. But in just one day last week the Mass. House increased the money for homosexual programs in the public schools by 50 percent - to $750,000.00. (See MassResistance report.) This money will be spent in your schools by the Mass. Commission on Gay Lesbian Bisexual and Transgender Youth - a group of homosexual and transgender adults so radical that they try to do as much as they can in secrecy.

This is every parent's nightmare. But this is the homosexual movement's new frontier and they're moving forward.
How did the homosexual lobby do it?
They do it by intimidating your legislators, flooding them with calls, and one-on-one meetings by hardcore activists telling "personal stories." You can measure the cave-ins by "pro-family" reps by the lopsided votes against us.
They're bragging about it, so you can read for yourself. MassEquality is the well-funded homosexual group that was started to push same-sex "marriage" in Massachusetts. Now, they're leveraging that success to push their agenda much further to change society as we know it.

After the House wrapped up its budget votes last week, here's the email that MassEquality sent to it's supporters:

From: MassEquality
Dear xxx,

Great news from the State House! Just a little while ago, the Massachusetts House approved several amendments to increase funding for programs supporting LGBT youth . . .

To win these funding increases in so many programs in this extremely tight fiscal year is an incredible first budget victory -- and the credit belongs to you.

Over the past few months, MassEquality members have sent more than a thousand emails, logged hundreds of phone calls, and held dozens of in-person meetings with key legislators. You've taken the time to tell your personal stories and talk about why these programs are important to you and to people you care about. You've made your voice -- the voice of LGBT and allied people in Massachusetts -- heard, and it's having an impact.

Our team of lobbyists, led by political director Matt McTighe, met with more than 100 legislators one-on-one to explain our Equality Agenda and our legislative priorities.

But we're not done yet. This is a powerful first step, but with the Senate yet to begin its budget deliberations, there's still a ways to go in this process. MassEquality will continue our non-stop pace of organizing and lobbying on behalf of the LGBT community - but we need your help to keeping going. . .

Thank you so much for your support - because together, we're making a powerful difference in Massachusetts.

Marc Solomon
Campaign Director

P.S. The Gill Action Fund has pledged to match all gifts up to $100,000 total through May 30. That means your gift will double if you donate now.

These activists are VERY serious about your kids. Getting to the next generation has become an obsession with the gay movement.

Notice that Colorado multimillionaire homosexual activist Tim Gill is getting involved, as he (and his rich friends) do across the country. Read more about Gill here.
And that's not all
On the other flank, the Massachusetts Gay and Lesbian Political Caucus (MGLPC) is also tirelessly working the halls of the State House to undermine your kids. Their lead lobbyist is Bill Conley, whose profile is exactly what parents fear most. The summer before last Conley was arrested for soliciting oral sex from University of Massachusetts male students. (See MassResistance report.)
Bill Conley (far right) at gay Youth Pride Day in 2005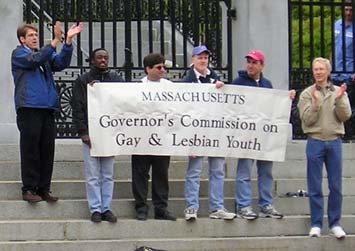 Of course, that minor problem doesn't bother MGLPC - Conley's still working for them. He's fighting hard to get taxpayer money for homosexual school programs. Here's what the homosexual newspaper Bay Windows reported this past week about Conley's leadership in the fight for homosexual "youth" funding in the 2009 budget:

Bill Conley, lobbyist for the Massachusetts Gay and Lesbian Political Caucus, said advocates and lawmakers must now decide what approach to take when the Senate begins its own budget debate. . . The coalition of groups working on LGBT budget issues, including the Caucus, MassEquality, and the organizations receiving funding under the LGBT and HIV/AIDS budget items, had initially pushed for substantially higher funding increases for each of those areas, and he said they will have to decide how high they should aim in the Senate.

"We could re-ask for the same amounts that we asked the House but not received. ... We could ask the Senate to confirm the bumped up numbers [just passed by the House], and if they did we could avoid a conference committee and it would pretty much be a done deal," said Conley. Yet he said while the latter approach would involve less risk, he expected that many of the coalition partners would lean towards pushing for the higher figures because they feel the need for funding is so urgent.

The one question mark in the House budget is whether there will be an increase in the LGBT youth programs run by the Department of Education (DOE). As Bay Windows went to press the House had not yet taken up the DOE budget.

As we said, these guys are serious. And so far it's worked for them. Here's an excerpt from the email that the Mass. Gay and Lesbian Political Caucus sent out after the House voted for their funding.

MGLPC's months of intense work with coalition partners and legislators paid off. The House passed significant increases in LGBT program funding . . .

Without MGLPC's months of dedicated work with legislators and advocates, lgbt programs would not have received such significant increases. Most other programs received no increase and many suffered cuts.

MGLPC Co-Chair and Exec. Dir. of the Multicultural AIDS Coalition Gary Daffin led Project ABLE's drive to address HIV/AIDS service disparities in communities of color. MGLPC lobbyists and in particular Bill Conley lobbied to push MGLPC's aggressive funding requests . . .

As good as these increases are, our community's needs are much greater and MGLPC will not stop until our community has the resources it needs. We now move to the Senate to add to these successes. A high volume of MGLPC member emails contributed to our success in the House - Thank You! We'll need you again in the Senate.

Sincerely,
Arline Isaacson and Gary K. Daffin
Co-Chairs

We don't want to sugar-coat reality. Unfortunately, right now this is what the world looks like in your Massachusetts Legislature. This is what you're up against. But what choice do we have except to fight?
| | |
| --- | --- |
| | From a mailing MassEquality recently sent to prospective donors. |