Senate Ways & Means Committee cuts $200,000 from homosexual school programs in 2009 budget after flood of calls from citizens!
You made a difference!
May 15, 2008
On Wednesday afternoon the Senate Ways & Means Committee stunned the homosexual lobby by cutting $200,000 from two budget items which fund "gay" programs targeted at schoolchildren. This followed an angry torrent of calls and visits over the last several days from parents and others to the committee - and particularly the Chairman, Sen. Steven Panagiotakas (D-Lowell).
Last week the full Mass. House of Representatives had voted overwhelmingly (including many "pro-family reps) to increase the money given to radical homosexual groups for programs in the schools from $500,000 to $750,000. Then on Wednesday, the Senate committee cut it down to $550,000.
Outraged people from Massachusetts, across the country, and as far away as Mexico and Canada called, emailed, and faxed the Committee. Several parents also took time off work and went to the State House and visited the offices of the Committee members. To our knowledge, none of the Senators was willing to speak personally with parents (as they had with homosexual lobbyists). But their staffs heard the message loud and clear.
Many people were extremely upset at last Saturday's state-funded homosexual "Youth Pride" event where bigoted anti-Catholic and anti-Christian literature was given to kids at the state-sponsored gathering.
Parents also described the horrific way this money is spent in the schools and showed homosexual material given to kids. One parent made copies of the 98-page draft of "The Born Gay Hoax" for each Senator on the committee and personally delivered them.
Here's what they cut back:
Basically, the Committee cut the amounts back to what they were before the House of Representatives (in their late-night votes) had increased them.
Budget item 4590-0250: cut from $450,000 to $350,000

Budget Item 7010-0005: cut from $300,000 to $200,000
The homosexual lobby is probably fairly shocked. They haven't written anything about it on their news sites (as of press time). They'd boldly predicted that this would flow through the committee unscathed, and were even looking to have it raised. As we reported earlier, the gay lobbyists bragged that they'd met with Sen. Panagiotakas "several times" over the last several days about this.
A cool reception for pro-family citizens
There's no question that the traditional values are unpopular in the State House. Several of the Senators' staff members were condescending, dismissive, and even hostile. To our knowledge not a single Senator would meet with or even talk to any of his pro-family constituents about this, although they freely met with the homosexual lobby. The general reaction to us was: don't bother us with this.
For example:
A staffer named "Jamie" in Sen. Robert Antonioni's (D-Leominster) office was particularly abrupt. He barked at one parent, "So you want the kids to kill themselves? Where did you get your information - from MassResistance?" Then he hung up.

Sen. Michael Knapik's (R-Westfield) staffer repeatedly told callers that they should call their local state representatives. Of course, the state representatives have nothing to do with the Senate Ways & Means Committee).

Sen. Michael Morrissey's (D-Quincy) chief of staff was rude and refused to pay attention to the parent who met with him. He called the parent's concerns about homosexual programs in the schools "a conspiracy theory."
(Several parents told us that a lot of the staffers appeared to be gay. That's been a widespread impression of the State House in recent years. We do know that the gay lobby tries to place their "allies" into as many legislative offices as they can.)
A lesson in Civics
In the end, it was the sheer number of the people and the force of their anger that made the Committee act. Unfortunately, that's the cold truth of how politics often works.
You'll recall a week ago when a certain well-funded Massachusetts pro-family group reacted to the $750,000 funding this way: "All in all, considering the situation, not too bad." Well, we think it's very bad. And we don't believe in just giving up.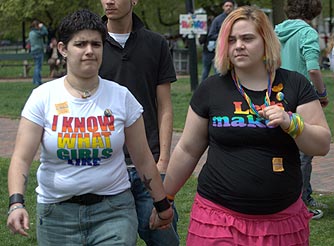 Two young ladies at Saturday's "Youth Pride" event.
T-shirt on left says "I know what girls like."
The budget fight continues: What's going on and what's next?
This was a fairly decent victory. We forced the Senate committee to do something which it definitely would not have done otherwise. It's a good start.

But there's still $550,000 still in that budget for homosexual activism. Let's look at it in perspective. According the State House News, the total 2009 budget requires $629 million in tax increases and lots of cuts in other programs just to break even! This is not only moral but fiscal lunacy.

So we can't stop here. The truth is that NO taxpayer money should go toward pushing this agenda on children. And until that happens, then we have lost control of our government. The situation now is unacceptable.

These legislators have only just begun to feel the pain and outrage on this. We need to step it up. These legislators really don't get it. They are largely disconnected from the reality. And many of them seem to have staff members that ought to be fired.
The next step
Tomorrow is the deadline to file a budget amendment. Is there a single State Senator with the guts to file an amendment to cut out this funding completely? Call your Senator and find out - and let us know what he says. You can take this to the bank: The homosexual lobby will be filing amendments to get "their" money back.

Next week the Senate will debate and vote on the budget and any amendments. Then it goes to a "conference committee" to work out the differences between the House and Senate version, then on to the Governor.

---