Fr. Harrington's testimony - and the politicians' rude reaction
MA committee chairman cuts off Catholic priest's testimony on teaching virtues to schoolchildren
POSTED: November 25, 2009
There could be hardly a clearer example of what Massachusetts Legislators think of your children -- versus the special interest homosexual lobby -- than this.
| | |
| --- | --- |
| VIDEO: About three-quarters into his one-page testimony, pro-gay Rep. Kay Khan (D-Newton) banged her gavel and abruptly told him to "wrap it up." | FrHarrington |
Testimony by Fr. John Harrington
before Masachusetts Legislature
Committee on Children, Families and Persons with Disabilities
on Bill H145 to eliminate Mass. Commission on GLBT Youth
November 16, 2009 (See video above)
Before I was ordained a Catholic priest I was an educator. My experience working in both public and private schools as a principal, teacher and athletic coach in Massachusetts and in the state of New Hampshire I believe is relevant to this discussion.
I realize that today the work of education is not what it was prior to public education in this country when most children learned their letters from church, private schools, formal tutors or from their families well into the 1800's. While organizational structures, procedures and methods have changed the principle of subsidiarity, which recognizes that a community of a higher order should not interfere in the internal life of a community of a lower order has been preserved. This is why public schools in this country are administered mainly at the state level, with local school districts administered by local school boards which operate primary and secondary schools within their boundaries. Thus, the 1993 Massachusetts Education Reform Act reflects the goals and objectives of the people of this Commonwealth and not of the federal government.
In keeping with the principle of subsidiary, the family is the first and vital cell of society, a microcosm of the larger society outside, where children experience community and sharing on a daily basis. Since parents, not the state have conferred life on their children, they have the most solemn obligation to educate their offspring. Accordingly, parents must be acknowledged as the first and foremost educators of their children, especially in matters of religion and sexual behavior. Though distinct, these two subjects are inextricably tied together, profoundly personal and by virtue of their private nature belong to the domain of the family not the state.
The Massachusetts Commission on Gay Lesbian Bisexual Transgender (GLBT) Youth employs gay activists who sponsor and direct activities and conferences in schools throughout the Commonwealth in which literature, stickers and other materials promoting and endorsing the homo-sexual life-style are distributed to students with the blessing of school administrators and teachers. These activities and events reveal that the mission of GLBT Youth is to persuade school children into thinking that homosexuality, transgenderism and other deviant sexual behaviors are normal and therefore good. Such an agenda is not education but indoctrination of young minds by adults who use their authority to pressure adolescents to embrace ideas and behaviors which are immoral and which violate the natural moral law and their religious values.
In The Book of Virtues former National Secretary of Education, William Bennett writes that "the central task of education is virtue." Virtue is moral excellence. The virtuous person is one who possess qualities of character that make him/her good, just, honest, courageous, compassionate, industrious, prudent, temperate, faithful. . .
It is wrong and unjust to use tax-payer monies to subsidize and endorse programs and activities that promote behaviors which are intrinsically offensive to people's moral principles and religious values.

The November 16 hearing was sparsely attended and the Joint Committee on Children, Families and People with Disabilities had an open afternoon. But as we've previously reported, they felt they didn't have the time to listen to the testimony of Fr. John Harrington, a Catholic priest from the Fall River Diocese. Fr. Harrington was testifying in a MassResistance panel in favor of a bill to eliminate the odious Massachusetts Commission for Gay, Lesbian, Bisexual, and Transgender Youth.


Rep. Kay Khan at the hearing.

Fr. Harrington was telling the Committee that the state should promote virtuous behavior to children, not destructive homosexual behaviors. But like most Massachusetts legislators, they weren't interested in any of that. About three-quarters into his one-page testimony, pro-homosexual Chairman Kay Khan (D-Newton) banged her gavel and abruptly told him, "I'm sorry to interrupt you. But could you wrap it up." She simply didn't want to hear any more.
Fr. Harrington took about a minute to finish a few more sentences. Then our entire panel got up and went back to our seats. None of the other committee members showed any interest in what he was saying or asked any questions.

Except for the three MassResistance panelists, no one else who testified that day was interrupted or told to "wrap it up" no matter how long they spoke. And as we reported, when the homosexual activists testified the committee listened intently and gave the impression they took it seriously.
All good people should be outraged that our elected officials display that offensive attitude. This is one of the major things we're fighting. We will not stand for it!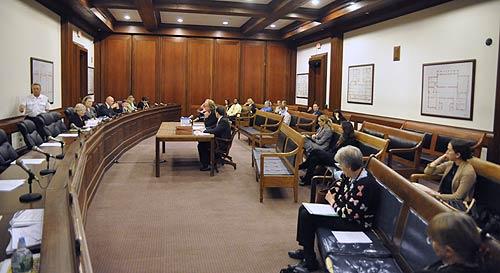 It wasn't exactly standing room only that day. . .