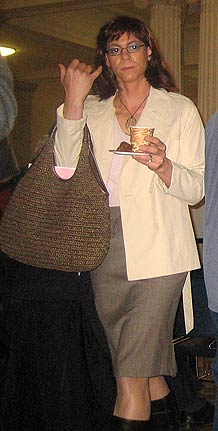 This man was part of the "Transgender Day" lobbying team last April.
Homosexual movement to hold big Transgender Bill Lobby Day at MA State House!
Scheduled for Thursday, Jan. 21 -- legislators bracing for flood of men wearing dresses.
Dec 16, 2009
They aren't giving up. They're out to win this one -- unless they get stopped.

As we've reported, the Massachusetts homosexual lobby has announced that their number one priority this session is forcing the legislature to pass the oppressive "Transgender Rights and Hate Crimes" Bil, H1728. This bill is particularly aggressive and draconian. It would impose the normalization of transgenderism and cross-dressing into society, government, schools, and everywhere else is their next frontier.

At the bill's public hearing in July, they were out in full force. Luckily, we were there, too, with many others to testify against it.
The Big Push
Now their big push is apparently underway.
Last month they announced to the media and the Legislature that their "statewide poll" revealed that 76% of Massachusetts voters support the Transgender bill (of course, this is absurdly false, since few even know what's in the bill).

The following week they publicized a "Transgender Day Proclamation" apparently issued by the Massachusetts House of Representatives, complete with a photo of a transgender activist receiving the document from openly gay Rep. Carl Sciortino (D-Sodom and Gomorrah). But MassResistance did some research at the State House and found out the "proclamation" was completely phony. See our report here on the MassResistance blog.

After that they organized and publicized a series of ridiculous candle-light "Transgender Day of Remembrance" ceremonies in left-wing churches across the state.

In early December MassEquality organized a phone banking effort to "recruit volunteers and contact legislators" regarding the bill.
Coming up: Big tranny lobby day (again!)
Back in April the homosexual lobby held a bizarre "Transgender Lobby Day" at the State House to push H1728. Here's our report on what happened that day. Luckily, it didn't seem to win them a great deal of support.

Now they've got another one -- probably even bigger -- scheduled for Thursday, January 21. They clearly want this one to be more effective than the last one.

This week they sent out emails to their supporters across the state making it very clear: "We need your help to send a strong message to Beacon Hill." And that for the legislature to continue to drag their feet on this is "unacceptable."

The MassEquality website is pretty clear about what they have planned for that day:
"Join us at the State House to meet with your legislators about this important issue. Join us as we swarm the State House to meet with legislators and persuade them to support An Act Relative to Gender-Based Discrimination and Hate Crimes.

"The sooner you sign-up, the sooner we can train you on how to be an effective advocate for the transgender rights bill. Sign-up today!"
We will be keeping up the fight to stop this oppressive bill from being inflicted on you, your children, and society.