Republican Lt. Gov. candidate Richard Tisei promises gay newspaper he'll push homosexual agenda on several fronts
Says he'll "work very closely" with Mass. GLBT Youth Commission
POSTED: Nov 1, 2010
In a front-page article in the homosexual newspaper "Bay Windows" this week, Republican Lt. Governor candidate Richard Tisei promised that if he's elected he will aggressively pursue the goals of the LGBT movement.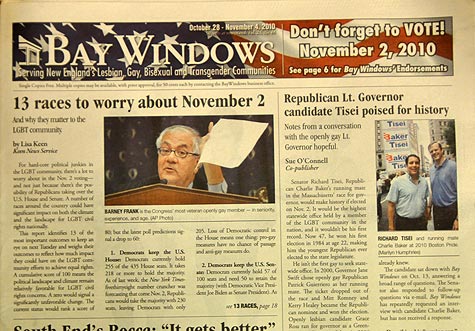 Read entire article HERE: Repbulican Lt. Governor
candidateTisei poised for history
Tisei told BayWindows that he would fight for the homosexual agenda on a range of fronts:
GLBT state funding
Tisei, an "out" homosexual, has promised to fight to fund a range of GLBT programs throughout the Massachusetts state budget -- which he feels Gov. Deval Patrick, a Democrat, is not sufficiently funding! Patrick, although personally pro-gay, cut nearly all funding for homosexual programs in both of his versions of the state budget. The funding was later added by the Legislature.
GLBT Youth Commission
In particular, Tisei said that he would actively support the dreaded Massachusetts Commission on Gay Lesbian Bisexual and Transgender Youth, which uses state money to push homosexual and transgender programs and activities to schoolchildren. Tisei said:
"I will work very closely with the Governor's Commission on LGBT Youth in order to do a better job promoting suicide and violence prevention efforts and to bring more attention to this issue."
The GLBT Commission has long used "suicide and violence" as a cynical and dishonest way to avoid answering legitimate criticism of their bizarre activities. In fact, they focus mostly making kids in public schools comfortable with engaging in homosexuality and transgenderism -- and intimidating and demonizing people who don't agree. This hideous state-funded group is destructive to vulnerable kids.
Here are just a few examples of what the GLBT Commission really does:
Transgender Bill

Tisei also promised to push for the Transgender Rights and Hate Crimes bill, and to use his position to "educate" the public why it must be passed:
"The fact is, that the bill was co-sponsored by a majority of the House and Senate membership. Yet throughout the entire legislative session, not only were advocates unable to secure a vote on the bill, they also failed to even win its release from committee.

"What this demonstrates is that there are concerns about the legislation that need to be addressed and supporters of the bill still have much work to do to educate the public as to what the bill really does and that is to prevent discrimination and provide equal protection under the law to transgender individuals."
Same-sex "Marriage"
He said he was proud of his passionate work for homosexual "marriage":
"During the gay marriage debate, I was a strong and vocal supporter of upholding the Supreme Court's ruling and worked with my colleagues to help defeat attempts to amend the constitution to take away marriage equality. I spoke at the constitutional convention, coordinated efforts to secure republican votes, authored several op-ed pieces that ran in over a dozen newspapers, spoke to a number of groups, and attended many forums as an advocate for same-sex marriage. At the end of the day, I look back and feel very confident that I made a difference and also very comfortable that I did everything I should have at the time to advance this important civil rights issue."
Bully pulpit for pushing gay agenda across America
He added that as a Republican he can more easily push the homosexual agenda not only in Massachusetts but across America:
"What I would say to people is that we will never have true equality unless we have strong voices and allies speaking out for fairness from both sides of the aisle. This is a historic opportunity to elect a republican team to govern our state that is obviously committed to equality. I believe that our success on Nov. 2 will represent the beginning of the sea change that needs to occur on the national level."
Big help from national Republicans
If they win on Tuesday, Tisei and his running mate Charlie Baker can thank the Republican Governor's Association, run by Mississippi Governor Haley Barbour, for pushing him over the top. Since early last summer Barbour has spent over $2 million on ads promoting Baker and Tisei and viciously attacking their opponents. In particular, Barbour funded a scathing attack at campaign against independent candidate Tim Cahill in June and July to effectively take him out of the race early.
Don't say we didn't warn you that this would happen. If elected on Tuesday, Republican Governor/Lt. Governor team of Charlie Baker and Richard Tisei will run the most aggressively pro-homosexual administration ever.