Kevin Jennings is Board President of Radical "Tectonic Theater Project"
Producer of homosexual propaganda play "The Laramie Project" and other offensive plays
POSTED: Jan 7, 2010
by Amy Contrada, MassResistance
Kevin Jennings, Obama's "Safe Schools Czar," is President of the Board of the Tectonic Theater Project (according to his Education Department bio).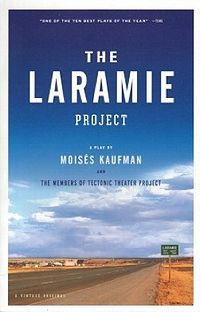 This is the production company behind the insidious GLBT propaganda play, "The Laramie Project," which exploits the brutal murder of Matthew Shepard as a "hate crime" and leads kids directly to groups promoting GLBT causes. It is performed in high schools and colleges across the country. Tectonic also produces other plays focusing on homosexuality and transgenderism.
In 2007, MassResistance published a detailed report on the dangers in "The Laramie Project" when it was about to be performed at a high school in Acton, Massachusetts. The school board, high school principal, and drama director fell right in line with GLSEN's tactics and phraseology.
The play's director said:
The play is a powerful contemporary drama about hate -- what it can do to a student, a family, a town and a nation. It details how a community dealt with a tragedy and asks the hard questions "are the seeds of hate here, could this happen here?" The answer is yes, it could happen here. This play is meant to help people think about their attitudes, not only toward gays, but also to any group that experiences prejudice. There is prejudice here [in this high school]
The high school principal said:
I understand that there may be differences regarding "The Laramie Project"; however, the administration at all levels supports the performance of the play at Acton-Boxborough this fall. We believe that the play encourages us to consider how the seeds of intolerance in a community can lead to violence. We support the safety and rights of all staff and students at Acton-Boxborough, including our GLBT members, and we expect the Acton-Boxborough community to do the same. Such support is essential to ensure a safe teaching and learning environment for all.
Our 2007 report commented:
This implies that there are community members not likely to support the safety and rights of everyone, and the principal lectures the critical members of the community that they're not behaving properly by complaining. Are complaints about the play "intolerance" or "seeds of intolerance"?
From our report on "The Laramie Project" in 2007:
"I always say, don't f**k with a Wyoming queer, cause they will kick you in your f**king ass." -- "Matt was a blunt little sh*t" --"sh*t outta luck" -- "a freakin' nightmare" -- "I was just bullsh*ttin around with my sh*t" -- "I was in deep-ass sand" – "they better watch their f**kin ass" -- "pi**ed him off" -- "good to be with people who felt like sh*t" -- "why'd you f**k up like that" – "he tried to grab my d**k" …
These are direct quotes from "The Laramie Project" – the fall play at Acton-Boxborough Regional High School, set to run the first two weekends in November. The play's director says it has literary merit "worth six months of production time." Certainly, it will teach students it's OK to talk like this.
The school recommends the play for audiences "age 13 and above," but it's actually unsuitable for any audience. The play's foul language is just one problem. It is also horribly violent, promotes homosexuality as normal, and undermines many parents' values and authority. It manipulates the audience's emotions through the language, violence, and blatant misrepresentations of Christians.
"The Laramie Project" exploits the savage 1998 murder of homosexual college student Matthew Shepard in Laramie, Wyoming for radical political ends. A jumbled compilation of interviews with Laramie residents, it is sorely lacking as drama — but effective as propaganda. The play essentially blames the murder on those holding traditional values. (A report from ABC News "20/20" in 2004 showed the killers were actually drug-using thugs intent on robbery. But the audience never learns this.) …
(For more of our report, see here and here. For quotes from the play and study materials given to students, go here.)
GLBT activists and GLSEN advocate the use of school drama programs to push their agenda. At the GLSEN-Boston "Beyond Boundaries" conference in 2004, for example, one of the workshops was entitled "Using Theater as a Way to Explore GLBT Issues in Schools."
Tectonic also produced "Gross Indecency: The Three Trials of Oscar Wilde," a play focusing on that author's involvement in sodomy. "The Laramie Project" study materials given to teens in Acton led them to this play and the issue of sodomy laws. Another of Tectonic's productions, "I Am My Own Wife," is about "the life of Charlotte von Mahlsdorf, a transvestite who survived both the Nazi and Communist governments in twentieth-century Berlin."
[Originally published on the MassResistance blog.]
Also see WorldNetDaily article: Obama's 'safe schools' chief behind 'gay' propaganda play