Now available: Mitt Romney's Deception -- His Stealth Promotion of "Gay Rights" and "Gay Marriage"in Massachusetts!
What every voter needs to know about Mitt Romney's REAL record as Massachusetts Governor
POSTED: July 20, 2011 UPDATED: Sept 3, 2011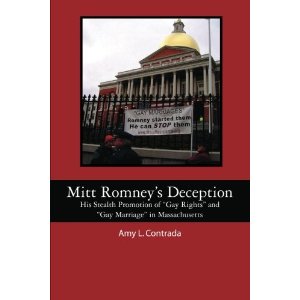 MassResistance researcher Amy Contrada's blockbuster book, Mitt Romney's Deception is now available in print edition. (Only $19.95 on Amazon.com!)
It is the most complete coverage yet of Mitt Romney's record on these issues, as well as an overall review of how "gay marriage" and the homosexual agenda in the schools came to Massachusetts -- and ultimately to the rest of the country.
What most Americans probably don't know about Mitt Romney
The Mitt Romney who is introducing himself to voters on television and in early Republican primary states is a well-scrubbed version of the man who governed Massachusetts for four years. Mitt Romney's Deception reveals what the former Massachusetts Governor actually did regarding the important social issues of the day -- and sounds a warning as to what he would likely do as President of the United States.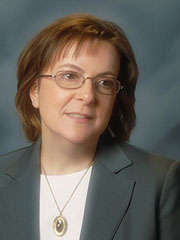 Amy Contrada
Contrary to Gov. Romney's claim that he defended marriage, the Constitution, traditional values, and religious freedom, he actually undermined them.

Contrada's research will prove invaluable in assessing Mitt Romney as a Presidential candidate. Focusing on the issue of "gay rights," Contrada documents his largely untold history as Governor.

During those years (2003-2006), Romney:
Worked closely with homosexual activists and pro-gay rights advisors

Implemented "gay marriage," violating the Massachusetts Constitution

Pushed a constitutional amendment strategy doomed to failure, and ignored the call to remove the "gay marriage" judges

Funded and promoted GLBT indoctrination in the public schools through his Governor's Commission on Gay and Lesbian Youth, and his Department of Education "Safe Schools" programs

Undermined religious freedom, failing to defend Catholic Charities in the "homosexual adoptions" fiasco

Continued or implemented radical GLBT programs in his executive departments
A fully documented history of the Massachusetts "gay marriage" fiasco
Have you ever wanted to find out the whole story of how "gay marriage" first happened in America? This book includes a thoroughly documented review of everything that took place -- all the sordid parts of the puzzle which have not been covered anywhere else.
| | |
| --- | --- |
| | |
It starts in 2001 with Ed Pawlick's original constitutional amendment, which Romney refused to support and which the Legislature refused to vote on. It covers the tainted Goodridge "gay marriage" ruling, the attempted "civil union" constitutional amendment by the Legislature (supported by Romney), the constitutional issues which were purposefully ignored, the grassroots effort to remove the judges, the "gay marriage" training sessions for town clerks, the watered-down VoteOnMarriage amendment, what really happened with the Catholic Charities adoption issue (it's not what the media reported!), and everything in between. The in-fighting, the shameful collapse of the conservative movement, and the treachery by so-called "conservative" leaders is all covered.
Anyone who wants a thorough knowledge of what really happened should not miss this book.
The history of the homosexual agenda in Massachusetts schools
Finally, this book is an unprecedented documentary of the homosexual agenda in Massachusetts schools starting in the early 1990s. This is particularly relevant to people across the country who are seeing the fruits of that "pioneering" work in their school systems now. Gov. Romney's support of these radical programs (through his Dept. of Education and Governor's Commission on Gay & Lesbian Youth) is fully documented.
From Kevin Jennings (who started out as a teacher in Concord Academy in Concord, Mass.) to the GLSEN conferences, "Safe Schools" programs, gay-straight alliance clubs, and Youth Pride events, to the parents' rights violations in the David Parker nightmare case, this book documents how the homosexual movement literally took over the Massachusetts Department of Education -- and branched out to the Department of Social Services and throughout state government.
This well documented 640-page history has over 900 detailed footnotes.
For more information about the book and the author visit Amy Contrada's website (and Amy's new blog MittRomneyGayRights.blogspot.com).
Only $19.95 on Amazon !
Mitt Romney's Deception is available at Amazon.com for $19.95.
This book is a valuable addition to any serious activist's library!