David Parker's appeal of federal Civil Rights case to take place next Wednesday, Dec. 5, in Boston. Oral arguments before 3-judge panel.
Major national homosexual groups and others file amicus briefs in opposition!
Unprecedented effort by state and national organizations to stop parents' rights in schools. . .
BOSTON, MA (THURSDAY, NOV 29, 2007) The federal Civil Rights case of the Parker and Wirthlin families against the Lexington, MA school system, over teaching homosexuality and transgenderism to elementary school children without parents' knowledge or consent, comes to a head next Wednesday, Dec. 5, in Boston. A three-judge panel will hear oral arguments from both sides and decide whether the lawsuit may proceed to trial - or whether Federal Judge Mark Wolf's decision in February to dismiss the case will stand.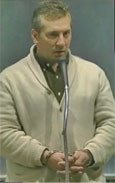 David Parker was brought into court in handcuffs on May 28, 2005 over his disagreement with the school over teaching homosexuality to his son in kindergarten without his knowledge or consent.
A dozen pro-homosexual organizations, including some of the most powerful in America, have submitted three amicus briefs opposing David Parker's appeal. This is unprecedented in any case involving parents challenging the homosexual agenda in public schools. The ACLU (and possibly GLAD and others) and are also offering free legal assistance to the Lexington school system.
Over the last two and a half years this case has received national and even international notoriety. It's been covered on media from The O'Reilly Factor to National Public Radio. It was even discussed in a recent nationally televised presidential debate.
It is unquestionably not an ordinary civil rights case; it clearly has national implications. And the homosexual movement understands the danger this represents to their cause.
This case clearly brings to the light of day (1) how obsessed the homosexual movement is with reaching your children, and what lengths they're willing to go to do it; and (2) how strongly school systems believe that they supercede the family when it comes to defining values to children -- even if the families object.
Here are the organizations weighing in against David Parker -- and all parents -- in this important case: (This includes some of the most aggressive homosexual groups in the country which target children, and also the state and local teachers' unions.)
* American Civil Liberties Union (national)
* American Civil Liberties Union of Massachusetts
* Anti-Defamation League (ADL)
* Gay & Lesbian Advocates & Defenders (GLAD)
* Gay Lesbian Straight Education Network (GLSEN)
* Human Rights Campaign (HRC)
* Human Rights Campaign Foundation
* Lexington Education Association
* Lexington Community Action for Responsible Education and Safety
* Massachusetts Teachers Association (MTA)
* Parents, Families, and Friends of Lesbians and Gays (Greater Boston PFLAG)
* Respecting Differences
* Women's Bar Association
SEE OUR FULL REPORT HERE: Read the briefs, plus more about these organizations, commentary and other documentation related to this appeal.

Why are all these organizations so focused on stopping this appeal?
Because if this actually goes to trial, it's the homosexual movement's worst nightmare. Parker's lawyers will run the most aggressive, thorough trial against the homosexual movement in the schools that anyone's ever seen. This is different than any other "pro-family" case in memory, most of which are run by less-than-first-rate pro-bono lawyers from some other state who are usually outclassed by the opposition. But not this time. David Parker has spent serious money (from his personal savings) on a top-flight, very aggressive Boston firm, Denner Pellegrino LLP, that not only specializes in criminal defense but also has big expertise in First Amendment litigation. These guys are serious and they win cases. And they're very determined to win this one. They're prepared to go all the way to the US Supreme Court if necessary.
But if the homosexual movement can get this lawsuit stopped before it can get started, then Federal Judge Mark Wolf's hideous ruling from the Motion to Dismiss would stand as "case law" for the whole country! In that ruling (see link below), Wolf basically says that the state is required to make children believe that homosexuality is normal and natural in order to make them good citizens. And furthermore, Wolf asserts that the state has no obligation to let parents exclude their kids from this, or even inform parents when it's happening. (Does that remind you of Europe in the 1930s, by any chance? Well, get ready . . .) This ruling is poised to be the jet fuel that the homosexual movement needs to push their agenda into every school in America -- unless David Parker prevails.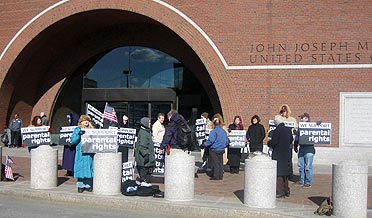 Outside the federal courthouse in Boston on Feb. 7, 2007. Supporters braved the cold weather to show support for David Parker during the hearing on the motion to dismiss.

The Background - how this began:
David Parker was arrested in April 2005 and jailed overnight over school staff discussing homosexuality and transgenderism with his son in kindergarten without parents' knowledge or consent. Several months later another couple, the Wirthlins, were outraged when their son's second-grade teacher read "King and King", a story of homosexual romance, to the class without parents' knowledge.
Parker's arrest and events leading up to it and following it.
In April 2006, the Parkers and Wirthlins filed a federal civil rights lawsuit against the school and the town. Almost immediately, the schools (with the help of the ACLU) filed a motion to have the case dismissed.
In February, 2007, Federal Judge Mark Wolf ruled on the motion to dismiss the case. Wolf issued an outrageous decision agreeing with the schools and the ACLU, dismissing the case. In his decision, he claimed that elementary schools have a right -- even a duty -- to teach homosexuality without parents' knowledge or consent!
Report on Wolf's dismissal of case, including the text of his ruling
Wolf's ruling was truly bizarre, and the Parkers and Wirthlins immediately began the process to appeal it in Federal Appeals Court.

Now, the appeal - Wednesday's hearing is crucial.
As mentioned above. The appeal is before a three-judge panel in the First Circuit Court of Appeals in Boston.
Parker's lawyers need to demonstrate that Wolf's dismissal of the case was flawed. If the appeal of Wolf's dismissal is successful, the case will go back to the Federal District Court and the trial will be scheduled. If it fails, Parker's lawyers have the option to take that appeal up to the US Supreme Court.
As we said, the homosexual movement understands this case is represents a big threat their march into the public schools across the country. They feel they must stop this lawsuit at all costs. And if Parker loses they will have big legal clout across America.
We'll be there. More on this coming up.

Parker case already affecting Mass. legal system!
Yes, it's already affecting the legal system. . .
We recently met with a mother who was preparing to take her local school system to court over a particular homosexual-related activity that she felt was going to affect her child in a destructive way. But when she discussed it with her lawyer (who specializes in dealing with public schools) the lawyer told her that the recent ruling by Federal Judge Mark Wolf in the David Parker case would make it difficult for her to win!
As you can imagine, the mother was shocked and very upset. But this is how important the David Parker lawsuit has become, not only here but around the country. And the national homosexual movement knows that - and is prepared to pull out all the stops to make sure that this lawsuit does not get to an appeal.
(This also demonstrates that the current Parental Notification Law, MGL Ch. 71 Sec. 32A, is now effectively useless, and a STRONG replacement is desperately needed! MassResistance has filed a NEW bill, S321, that will protect children and parents.)
---