RECENT POSTINGS: 2018
July 2018
The Destruction of the Boston St. Patrick's Day Parade
The forced transformation of the parade from a celebration of Irish Catholic heritage to an LGBTQ event should be a warning to those who are unwilling to take a stand. 7/24/18
MassResistance Texas activists fighting the LGBT infiltration in the Southern Baptist denomination
Compromising church leaders are now being exposed. 7/10/18
It's time to strongly oppose the transgender movement
Let's remember what July 4th is REALLY about. 7/4/18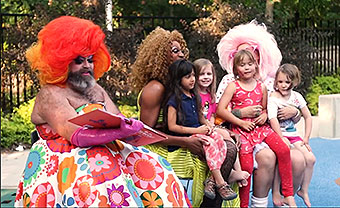 Targeting young children: These bizarre transgender "story time" are actually being held at public libraries across America.
At Texas State GOP Convention: MassResistance-Texas leads charge to pass 12 strong items in party platform!
Includes items on homosexuality, counseling and therapy for LGBT issues, Planned Parenthood, gender identity, sex-ed, traditional marriage, and more. 7/2/18
June 2018
Canadian activist Bill Whatcott endures abuse in jail for pro-family stand
Denied food for 24 hours. Deprived of needed medicine. Later fired from job after LGBT pressure. And more. All for simply passing out flyers at "gay pride" parade! See video interview. 6/30/18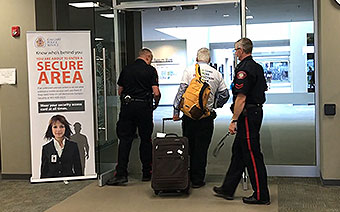 Bill Whatcott is led away by Calgary police after turning himself in -- for absurd criminal "hate crime" charges. Little did he know what was in store over the next 3 1/2 days.
Fiery Christian protest outside Canada police station -- as Bill Whatcott taken into custody on "hate speech" charge.
Two dozen Christian protesters outside of the Calgary Police Station as Bill Whatcott comes to turn himself in. Videos. 6/27/18
Pro-family activist in Canada under bizarre nationwide arrest warrant -- for passing out "anti-LGBT" flyers
Will turn himself in to police Friday. Is this what the future of the United States looks like? 6/21/18
How to radical sex-ed forces in your school defeat parents -- and how to stop them
Here's how Planned Parenthood (and their allies) defeat parents to get "comprehensive sex ed" into schools ... And what parents can do to counter it! 6/18/18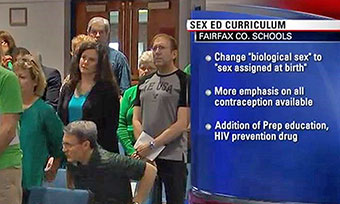 Parents challenging proposed sex-ed & LGBT curriculum being pushed in Fairfax County, VA.
TX MassResistance submits powerful resolution on LGBT issues for Southern Baptist Convention this month
To clarify so-called "gay identity" and the right to reparative therapy, and more .6/6/18
MassResistance-UK activist confronts the limits on freedom of speech in Britain
LGBT agenda in the schools becoming a forbidden subject for discussion. Banned from a "free speech" conference for inquiring about the wrong topics. 6/2/18
May 2018
"BDSM" the next LGBT push on society
Depraved, dangerous behaviors are now taking place at major hotels across America. Another bizarre LGBT sub-culture is invading the public square. 5/25/18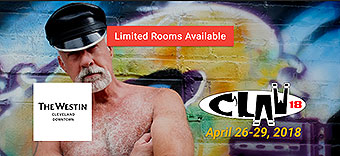 What Has Sexual-Orientation Non-Discrimination Wrought?
Three upscale hotels in downtown Cleveland host depraved BDSM event. 5/18/18
Georgia MR activist ready for court - facing phony charges for protesting LGBT agenda
Outrageous: Turned down by every "pro-family" legal group we contacted - so we've hired a lawyer for her! 5/18/18
Big successes in Nebraska Legislature by MassResistance affiliate
Major LGBT bill defeated, Planned Parenthood defunded. All bad bills stopped, two of three pro-family bills passed! Here's how they did it. 5/10/18
Scott Lively upends Mass. State GOP Convention -- gets 28% of convention vote for Governor!
Forces primary race against incumbent (RINO) Republican Charlie Baker! Overcame massive campaign by establishment to stop him. See photos and video. 5/2/18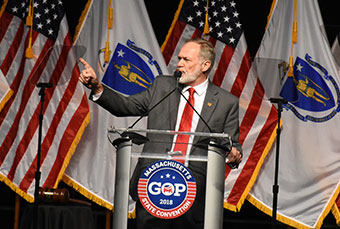 Scott Lively during his speech before the Mass. GOP State Convention. It was a barn-burner!
April 2018
Texas parents have victory over LGBT library display!
Follows months of outrage by local citizens at Board meetings. Organized by MassResistance Texas activist. 4/21/18
March 2018
Arrest and jailing of Georgia MR activist for LEGALLY protesting LGBT agend
Absurd, contrived charges filed against her. Humiliating treatment by police and jail authorities. But she is still not backing down. Part 3 of 3. 3/29/18
How our Georgia MR activist confronted governmentt, churches, and more on LGBT agenda
Demanding ACTION to stop LGBT push for men in women's restrooms in Georgia. This is real activism! Part 2 of 3. Video. 3/19/18
Georgia MassResistance activist arrested and jailed for LEGALLY protesting against LGBT agenda!
Men being allowed in women's restrooms after Georgia Governor vetoed protection bill. 3/9/18
February 2018
Outrage against CPAC from across the conservative network:
Read the articles, videos, interviews, blog posts, and more supporting MassResistance 2/22/18
CPAC vilifies and slanders MassResistance to the public!
Callers to CPAC office are told that we "lack common decency" - and worse! Huge outrage across the pro-family conservative network! 2/22/18
MassResistance table BANNED from CPAC - after having been accepted!
Because of our 2015 comments about the "culture war". But LGBT group "Log Cabin Republicans" is allowed! 2/13/18

Parents take on LGBT agenda at local Library Board meeting in Texas
Parents are relentless! Strongly tell Board (and LGBT activists): No displays targeting children! 2/6/18
January 2018
Library battle in Texas over LGBT children's display re-ignites as parents organize and gather signatures to demand action
Local citizens group taking on public officials - and LGBT movement that's out to stop them. Led by Texas MassResistance activist pastor. 1/29/18
Understanding gender ideology -- the propaganda of the sexual revolution
Gender ideology has been a foundation of the propaganda that has fueled the sexual revolution. From the Teens4Truth conference! 1/22/18
The terrible fraud of 'transgender medicine' in America.
As told by a pediatrician who was at the hospital where it started. An incredible speech from the Teens4Truth conference! 1/15/18
More videos: Protecting your kids from the radical agendas
From the Teens4Truth Conference:
** Sex-proofing your kids: Preparing them for the minefields of today's society.
** Understanding the "gender vs gender identity" agenda targeting young children.
1/9/18