The Mitt Romney Report
Mitt Romney's record on a range of issues over the years as a Presidential candidate (2007-present), Governor of Massachusetts (Jan. 2003 - Jan. 2007), candidate for US Senate (1994), and businessman.
UPDATED: June 1, 2012
See sections below:




The infamous "Governor's Commission" in 2005 at the annual "Youth Pride" parade in front of the State House.
[MassResistance photo]




VIDEOS of Romney in his own words – On abortion, "gay" rights, stimulus, illegal immigration, getting money from DC, identifying himself as a "progressive," guns, and more.
Recent posts:
Mitt Romney holds fundraiser with manufacturer of the Morning After Pill, LifeSite News, 5/18/2012. (What happened to his pro-life conversion?)
A $50,000-a-plate fundraiser was held at the home of Phil Frost, executive of the company (Teva Pharmaceuticals) that makes the morning-after abortion pill

.
Mass. Romneybots maneuver to disqualify Ron Paul delegates after Romney's hand-picked delegates lose the vote at state GOP convention. MetroWest Daily, 5/30/2012. The move "has infuriated rank-and-file Republicans who accuse establishment insiders of bending the rules to their own benefit." – Boston Globe, 5/28/2012. Video here.
Romney's new proposal for "education reform" – though couched in appealing terms: vouchers, school choice – really means more federal control of education. Romney's campaign site, May 2012. (But conservatives want to see the federal Dept. of Education shut down!) It's full of "prescriptive top-down mandates emanating from Washington D.C." which Republicans pretend to oppose. "The idea of a federal voucher alone makes this a Washington intervention of historic proportions." – Jay Bookman, Atlanta Journal Constitution, 5/25/2012.
As Governor, Romney created a new Department of Early Education and Care, "establishing the foundation for a system of high-quality early education and care for all." The Mass. FY06 budget included $20 million for his EEC initiatives. Romney proudly laid the foundation for government-run (and eventually mandated?) preschool education (i.e., day care). www.AmyContrada.com
Romney denounced by 850+ Orthodox Rabbis as a "dangerous homosexualist." Rabbinical Alliance of America urges Mormon Church to sanction him. RabbiLevin.com, 12/26/2011. See Rabbi Levin's more recent appeals to Evangelical and Catholic leaders here.
Mitt Romney's Planned Parenthood candidate survey from 2002: He favors government funding of abortions, Roe v. Wade, government funding of contraceptives, "age-appropriate" sex education in the schools, and more.
| | |
| --- | --- |
| Gov. Romney (right) and MassResistance president Brian Camenker at a Republican event in happier times. | |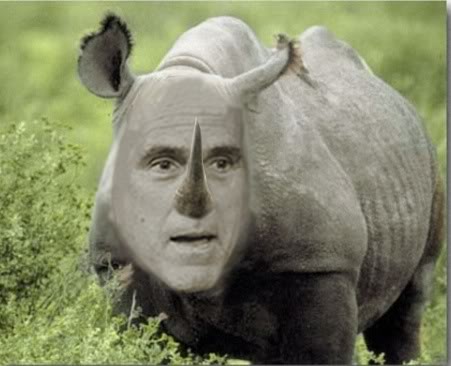 Beware the RINO stalking the political countryside!