The Romney Files: What Mitt Romney Hopes Conservatives Never See . . .
Video and news clips of Mitt Romney on abortion, gay rights, Reagan, NRA, healthcare, Boy Scouts, climate change, and more!

Caution: Very Troubling!
---
1. The Headline Romney Hopes Conservatives Never See:
"I'll be better than Ted for gay rights"
Mitt Romney made front-page news in Bay Windows: New England's Largest Gay and Lesbian Newspaper while running for US Senate against Ted Kennedy.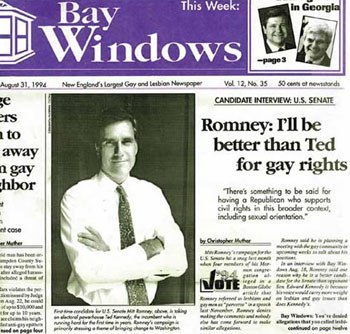 Romney: "There's something to be said for having a Republican who supports civil rights in this broader context, including sexual orientation. When Ted Kennedy speaks on gay rights, he's seen as an extremist. When Mitt Romney speaks on gay rights, he's seen as a centrist and a moderate." Read entire 1994 article HERE.
Romney's Log Cabin Republican Letter 10/6/94: Letter to the Log Cabin Republicans. Romney promised to work on "gay and lesbian youth issues" and take steps "that will lead to gays and lesbian serving openly and honestly in our nation's military." Romney supports gays serving in the US military.

---
2. The 15 Videos Romney Hopes Conservatives Never Watch:
Caution: Watch Mitt Romney in his own words: Very Troubling
CLICK HERE: Watch Videos (15) of Romney on abortion, Reagan, NRA, gay rights, Boy Scouts, healthcare, climate change, Ted Kennedy and more!
Romney quotes:
See our full report: The Mitt Romney Report
---
3. Romney's Planned Parenthood Candidate Survey He Hopes Conservatives Never Read:

When running for Governor of Massachusetts, Mitt Romney sought Planned Parenthood's endorsement and filled out their "candidate survey" as a strong "pro-choice" candidate.



As a candidate for governor, Mitt Romney told Planned Parenthood he:
SUPPORTS: Roe v. Wade - state funding for abortions - requiring insurance to cover contraception - increased access to emergency contraception
Mitt Romney's wife Ann personally donated to Planned Parenthood!

---
4. The "Gay Youth Pride" Proclamation Romney Hopes Conservatives Never Read:
Romney issues "Proclamation for Gay Youth Pride Day" two years as Governor of Massachusetts!
Mitt Romney still proudly states his support for "gay rights." What did this mean for youth in Massachusetts while he was Governor?


A disturbing call to celebrate "gay youth." In 2003 and 2004 Gov. Romney issued proclamations celebrating "Massachusetts Gay/Straight Youth Pride Day" urging "all the citizens of the Commonwealth to take cognizance of this event and participate fittingly in its observance." His Youth Proclamations resulted in parades/events led by sexual radicals and transgender activists.

Event by Governor's Commission on Gay and Lesbian Youth

"Youth Pride Day" events were orchestrated by Romney's "Governor's Commission for Gay and Lesbian Youth" and his Education Department supported "Safe Schools" programs-partially designed by Kevin Jennings, President Obama's former "Safe Schools Czar."


Just days before the "gay marriages" were set to begin in May 2004, Romney issued his second Youth Pride Proclamation. The Boston homosexual newspaper reported their community was grateful for Romney's support.

Though Romney had decided to run as a "conservative" for President by 2005, he still allowed his "Governor's Commission for Gay and Lesbian Youth" to hold radical events. Youth Pride 2005 was emceed by "transgender warrior" Leslie Feinberg, who was also editor of the communist Workers World!

At Gov. Romney's Youth Pride 2005: Communist editor and "transgender
warrior" Leslie Feinberg (left of banner) leads the youth parade.
[Mass-
Resistance photo.]
Romney refused to cancel the 2006 Youth Pride event, even after warnings from MassResistance documenting its past excesses. At that event, adult predators were handing out cards soliciting boys for private parties in apartments.

| | |
| --- | --- |
| For complete documentation and more photos, see the E-Book "Romney vs. Family Values: The Romney Administration's Radical Homosexual Programs Targeting Children in Massachusetts" (available at Amazon). | |
---
5. The Jewish Plea Mitt Romney Hopes You Never Hear:
850 Orthodox Rabbis issue plea to Church Leaders and Goers
Rabbi Yehuda Levin of Brooklyn, NY, is the director of the Rabbinical Alliance of America, a 70 year old organization of over 850 Orthodox Jewish Rabbis in the United States and Canada, serving approximately one half-million religious Jews.

Rabbi Levin's organization had a press conference in December 2011 which he wrote about on his web site. They are concerned about Mitt Romney's long record of support of the homosexual movement.
---
Mitt Romney said of his Massachusetts Governorship:
"I was a severely conservative governor"

Can Conservatives Really Believe Him?