At the "Transgender prom" for kids, Boston City Hall, May 9, 2009
Bizarre adults were wandering everywhere
These are just a few of the adults at the Youth Pride Transgender Prom "working the crowd" of kids.
June 9, 2009
Mr. Boston Leather stood at the only entrance to the dance area and gave his card to the kids coming in. According to the tag he's wearing, he is an official "greeter" approved by the people running the event! (Did he get a CORI check??) He identified himself as a "leather BDSM fetishist" (bondage discipline & sado-masochism). Read more about him, and read his business card HERE.

This man, who towered over the kids, even used a cigarette holder for effect.

How does a man like this even get in? Obviously the people running the event had no problem with him being there.

Here he is with his "partner".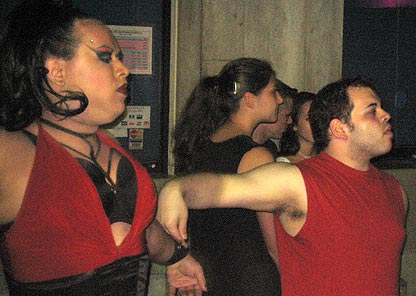 These two guys were alwo wandering all over the place.

A "recruiter" and her girlfriend.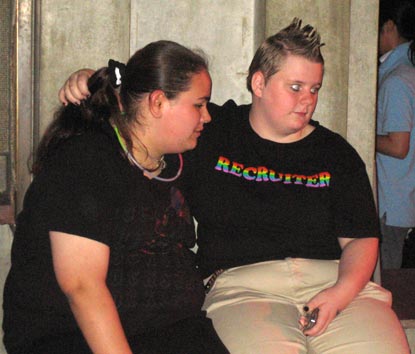 The guy on the left seems to be an official chaperone. We don't know about the other one, who appeared to be a man.