Concord-Carlisle High School presenting depraved homosexual musical (with special Thanksgiving Day preview)
Directed by GLSEN activist teacher connected to Kevin Jennings
Students sing "Don't make noise but daddy's kissing boys"
POSTED: November 26, 2009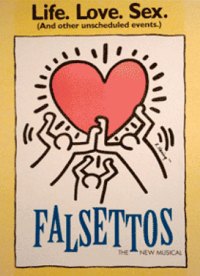 The agenda in the schools is getting worse. Parents are being kept even more out of the loop. The David Parker Parents Rights bill is needed more than ever.
READ WorldNetDaily: High school performs "gay" musical on Thanksgiving
Like many high schools, Concord-Carlisle High School in Concord, MA puts on a play during the Christmas season. This year the play is a musical titled "Falsettos", which will be presented on December 11, 12, and 13. There was a special preview of the play free to the public on Thanksgiving Day.
Here's how the school (and the local newspapers) describe "Falsettos":
The show is a musical comedy about life, love and loss in which the characters renegotiate their definitions of family, and what it means to care for and about someone. Falsettos won Tony awards for best music and best book in 1992, when it premiered on Broadway.

Peter Atlas, a math teacher at CCHS, will direct. Atlas directed a series of musicals and plays at CCHS in the 1990s. More recently, he has written and produced the well-received Faculty Follies productions.

HERE's the writeup in the local newspaper, the Carlisle Mosquito
Well, not exactly. . .

The play is actually about a family where the father leaves his wife and children to live with his homosexual lover. The family deals with the husband's flagrant sexual relationship with the other man, as well as their lesbian neighbors, along with a heavy doses of profanity and general perversion. The "musical's" songs include such gems as "My Father's a Homo" and "Four Jews in a Room Bitching" and "I'm Breaking Down" with such catchy lyrics as
Marvin was never mine
He took his meetings in the boy's latrine
I used to cry
He'd make a scene
I'd rather die
Than dry-clean
Marvin's wedding gown
This is what they have high-school students memorizing and singing.

And the play's director, math teacher Peter Atlas, is no ordinary faculty member. He's a long-time homosexual activist, a personal friend of Kevin Jennings, and former board member of GLSEN. His public homosexual-related activities in schools date back to 1993. A Boston Globe article once described how (among other things) he offers matchmaking advice to gay teens.
CLICK HERE: FULL REPORT on Peter Atlas & "Falsettos" in MassResistance Blog
NOTE: Unfortunately, Google still blocks the MassResistance Blog. You need to click through a "warning screen" about "objectionable content" to get in.
These activist school officials are pushing a depraved, pornographic piece of propaganda on kids, the main purpose of which is to normalize homosexuality and break down kids emotional barriers about it -- as well as undermine the family. And they are basically lying (or silent) about the real subject matter of the play.

Although many parents don't realize it, Concord-Carlisle High School - like a growing number of Massachusetts high schools -- has an aggressively pro-homosexual administration. A few years back we reported that they hosted a PFLAG fundraiser concert of the Boston Gay Men's Chorus on Palm Sunday. The radical homosexual group PFLAG regularly holds events at the high school and in the community. And the CCHS "gay straight alliance" club is among the most active in the state.

If you want to contact the school administration HERE's the link.

This is just one of the things that MassResistance is fighting with the David Parker Parents Rights bill (H406) and our bill to remove the Massachusetts Commission for GLBT Youth (H145), which we filed in the Legislature earlier this year.