Marriage VICTORIES and updates
POSTED: September 25, 2012
See articles below . . .
1. "Gay marriage" bill overwhelmingly defeated in Australian Parliament! Despite huge effort by homosexual lobby, pro-family groups successful in educating lawmakers.

2. In liberal Minnesota, traditional marriage still leading in polls as referendum nears. Pro-"gay marriage" activists getting desperate.

3. In New York: Arrogant "gay marriage" Republican State Senator loses in primary. Was one of four turncoats in crucial 2011 Senate vote.

4. Help us continue to educate voters at this critical time! Free booklet offer from now until election!

5. But the BEST pro-marriage news of the day is . . .
---
1. "Gay marriage" bill overwhelmingly defeated in Australian Parliament! Despite huge effort by homosexual lobby, pro-family groups successful in educating lawmakers.
The Australian National Parliament has voted overwhelmingly to defeat the "gay marriage" bills in both houses despite months of heavy lobbying by the homosexual movement, including parades, speeches, and political pressure. On Wednesday, September 19, the bill was defeated in the House, and the following day a similar bill was defeated in the Senate.
| | |
| --- | --- |
| | Australia homosexual lobby organized this march through streets of Melbourne demanding gay marriage. [Photo: Herald Sun] |
Although Australia is a relatively liberal and secularized country and many polls show support for "gay marriage" in the country, the Australian pro-family groups and churches prevailed in their efforts to educate the lawmakers.
Overwhelming defeat in the House
Shortly after Wednesday's 98-42 vote, we received an email from Patrick Andersen, a pro-family activist in Queensland (who had previously mailed copies of MassResistance's booklet "What same-sex 'marriage' has done to Massachusetts" to every member of Parliament):
I am over the moon, a great day for this country.

The SSM bill that was before the Federal Parliament has been defeated in the House of Representatives by an overwhelming majority - 42 For, 98 against. This means it is dead.

I am sure a tiny bit of the credit should go to MassResistance for your help in this endeavour.

Perhaps the large vote against will convince the proponents of the remaining bills to withdraw them, only time will tell.

We cannot be complacent though, they only have to have one victory -- we have to win every time!

Here is the Sydney Morning Herald (daily) reporting on Mr. Jones -- author of the same sex marriage bill that just failed in the House -- addressing reporters: "His message to folks who support marriage equality? Maintain your rage."
Homosexual activists and pro-gay lawmakers were visibly angry. One prominent member told the press that "hearts were broken all over Australia today."
Adding to the overwhelming success in the House was the fact that although the ruling Labor party is "progressive" and recently officially endorsed "gay marriage," the party leader allowed the members to vote their conscience. The leader of the more conservative Opposition coalition did not allow his members to stray from a "no" vote. Thus, several Labor House members voted against the bill.
The next day: Defeat in the Senate also!
The following day the Australian Senate voted on a separate "gay marriage" bill. It, too, went down in defeat, 41 to 26. As in the House, the ruling Labor party was allowed to vote their conscience, and the more conservative Opposition required their members to vote "No," though it was clearly destined for defeat in any case despite the haranguing of some members during the floor speeches.
How bad a defeat was this for the homosexual lobby?
Even Liberal Party Senator Dean Smith who is openly homosexual spoke out on the floor against the bill!
''I accept that to some, the idea of an openly gay man rejecting a proposition to extend the definition of marriage to same-sex relationships seems unusual or counter-intuitive,'' he said.

''In response, I say that it speaks to the often overlooked fact that opinion on the issue... is heavily divided, even among gay and lesbian Australians.

''My primary opposition to this proposal is born from my strong regard and faith in the cautionary, conservative and traditional approach to these matters,'' Senator Smith said.

''I distrust sentiments and actions that seek to dismiss, modify or reject as relics our institutions and customs, institutions and customs that have evolved to serve our community well.''
Even civil union bill idea dismissed
Almost immediately after the votes, there was talk of introducing a civil unions bill instead. One Liberal Party MP said he has a bill already to go and is considering introducing it. But the general opinion of the leadership of both houses is that they want to move on to other business. Other Liberals said they didn't want to "take a step backwards." So that approach is likely also dead for the foreseeable future.

| | |
| --- | --- |
| | Copies of MassResistance booklet were sent to every member of the Australian National Parliament -- House and Senate. |
The battle continues: in the Australian states
The same-sex "marriage" lobby has vowed not to give up, but to take the battle to the various State Parliaments. As Patrick Andersen emailed us:
The state of New South Wales yesterday announced that:

Liberal, Nationals, Labor and Greens MPs have formed a working party to draw up a bill to allow gay and lesbian couples in NSW to marry, if legislation before Federal Parliament is voted down, as expected.

This doesn't bode well.

So here we go again - another round of postings :-) I have not long completed mail outs to the Members of the Legislative Council (the Upper house) in Tasmania who will vote in the coming weeks on the bill that was passed in the Lower House a little while back.
So the battle goes on. Currently, the State Parliaments in Tasmania and Western Australia have fast-track bills that push some form of "gay marriage" in their state Parliaments. However, as we have observed earlier, marriage in Australia is constitutionally a federal matter. Thus, anything passed by the state parliaments will likely face a stiff fight in the courts. Though as we know from dealing with our courts, anything can happen.
What this shows us
Although Australia is a liberal secular country supposedly ripe for "gay marriage" with passionate political support, it's by no means inevitable, and was overwhelmingly defeated. Thanks go to the tireless efforts of pro-family and Christian activists like Patrick Andersen and so many others. If they can do successfully fight back there, it can be done anywhere!
The homosexual movement likes to portray "gay marriage" as an inevitability, like the Civil Rights movement. But that's a political fantasy. The truth is more that "gay marriage" is a passing aberration that may peak at some point and will never get overwhelming popular support. The problem is endemic: The raw concept of homosexuality is naturally repulsive to human beings and can only be undone with a great deal of psychological manipulation which must constantly be repeated.
Here in the US, four states are holding referendums on it in November. Let's see how we can fight it here.
---
2. In liberal Minnesota, traditional marriage still leading in polls as referendum nears. Pro-"gay marriage" activists getting desperate.

We've all been told what a liberal state Minnesota is. So it's natural to worry about the outcome of the marriage amendment vote this November. But at this point, all of the polls show "Yes" to the anti-"gay marriage" amendment to the Minnesota Constitution ahead of the "No" votes.

| | |
| --- | --- |
| There is, however, an added challenge: According to the ballot rules, if a voter ignores the marriage amendment on the ballot, that is taken as a "no" vote. So the pro-family forces are working even harder to educate people about this. | |
Pro-family groups in the fight
In Minnesota the Catholic Church is the major in-state force in the pro-marriage fight. In 2011 the Minnesota Catholic Conference and the Archdiocese of St. Paul and Minneapolis raised $750,000 to fund the marriage campaign. This week the Church is sending a letter to more than 400,000 Catholic households to raise money for TV ads.
The other major in-state group in the battle is Minnesota For Marriage (which uses information from our book "What same-sex 'marriage' has done to Massachusetts.")
And we've seen that a lot of the hard work around the state is being done by independent groups and individuals up and down the state who have stepped up and are organizing, speaking, leafleting, putting up signs, and more. It's an impressive grass-roots effort. In addition, hundreds of our booklets have been sent to Minnesota, and of course many more have been downloaded and printed out.


| | |
| --- | --- |
| One of the effective groups fighting hard in this battle in Minnesota is the Pro-Marriage Amendment Forum, led by Kevin Peterson. We've been working with him for over ten years. He is a former homosexual activist who advocated for "gay marriage" back in the 1980s and 1990's. But he's been married for 13 years -- to a woman -- and they have three children. He and his group are going across the state giving powerful speeches and confronting the myths about "gay marriage" being spread by the homosexual community. | |
It appears that the state GOP and the other conservative Protestant churches are unfortunately very weak in their efforts to organize and push for the amendment. A favorite line that's been heard from conservative churches, particularly in DFL dominated areas, is that the amendment is "divisive" -- a line borrowed from the homosexual activist playbook. Well, yes it is divisive. Opposition to slavery and segregation was also divisive. But you still have to do what's right.
Lots of silent conservative Democrats
An interesting paradox is being found in much of the rural part of the state where the Democratic Farm Labor (DFL) Party has been entrenched for generations. The DFL itself strongly supports "gay marriage." But we've been hearing from activists that large numbers of the rank and file DFLers tend to be more socially conservative and (quietly) don't support "gay marriage." On the other hand, they're not making a lot of noise about it, either. So the polls could be even more pro-marriage than they seem.
Homosexual lobby seems to be getting desperate
The homosexual lobby seems to be sensing a problem. And some apparently are starting to take matters into their own hands with their tried-and-true tactics of intimidation. This weekend we were talking to pro-marriage activists around the state, and one of the common themes we heard was that there's been a big rash of vandalism of marriage signs, also tires slashed on cars with marriage bumper stickers. The activists also complained that the media ignores this, but greatly exaggerates instances of alleged vandalism of pro-"gay marriage" signs.





More and more of this is been seen across Minnesota

Confronting marriage supporters is another harassment tactic. There are reports of homosexual activists using social media to stalk known marriage amendment supporters.

At this point things are looking fairly good in Minnesota. But the next several weeks will be crucial.
---
3. In New York: Arrogant "gay marriage" Republican State Senator loses in primary. Was one of four turncoats in crucial 2011 Senate vote.

Last year when the New York State Legislature voted to legalize "gay marriage," -- despite passionate pleas and lobbying from conservatives -- Sen. Roy McDonald was one of the four turncoat Republicans that made it happen.



This was the scene in the New York Legislature outside the State Senate chambers for days during the "gay marriage" debate.
[MassResistance photo]
But more than that, among the four he was probably the most arrogant and abusive about it. As the New York Times recently wrote:
Before State Senator Roy J. McDonald, a Republican, voted last year to legalize same-sex marriage, he told reporters that anyone unhappy with his position could "take the job and shove it" . . .

Mr. McDonald makes no apologies for his vote.

"I'm in the party of Abraham Lincoln - I'm very proud of that," he said. "I'm not in a party of a bunch of right-wing nitwits. It's Abraham Lincoln. It's everybody's included. And I feel that's very important."
So when he was challenged in the September 13 Republican primary by Kathy Marchione, the County Clerk of Saratoga County, who opposed homosexual marriage, the homosexual marriage lobby wanted to keep him in at all costs.
Marchione overcomes big money against her by pro-gay RINOS
It was the most expensive primary senate race in New York State. According to reports, McDonald and his supporting PACS raised $900,000, an enormous war chest, including donations from Republican homosexual marriage supporters such as billionaire NY City Mayor Michael Bloomberg and hedge fund manager Paul Singer. In contrast, Kathy Marchione was able to raise about $180,000.But in the end the big money didn't work. After the absentee ballots were finished being counted this week, Marchione edged McDonald out by over 100 votes for the Republican nomination. As we write this, she is considered the clear winner by the media, with no possibility of a recount being discussed.
Marchione also defeated Sen. McDonald in the Conservative Party primary, so her name will be on both ballots in the general election. McDonald's name will be on the Independence Party ballot. There is also a Democrat candidate in the race.
Flyers by both NOM and gay Republicans mailed out
A week before the primary, the National Organization for Marriage mailed a flyer to 12,000 enrolled Republicans in the district that attacked McDonald's same-sex marriage vote.
Flyers supporting McDonald were also mailed out by the pro-homosexual Unity PAC, a political action committee funded by former Republican National Committee Chair Ken Mehlman, who is homosexual, and hedge fund owner Paul Singer, a Republican supporter of homosexual issues (and a major donor to Mitt Romney). .
Of the other three Republican State Senate turncoats two won their primaries (one just barely) and the third chose not to run.
---
4. Help us continue to educate voters at this critical time! Free booklet offer from now until election.

We are doing everything we can to help marriage activists at this extremely critical time. Every voter whose eyes are opened to the what "gay marriage" really brings to their children in public schools, their jobs, their churches, etc., is another vote for our side. But at this difficult time we need your help to continue.

We're bringing back our earlier offer. Everyone donating to MassResistance until the election will get a free booklet! (What better fall reading is there?) Be it twenty-five thousand dollars or five dollars it will be put to very good use.

Especially now, we need your financial support. Ask yourself: Who else does what we do? And if we weren't here, who would do it? Be a part of the battle. Help us keep fighting back! We don't have a Board of wealthy businessmen to fund us. We depend on people like you.


THANK you!
---
5. But the BEST pro-marriage news of the day is . . .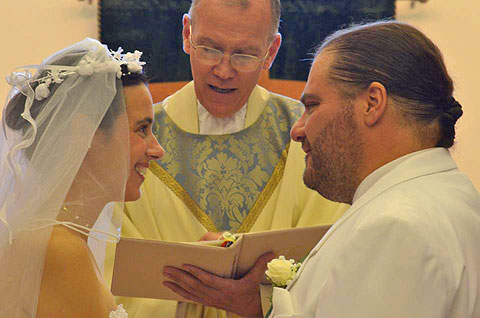 For years the two most dedicated pro-life, pro-marriage activists in Rhode Island have been Kara Russo and Chris Young.

Both of them are well known and respected throughout the state for their work. They've been particularly busy with the marriage issue, successfully helping stop the "gay marriage" bills that recently came up in the Rhode Island Legislature.

So after saving marriage in their state, on September 8, Kara and Chris . . . got married!

It was a lovely wedding in Galilee, RI, on the coast, at St. Mary's Star of the Sea Catholic Church. And of course, MassResistance was invited!