Dr. Church officially appeals to hospital Board over firing. Thousands of petitions in support from around the world delivered to president's office.
Signers from all 50 states and 77 foreign countries!
POSTED: Sept 22, 2015
On Friday, Sept. 18, Dr. Paul Church hand-delivered a letter to the Beth Israel Deaconess hospital president formally requesting a review by the Board of Directors of his expulsion from the hospital for simply for telling the truth about the dangers of homosexual behavior.
Brian Camenker of MassResistance was with him, delivering a CitizenGo petition to the hospital president signed by over four thousand people. The petition demands that Dr. Church be reinstated and that the hospital, Boston's Beth Israel Deaconess Medical Center (BIDMC), stop harassing him.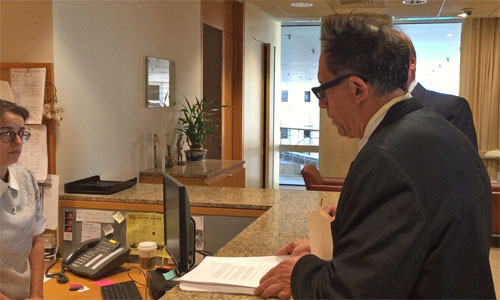 Brian Camenker of MassResistance presents petition with stack of 4100 names of petition signers to staffer in hospital president's office.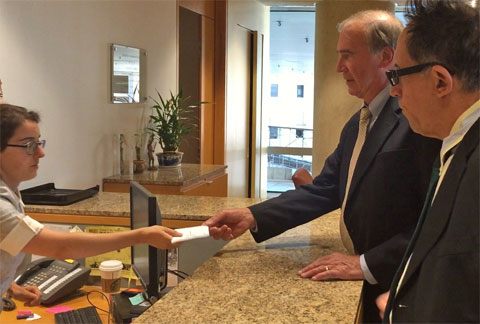 Dr. Church submits his letter requesting a review of his expulsion by the hospital's Board of Directors.
The petition signees include 4100 concerned citizens from not only Massachusetts but all 50 states in the United States plus Puerto Rico, Washington DC and the Virgin Islands. They also include people from 77 foreign countries, including Mexico, Canada, Bangladesh, China, Poland, Australia, Egypt, Nigeria, and the United Kingdom. They include several doctors and medical students.
Expelled from staff for telling the politically-incorrect truth
Earlier this month, a special panel at BIDMC upheld the hospital administration's claim that statements by Dr. Church to colleagues and staff about the dangers of homosexuality constitute "discrimination," "harassment," and "unprofessional conduct," and that Bible verses regarding homosexuality are similarly "offensive" and discriminatory – and thus he must be expelled from the hospital. The panel had held a hearing on Dr. Church in late July.
Dr. Paul Church has been a urologist on the BIDMC staff for nearly 30 years and is a member of the Harvard Medical School faculty. He has done research on diagnosing prostate and bladder cancer, and has spoken on the subject of high-risk sexual behaviors.
Media continues to run from controversial "gay" issue
Although the mainstream media has avoided reporting on the story, the firing of Dr. Church has nevertheless caused outrage around the world. It demonstrates the frightening extent to which the radical LGBT agenda is now censoring the medical profession and thus affecting public health, and how just discussing undisputed medical facts that are "politically incorrect" can get one fired.
Even Boston's "conservative bulldozer" radio talk show host, Jeff Kuhner of WRKO 680 AM, still declines to bring this up it on his show, despite numerous requests.
In the Board's hands
According to the hospital by-laws, Dr. Church is able to ask the Board of Directors for a review of the panel's verdict if he can demonstrate that the panel "acted arbitrarily, capriciously or with prejudice or that the recommendation of the panel was not supported by the evidence." Although none of the information about the hearing has been made available, people connected with Dr. Church's defense team have indicated that these biases can be easily documented in this ideologically-charged situation.
The by-laws state that the Board now has between 10 and 20 days from Sept 18 to appoint a sub-committee of three or more members to conduct an "appellate review," which may include a hearing, and submit a recommendation of final action for the full Board to decide on.
More activism coming
MassResistance is not sitting still for this. We have more activism planned on behalf of Dr. Church. The BIDMC Board of Directors must be held accountable for the reprehensible actions of its management and staff. This perversion of justice will have huge implications across the country if this abusive expulsion is allowed to stand.
Good people everywhere must support Dr. Church, one of the most courageous people in America right now, in his stand against what is truly the culture of death. If you can get involved with this, by all means do so. We'd love to hear from you!