After MassResistance budget victory -- State Sen. Dianne Wilkerson files budget amendment for $300,000.00 increase in homosexual programs in schools!
DON'T let it happen!
May 19, 2008
Last week your overwhelming pressure caused the Senate Ways and Means Committee to do something the homosexual lobby never expected: it cut the funding for the homosexual programs in schools by $200,000.00.

Here's what the homosexual lobby group MassEquality sent to their supporters in an email on Thursday:
Just this week, anti-gay activists [i.e., MassResistance!] sent another round of emails to state legislators, urging them to oppose any funding to support LGBT youth and accusing them of "caving in to the lies and intimidation of the homosexual lobby."

. . . Yesterday afternoon, the Massachusetts State Senate released its version of the 2009 budget. The problem? This budget didn't include any of the increases that we fought so hard to win in the House.

The deadline for submitting amendments with co-sponsors is Friday at NOON.
We had also hoped that a pro-family Senator would offer an amendment to get rid of ALL the funding for these hideous programs. But none were willing to come forward.

Is this the way you want your tax money to be spent? Well, get ready for more.

State Senator Dianne Wilkerson (D-Boston) has filed budget amendments to give an additional $300,000.00 of your tax money for these homosexual programs aimed at schoolchildren! This Wednesday, the Senate is scheduled to vote on it. Wilkerson is doing this as a favor to the homosexual lobby for supporting her election against two challengers two years ago. (And she also has two challengers in this upcoming election!)

Amendment #466: Increases item 7010-0005 from $200,000 to $300,000

Amendment #654: Increases item 4590-0250 from $350,000 to $550,000

Thus - a total of $850,000 will be going to these depraved, hideous programs if this holds up and is passed!
Don't just stand there - DO something!
CALL SEN. DIANE WILKERSON RIGHT NOW.
Demand that she IMMEDIATELY WITHDRAW her amendments -
#466 and #654!!

These amendments -- #466 and #654 -add $300,000 to push homosexuality on our kids! (Maybe she needs to know that you'll support her opponent in the November elections.) She is in effect selling your children to the gay lobby. She REALLY needs to hear from everyone! (See below for where just some of this money goes.)

This needs to happen before Wednesday. On Wednesday and Thursday the full Senate will be voting on these amendments, according to State House News Service. These amendments MUST BE WITHDRAWN by Wilkerson!
CALL NOW: Senator Dianne Wilkerson
Room 312-C, State House, Boston, Massachusetts
Office: 617-722-1673 Office Fax: 617-722-1079
Email: [email protected]
Everyone ought to at least make one phone call.

ALSO: Here's how to contact the entire Senate. THEY need to hear from you, too! They may be voting on this Wednesday or Thursday.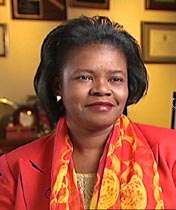 Sen. Dianne Wilkerson (D-Boston)
Paying back the homosexual lobby
for getting her elected.
Don't let the homosexual lobby control your government!