The Coming Nightmare of a "Transsexual Rights
and Hate Crimes" Law in Massachusetts:
Why Bill H1728 Must Be Defeated

by Amy Contrada, MassResistance

APPENDIX III: Links on Transgenderism & Transsexuality Not to Be Missed
Barbara Walters 20/20 Special Report: "Our Transgender Children," 4-27-07. http://abcnews.go.com/2020/story?id=3091754&page=1
Children's Hospital in Boston is giving young "transgender" children hormone blockers to make their later transition easier. "Boston Doctor behind Hormone Treatments for 'Trans Children' Allied with Dangerous Groups," MassResistance blog, 4-29-07. http://massresistance.blogspot.com/2007/04/
boston-doctor-behind-hormone-treatments_29.html.
Also: "Gender Management Service Clinic," Boston Children's Hospital (April 2007). http://www.childrenshospital.org/views/april07/
new_clinic_addresses_intersex_and_gender_issues.html
"Unique in the Western hemisphere, the clinic will also care for children and young adults who present as transgendered—those who have no known anatomic or biochemical disorder, yet feel like a member of the opposite sex. Such feelings can emerge early, even in the preschool years, and can cause considerable psychological distress. For that reason, transgendered young people are often assumed to have a psychiatric disorder and are placed on psychotropic medications. By late adolescence, a high percentage have attempted suicide. "This will be the first major program in the country that is not only treating DSDs, but also welcoming young people who appear to be transgendered and are considering medical protocols that might help them," says Dr. Spack.
"True Spirit 2002" female-to-male transitioning conference in Washington, D.C. Sponsored by the Human Rights Campaign (the leading national GLBT lobbying organization), it included workshops on breast removal, fake penises, wearing "binders" to hide breasts, restroom usage, how to do sadomasochism, cruising and flirting with women, FTM ejaculation, polyamory, transgender parenting, etc.

Video: "Transgender 101" - NECN's Jim Braude interviewing two Massachusetts transsexual advocates: Diego Sanchez of the AIDS Action Committee, and Joanne Herman, on the board of GLAD, 3-1-07. http://www.youtube.com/watch?v=wjwqi3ntbyY
Video: State Senator Scott Brown and transsexual Denise Leclair (International Foundation for Gender Education in Waltham) debating convicted wife murderer's demands for sex-change procedures while in prison. New England Cable News, 7-16-07. http://www.boston.com/partners/worldnow/necn.html?
catID=83469&clipid=1590031&autoStart=true&mute=false&continuous=true
"Beyond the Binary: A tool kit for gender identity activism in schools," 2004. Includes directions on filing complaings, organizing a campaign, sample letter to school board, model anti-harassment policy, etc. www.transgenderlawcenter.org/pdf/beyond_the_binary.pdf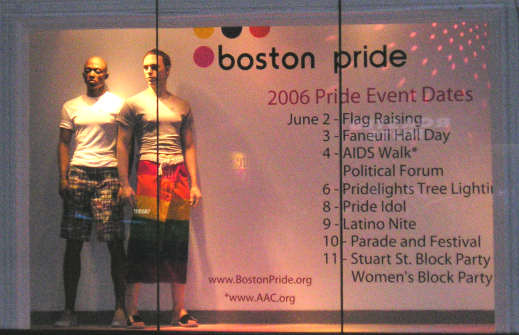 Mainstreaming transgenderism. Macy's window display for "Pride Week" 2006 featured male mannequins with women's breasts, one wearing a skirt. (MassResistance photo by Amy Contrada).
quench, Harvard trans student web zine. http://quenchzine.blogspot.com
Transcending Boundaries Conference 2006, jointly sponsored by PFLAG and trans activists. http://transcendingboundaries.org/ & http://www.transcendingboundaries.org/workshops/descriptions.php
Transcending Boundaries 2002. http://www.transcendingboundaries.org/about/past_tbc2002.php

Boston Globe pushes transgenderism:

"Surgical Sex," by Paul McHugh, University Distinguished Service Professor of Psychiatry at Johns Hopkins University, First Things, November 2004. http://www.firstthings.com/article.php3?id_article=398

Copyright © 2009 MassResistance