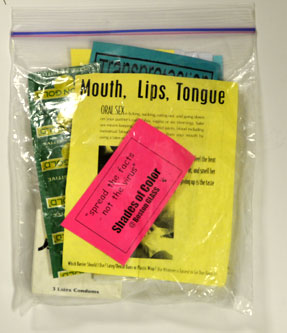 Boston GLASS handout to kids at Fistgate conference
Instructions for hardcore homosexual sex
POSTED: Dec. 23, 2009
Boston GLASS describes itself as a "drop-in center for gay, lesbian, bisexual, transgender, and questioning young people between the ages of 13 and 25. We're a safe space to hang out , make new friends, and just relax." The group handed out a packet to kids, including oral sex and fisting instructions, male and female condoms, a bizarre trans-gender sex pamphlet, 'dental dam' instructions, a shocking flier which shows a latex-gloved fist pointing at a woman's naked crotch, and more.
Boston GLASS is connected with the Justice Resource Institute and its clinic, "Sidney Borum Health Center," which specializes in "sex worker" and transgender health issues. Boston GLASS is listed as a "resource" for kids by several state and private agencies. Since 1995 the Massachusetts Dept. of Education has directed kids to Boston GLASS.
In addition to handing out hardcore sex materials, Boston GLASS led four different workshops at the Conference (see conference booklet).
Inside the Boston GLASS packet, clockwise from upper right: Pamphlets, instructions, condoms (both types - for normal sex and for anal sex), lubricant, dental dam. SCROLL DOWN for more . . .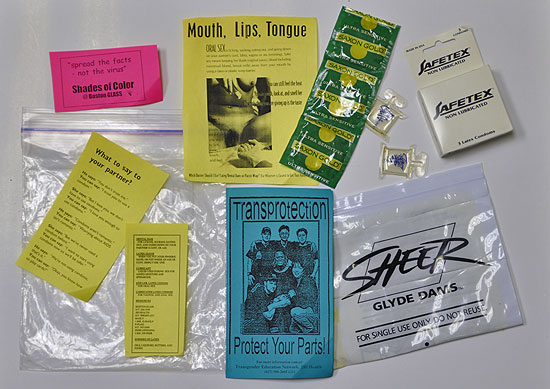 Boston GLASS's bizarre message: "spread the facts not the virus".

Shades of Color is its youth peer outreach group.

Oral sex (including oral-anal sex) and fisting advice.
We can't sufficiently describe this. Caption on left side of photo: "Place lube on her cunt or ass. Place a piece of latex or plastic wrap on the area you want to lick, view, touch, and feel." The latex-gloved fist implies fisting.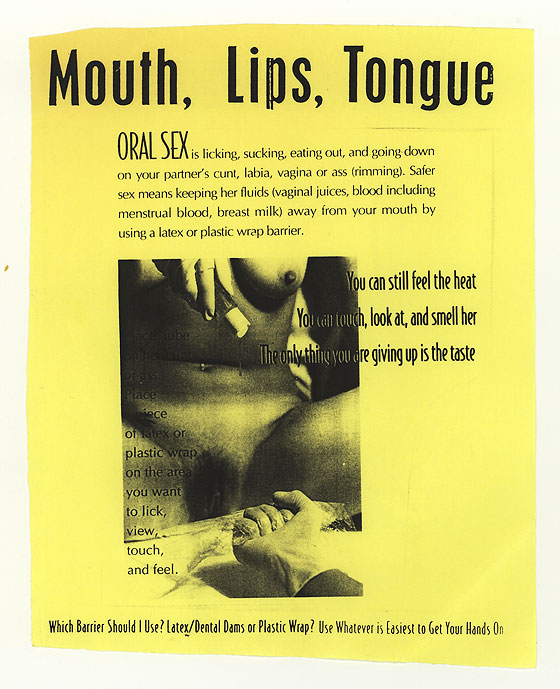 | | | |
| --- | --- | --- |
| "Dental dams" used for lesbian sex acts. | | |
Instructions for using dental dam, using latex glove for fisting, etc.

Note that kids are directed to Boston GLASS and BAGLY for more information.
Bizarre transgender sex/hormone injection pamphlet. Includes instructions for injecting opposite-sex hormones into one's body, graphic illustration of torso with erect penis and female breasts, strange "safer sex" tips, etc. (Why would kids need ANY of this???)
Note the source of the pamphlet is JRI Health, which runs Boston GLASS.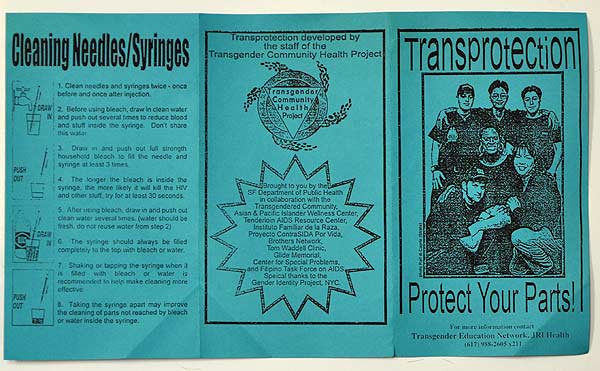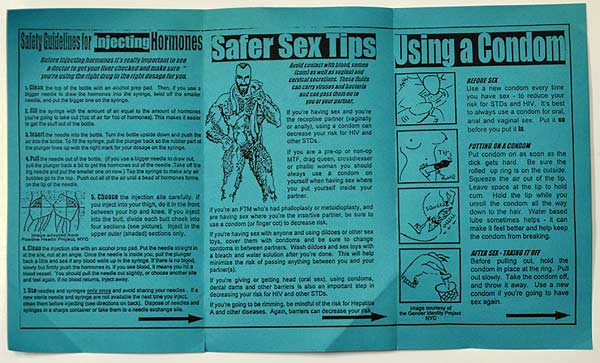 We've enlarged the pages from the back side of the pamphlet below:
| | |
| --- | --- |
| "Safety" guidelines for injection of opposite-sex hormones into one's body. | |
"Safer Sex Tips" including:

"Avoid contact with blood, semen (cum) as well as vaginal and cervical secretions. . . .

" If you're having sex and you're the receptive partner (vaginally or anally). . .

"If you are a pre-op or non-op MTF [male-to-female transsexual], drag queen, crossdresser or phallic
woman. . .

"If you're an FTM [female-to-male] who's had a phalloplasty or metoidiosplasty . . .

"If you're having sex with anyone and using dildoes or other sex toys . . .

" If you're giving or getting head …

" If you're going to be rimming. . . " …

| | |
| --- | --- |
| Graphic depiction of a torso with an erect penis and female breasts. | |
And . . . What do you say to your partner?