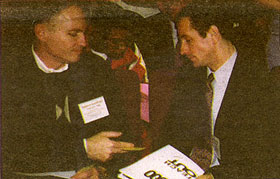 Kevin Jennings (r) at "Fistgate" conference.
Graphic homosexual handouts and paraphernalia given to kids at the Fistgate conference run by "Safe Schools" czar Kevin Jennings in 2000
Extremely disturbing. See links below.
POSTED: Dec 23, 2009
The infamous "fistgate" conference in 2000 -- run by Obama's "Safe Schools" czar Kevin Jennings and which included kids as young as 12 -- didn't end with the horrible tape recordings of workshops where children were taught about homosexual sexual practices. There were also hideous handouts given to kids at that conference. (About 200 young teens and 300 adults attended the event.)
Jennings and his GLSEN conference talk about "tolerance" and "safety." But it's really all about persuading children to be comfortable with homosexual sex.
What you are about to see is extremely disturbing. But it's happening in your schools. And it's a window into the mindset of Kevin Jennings and the homosexual activists targeting children. (Many of these were first discussed by Brian Camenker and Scott Whiteman in 2000 in media interviews, and were also described by the "veteran teacher" in the Massachusetts News article in 2000.) Now that people across the country are finally paying more attention, we're publishing them. They are truly beyond belief.
These were handed out at the Conference to children:
(WARNING: The pages linked to below are VERY disturbing.)
Boston GLASS packet (see inside). Boston GLASS describes itself as a "drop-in center for gay, lesbian, bisexual, transgender, and questioning young people between the ages of 13 and 25." The group handed out to kids a packet including: oral sex and fisting instructions, male and female condoms, a bizarre transgender sex/hormone injection pamphlet, 'dental dam' instructions, lubricant, and more. One flier shows a latex-gloved fist pointing at a woman's naked crotch.
More . . .

Sequin packet (see inside). With male and female condoms, lubricant, and a "fisting glove." (The teacher who attended the conference and later wrote about it guessed that the girl handing out these bags was about 15.) More . . .

First AIDS Kit (see inside). From Harvard Pilgrim Health Care Foundation, handed out at conference by Boston GLASS. Includes: male and female condoms, bandages and anticeptic towelettes (in case the sex gets rough, the teacher was told), lubricant, various literature on STDs and "safer sex", and the Teen Yellow Pages to lead kids to various anti-family organizations. More . . .

Planned Parenthood handouts (see inside). Includes a pamphlet for kids describing abortion, voluntary sterilization, contraception, and other services they offer, and a graphic pamphlet on how to use a condom. More . . .

Other handouts (see inside). "Stop the Hate" pamphlet; feminist book catalog including books on prostitution, transsexuality, and erotic fiction; Youth Pride 2000 poster; National Gay & Lesbian Task Force button, etc. More . . .
And other stuff . . .
Of course, there were other goodies given out, such as these GLSEN "Teach-out conference" T-shirts! Just what you'd want to wear around town!