Other handouts given to kids at Fistgate conference
To keep kids in touch with the homosexual agenda
POSTED: Dec. 23, 2009
Mini pamphlet: Stop the Hate: Massachusetts Student Safety Plan, 1999-2000.

Teaches kids that any objection to the homosexual movement is "hate" speech and could be prosecuted, and encourages them to report any such "hate speech" to authorities.

Published by "Student Civil Rights Project of the Governor's Task Force on Hate Crimes" (which was headed up by a homosexual activist, Don Gorton). Workshop 9A at the conference was entitled, "If you are harassed, what can you do? Hate crimes and civil rights protections for students," led by a member of the Governor's Task Force on Hate Crimes.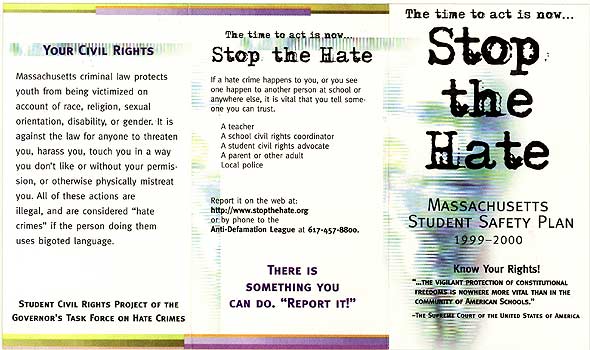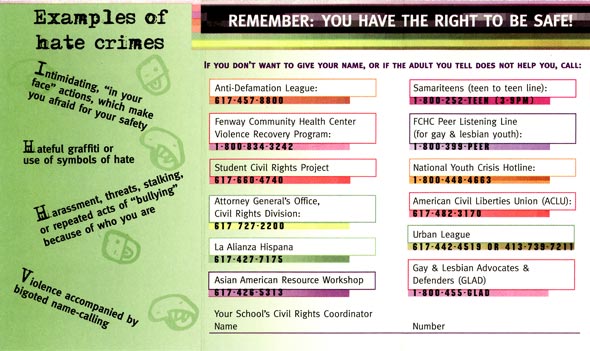 Youth Pride March and BAGLY Prom poster. Over the years MassResistance has reported on the bizarre goings-on at these annual events.
| | |
| --- | --- |
| | BELOW: Enlargement of lower left area of poster showing state sponsorship. |
A catalogue (dated 1999) from the New Words feminist bookstore in Cambridge.

A sampling of the books:
* The Idea of Prostitution, defending prostitution as legitimate form of employment.
* Suits Me: The Double Life of Billy Tipton, about a female-to-male transsexual jazz musician.
* Herotica: A Collection of Women's Erotic Fiction.
* Trans Liberation, by female-to-male transsexual Leslie Feinberg.
* Lesbian Polyfidelity.
A paperback book of short stories for youth by Chris Crutcher, Athletic Shorts. Although not "hard core," each story has some homosexual theme.

This was probably connected with workshop #13A, (see conference program) "Making athletics safe for GLBT players and coaches." A big theme at the Fistgate conference was normalizing homosexuality in school athletic programs. One of the honorees at the conference was a "gay" high school football star.
Other miscellaneous handouts . . .
| | |
| --- | --- |
| | National Gay and Lesbian Task Force is probably the most radical of all the homosexual national groups. Has pushed leather fetish, S&M, and other behaviors. |
| | |
| --- | --- |
| Tufts University, where the GLSEN Fistgate conference was held. | |